What Pro Athletes Have For Breakfast
How do members of Team elitefts™ start their day?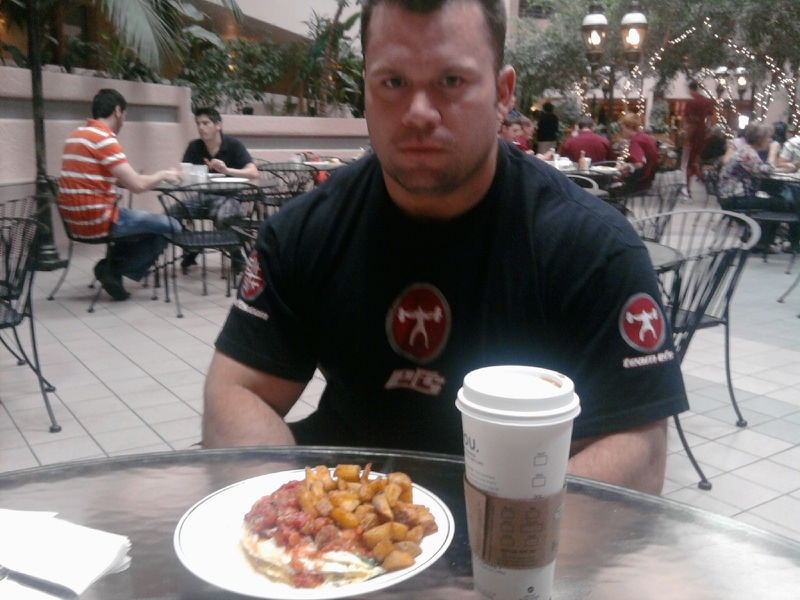 Josh Bryant - Two omelets with eight egg whites and salsa, potatoes and black coffee.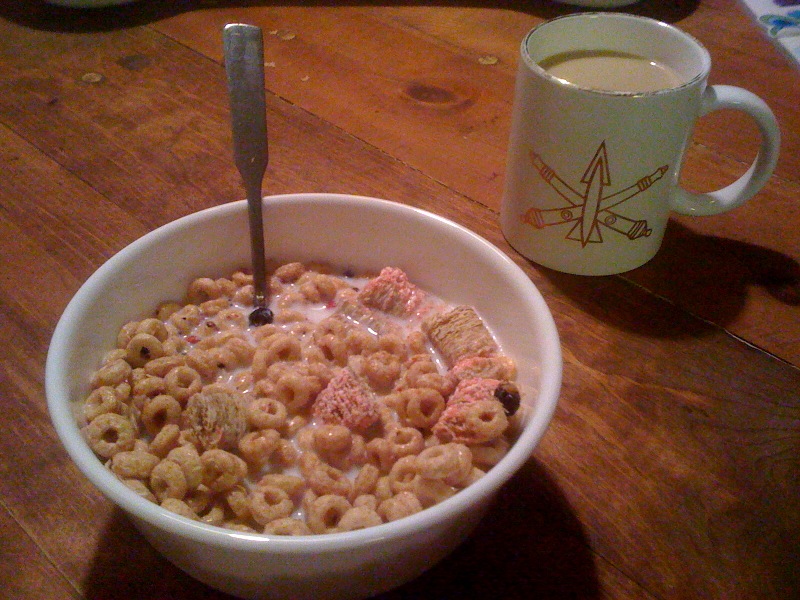 Jo Jordan - Apple Cinnamon Cheerios, Triple Berry Cheerios and Strawberry Mini Wheats mixed together with a cup of coffee.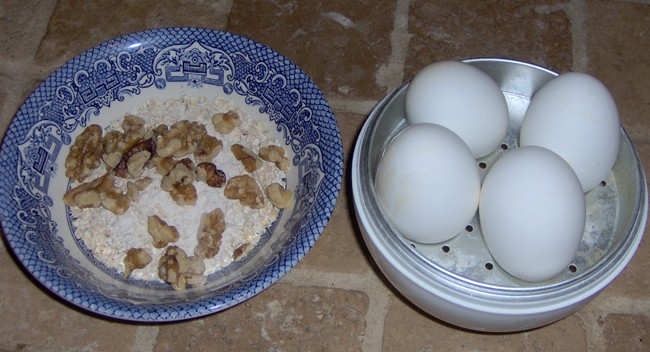 Hannah Johnson - Maple and brown sugar high fiber oatmeal with cinnamon, a handful of walnuts and four boiled eggs. Deliciousness!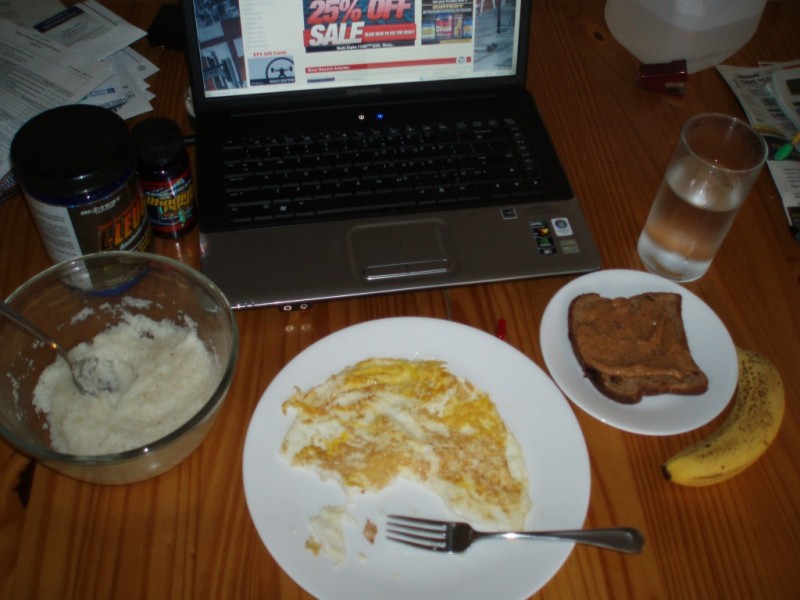 Ted Toalston - Eggs, grits, cinnamon raisin toast with almond butter, a banana and water. This is how I do breakfast! I'm loving it!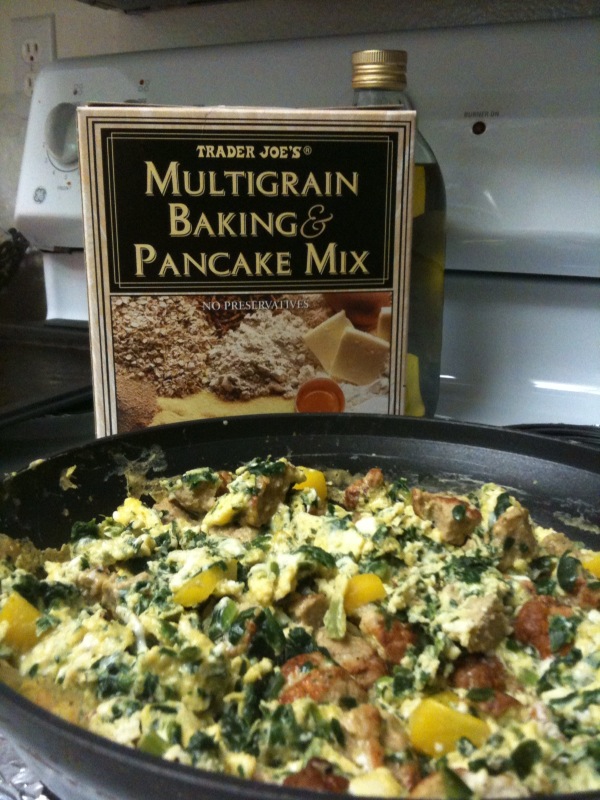 Chad Smith - Six eggs with turkey, spinach, peppers and cheese combined with four multigrain pancakes. I eat this meal about 90 minutes before my squat training.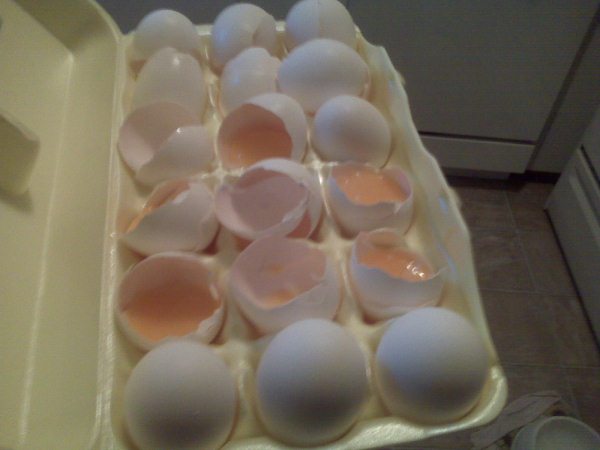 Molly Edwards - Eggs and milk.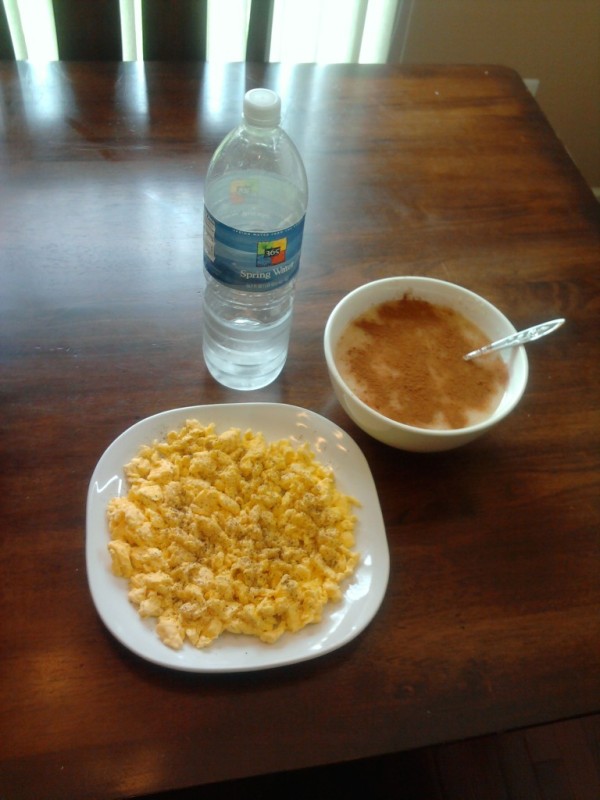 Matt Kroczaleski - I have 3/4 cup of malt-o-meal (measured dry), 18 eggs (15 whites) and a quart or so of water. If I want more protein, I'll add 50 grams of whey to the malt-o-meal. As this is 125 grams or more of carbs and 70 grams of protein. With the whey, it pushes them up to around 125 grams of both carbs and protein and the calories go from 900 to 1200kCal or more. This is usually my first or second meal out of the six to eight I'll have for the day.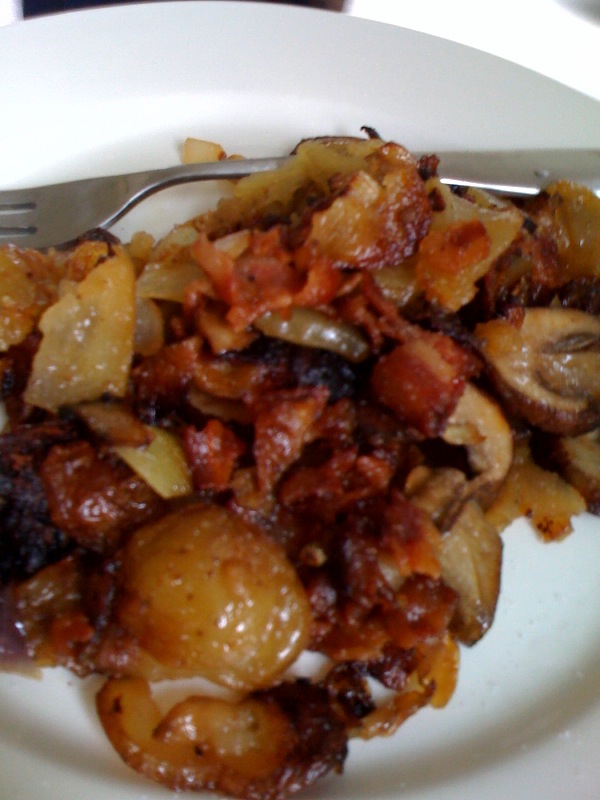 Jason Pegg - Bacon, potatoes, mushrooms, onion. ALL FRIED IN BACON. ALL HAIL RHODESTOWN!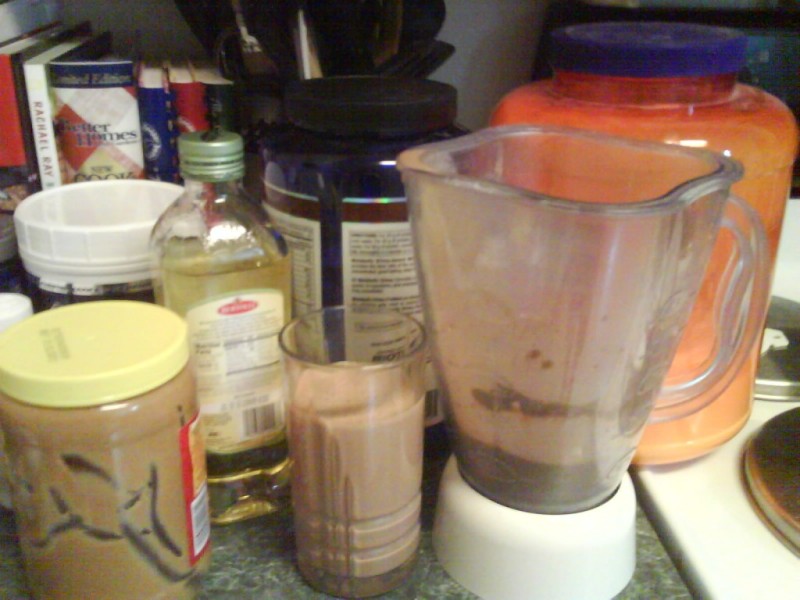 Brian Schwab - Here's what my breakfast is six days out of the week. It's usually my highest calorie meal since I have a hard time forcing food down past a point of fullness.
Schwab Shake:
2 Cups Chocolate Milk
2 Scoops Whey protein
1 Scoop Dextrose
2 Tbsp. Peanutbutter
1 Tbsp. Olive Oil
Your Breakfast
"Squats and oats." – Bobby Fohrenbach
"Fish/Veggies/Protein Shake." – Jay Cohen
"Oats and eggs." – Michael Kerley
"Four egg whites, one whole egg, oats with a scoop of whey a little fruit for good measure and a killer lift session! What a way to start the weekend!!" – Angela Groves McDermott
"Three eggs, oatmeal, fiber toast and a green supplement drink." – Mike Ambrose
"Oats, whey, milk and some fruit." – Igor Pavlic
"Six egg whites, two whole eggs, one slice of cheese, oats and a big glass of orange juice...looks like I'm not the only one!" – Philipp Aschmann
"Burger King!" – Nick Cooper
"Organic granola and soy milk!" – Christina France
"Oats, blueberries and four egg whites." – Melissa Desrochers
"Protein shake, animal pack, fish oils, and a banana at 0430, then report for formation at 0500. Weapon issue and formation. Four eggs and one english muffin at 0800." – JD Mata
"Two nature valley peanut butter granola bars and a protein shake!" – Matthew Chamberlin
"Oats, eggs, raisins and milk." – Brett Vetter
"Egg whites, oatmeal, wheat toast and black coffee." – Mike Chorzelewski
"Coffee, almonds, turkey and fish oil." – Bill Ellsworth
"Banana, hamburger and four WHOLE eggs...I couldn't live with myself if I tossed out a perfectly good yolk!" – Paul Medlock
"Six egg whites, two yolks, one cup of oats, one-half of a grapefruit, 20 ounces of water and some Advil." – Jay Clark
"Six eggs, a couple apples, milk, wheat toast and leftover pizza..." – Adam Hardt
"Based on Kieffer's latest blog article - Muscle Milk. At about 10 AM, I'll eat something bigger." – Josh Miller
"Two eggs, a leftover steak and swiss chard." – Mike Cheliak
"Oats, organic natural yogurt, a cup of blueberries and a banana with two scoops of whey." – Martin Won
"Weetbix, whey and milk." – Julian Rossi
"Protein shake upon waking and to hold me over while making breakfast, which consists of: two breakfast sandwiches (turkey breast, two eggs each, cheese on wheat toast), bowl of steel cut oats, grapefruit, black coffee and a fistful o' supp pills. Then, 5/3/1 deadlifting about 3.5 hours after that and another quick meal." – Todd Bross
"Spicy Italian Sausage, eggs, glass of milk, oats, water and a salad." – David Charles Strider
"Two scoops of whey with water, one and a half hours later...three whole eggs, two whites, a couple slices of swiss cheese, and an everything bagel. I know the bagel is bad, but it's a once a week treat." – Scott Fehlner
"Cream cheese on a low-carb tortilla followed up by bacon 'n' eggs at work along with a Monster drink." – Chad McDaniel
"Eggs and a shake." – Greyhm Michael Francis
"Oatmeal and eggs." – Randy Reames
"Egg whites! Yumm!" – Brian Simmons
"Brown Rice and a petite sirloin steak!" – Bill Morgan
"Coffee, skipping breakfast and then in a couple hours slamming a custom blend shake." - Brian Carroll
"Oats with a scoop of protein mixed in. Then a spoon full of greens powder chased by water." – Melissa Garrett
"Oatmeal with blueberries and ham, and two percent cheese omelet." – Kenneth Gruhl
"Six whole eggs, two tablespoons of flax oil and one cup of dry oatmeal." – Sam Sweigart
"Two scoops Syntha 6 with three whole eggs and milk." – David Scarborough
"Grapefruit and Met-Rx meal replacement bar." – Bob Robbins
"An eight to ten ounce grilled steak, four whole eggs, two cups of spinach, two cups of cantaloupe and a double shot of espresso with heavy cream." – Brett Bracken
"Organic cereal with organic soy milk, organic toaster pastry, organic hemp protien, and spirilina mixed with barley grass." – Matt Hunt
"Unsweetened Almond milk and fiber supplement, two chicken sausages, an apple with organic peanutbutter and fish oil." – Mark Gruen
"Met-Rx Bar and water." – Matt Lamb
"One pound ground beef, two slices of cheese and a protein shake." – Brandon Griffin
"Five egg and cheese omelet, milk and bananas." – Jay Wright
"Four egg whites, one slice of whole wheat toast, almonds and water." – Alex Longsworth
"Eggs!" – Bob McCabe
"A waffle gluten-free with flax, loaded with all natural peanut butter, one banana... a blended cup of coffee, vanilla whey, and oats! Workout is later today - hill sprints!" – Michael Ruggiero
"Three slices of brown rice toast, one scoop of casein with one scoop of whey and peanut butter shake...not my usual breakfast, but I was out of eggs." – Aaron Runnalls
"Omelet with two whole eggs, four whites, spinach, onion, chives, mushrooms, tomato and fresh ground black pepper. Mmm..." – Amie Bursaw
"Three packages of oatmeal, prunes and a big protein shake." – Jack Kottwitz
"Eight scrambled egg whites with two cups of fresh spinach. Yum." – Yvonna Covington-Dearen
"Four whole eggs scrambled mixed into two packs of instant grits, banana, glass of V8 tropical juice, glass of water, multivitamin and fish oil...due for protein/carb/creatine shake here in a bit...made with MILK!" – Justin Blatnik
"BI's Muscle Provider with glutamine and six ounces of grape juice." – Tammy Booska Howard
"I have 25 grams of oats, one whole egg and 54 grams of egg whites." – Jennifer Mulhall
"Twelve eggs and a quart of chocolate milk in the blender. GFH!" – Nate Harvey
"Budwig cream: five spoons of oats, five spoons of yogurt, one banana, half an apple, three fluid ounces of milk and two spoons of flax oil. Also had two whole eggs and a hot coffee/chocolate/milk shake." – Tiago Valentim
"Leftover spaghetti and a glass of milk." – Ryan Readinger
"Xtend plus some Jack3d Whooo..." – P.J. Vallier
"Protein shake, eggs, bacon, yogurt, oats, banana, coffee and some multivitamins." – Carl de Wijer
"Oatmeal with three tablespoons of peanutbutter, a scoop of chocolate whey and milk. Eat big to get big." – Eric Garcia
"Tuna, bagel, water." – Ben Drexl
"Wheaties and a handful of Dbol. BREAKFAST OF CHAMPIONS!" – Jason Pegg
"Omega-3 eggs topped with organic salsa, turkey sausage and brown rice bread with butter spray and sugar-free jelly." – Ryan Ward
"Babies." – Eric Simpson
"Oats mixed with cold water and chocolate protein powder." – Robert Zweig
"Four whole wheat pancakes with sugar-free syrup, a cup of blueberry yogurt and OJ to drink." – John Tucker Duncan
"Three whole eggs, 70 grams of oats, an orange, a banana and two slices of wholegrain brown toast with raspberry." – Al Valentyn