Another Easy Week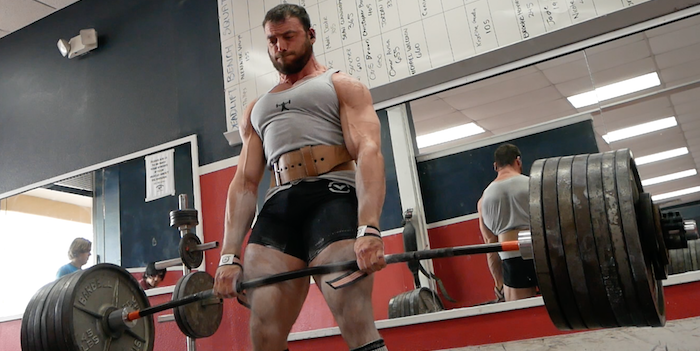 The US Open is coming up, but I'm still doing my best to exercise patience so that I won't peak too early.  Six training weeks is about right for me, so next week things will pick up with some PRs, but for now, check out these sessions:
Monday: Deadlift & Bench Accessory
Conventional Deadlift
635x3
635x3
Add belt
700x7
2-Board Bench Press
385x3
385x3
Reverse Hyperextension
3x10
Great one today.  Seven ties my rep PR with 700 on deadlift, but I had another few reps in the tank.  Held back to save some strength for squat.  Tried out Bench Blokz for the first time, too -- great product.
Wednesday: Dynamic Bench
Bench Press
415x1
Add doubled EliteFTS Light Bands
245x6x2
Incline Dumbbell Bench Press
80x17
90x17
EliteFTS Light Band Pull-Apart
3x20
Seated Rear Delt Row
3x15
Had squat scheduled for today, but my knee was hurting a bit, so I pushed it back a day.  Happy with the snappy overwarmup with 415 on bench press, but I don't know why I crapped out at 17 reps on both sets of dumbbells… maybe it's my lucky number?
Thursday: Squat
Squat with Krait Wraps
675x3
675x3
675x3
645x5
Beltless Pause Squat
455x2
545x2
565x2
Single-Leg Split Squat
3x8
Really starting to love the Krait wraps.  Excited to move to 700+ with them for a few reps next week.  I won't lie, I just threw in the beltless pauses for some IG love.  Tammy from Kinetix Body Science did some magic on my knee afterwards and it's feeling 100% now!
Saturday: Bench
Bench Press
350x5
350x5
350x5
350x5
TRX Inverse Row
Hammer Curl
Reverse Curl
Shoulder Complex
Laaaaame volume work.  Just getting work done; these sessions are important, but they're not fun.  I'm glad I'll get to start hitting it for real next week.
Loading Comments...