The Minx: Success In the Jack Shirt

Success In the Jack Shirt
My first experience in the Jack shirt didn't go so well. I got stuck in it – Big Time. By that I mean that my it was like hands-are-black, fingers-are-sausages, hyperventilating, freaking out scared stuck-in-the-shirt. While getting it on, I was somewhat nervous that it was too tight around my elbows, but it's been so long since I broke in a shirt, that I kind of expected it to be "ridiculouso" constricting. I stretched the sleeves (I thought) but it was still so tight that I couldn't touch 245 pounds to a 2-board. Yeah, it was bad. The longer I tried and the more sets I did, the tighter the sleeves got. By the end of the workout, I was already bleeding around the elbow seams. Bad sign. It ended up with Matt cutting me out of it with a razor blade (and handily slicing me up and down both arms, although I couldn't feel it at the time).
Afterwards, I almost cried while staring at my poor Jacked shirt that I looked forward to with such anticipation. If I just went up a size, I could make it work. I can tame this beast, I know I can. My conversation with SuperWattles went something like "Amy, I feel somewhat like a drug addict when I think about trying this shirt again. It hurts me, it doesn't let me go once I have it on, and it bruises up my arms. Yet, somehow I still think I'm the one in control here?" I don't remember exactly what she said. It was something that spurred me to continue on, though. I'm sure of it. Something about how the Russian girl in a faraway village is warming up with my max effort weight before she puts her Jack shirt on.
Another New Jack Shirt
So, I sized up to a 48 (which is actually two sizes larger than my Metal Pro Bencher) and had the time of my life benching tonight. Huge thanks to "The Dave" Tate, Steve "Hannah, don't worry, we'll size you up with a shirt that will accommodate your massive cannons" Colescott, Amy "BB4Life" SuperWattles, my gracious and always fun-to-talk-to elitefts™ customer service rep Rhonda, my raspy elitefts™ customer service rep Matt Goodwin (who should by all accounts be a voice model, really because I would so buy Old Spice if he were selling it), my gear and technique text coach Jo Jordan, and all of the others at elitefts™ who make my powerlifting career possible. It's funny to think about word of my escapades getting around the elitefts™ office. I can only imagine that there's a lot of eye-rolling going on when they get my e-mails...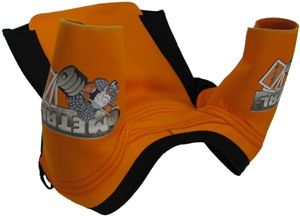 Jack Shirt Perception
So, I'm following this on a serious note with my honest perception of the Jack – really.
This shirt is a beast. I really can't say that enough. The 48 isn't what I would call loose, but it's definitely not binding my shoulders up like the 46 did. Jo Jordan gave me the PRICELESS advice of using a bar to stretch the sleeves out, and it worked wonders. I got the shirt on and off relatively easily, and with the sleeves opened a bit, I had zero elbow or bicep tendon pain.

The shirt rides high. It's got a very different reinforced, scalloped neckline. Having always been a neckline bencher (partially because of my arch), I had trouble keeping my shirts "set" after we jacked them down. The double whammy of the Jack is you don't have to Jack it; just set the shoulders and go. On top of that, you don't have to worry about armpit cleavage because the shirt rides high and "covers" more. I like that a lot.

No need for a super-tight belt with this shirt, because it stays in place. I found myself reaching to push my belt down and realized that it didn't moved since I tightened it. What an awesome feeling of having less to adjust and worry about!
I worked up to 5 singles at 255 pounds tonight. I wasn't able to touch any of them, but got awful close on a couple as I adjusted my technique. I'm trying to take this easy; it may come down to opening in my Metal Pro, then switching to the Jack for a second and third attempt. I'm excited at the possibility of really making this shirt work for me because I was terribly afraid that it might turn out to be too much gear. That remains to be seen, but as of right now I'm immensely pleased with tonight's session.
Feel free to contact me with any questions you may have...
Loading Comments...