The Minx: My New Hair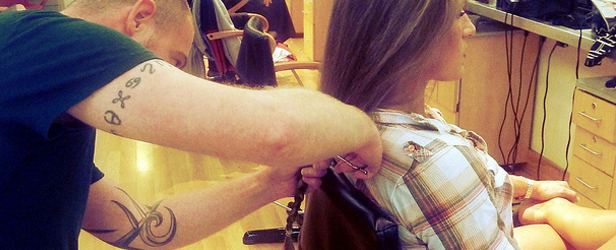 As I drove to my hair appointment yesterday, my mind was just churning with thoughts...
This is a bad idea. I have a BIG face. Short hair is a no-no for big faces. What would Mama think? She always said my hair was like a "crowning glory"…Will Matt like it? What will my friends say? What if it looks so bad that I have to get a weave? Wait, I'm not getting a weave. Maybe I just won't leave the house. Yeah, that's it…
I consoled myself with the thought that my hair will be going to someone who truly needs it, and doing well in the academy is more important than having long hair. Long hair is not practical at this point in my life, and I'm not such a material person that I'll let it impair my performance. Another added benefit is that it might help me make weight more easily…wouldn't that be nice?
I only got emotional once—when I started thinking about Mama, but it was such an awesome feeling to know that my hair would be put to good use!
In the end, I had 13 total inches cut (measured to the ends) to be sure that we would have 10 inches of usable hair.
Looking in the mirror was surreal. I've had hair down my back since I was a little tiny kid.
At this point, I was still in shock, but I was not sad or terrified like I had originally anticipated.
As the styling began, I started to feel better and better! My new hair felt so light and cool, not heavy and flat. It was a very interesting feeling, indeed.
While I was sitting in the salon parking lot, I took a quick selfie and thought, "Who is this person? I don't even recognize myself!"
Once I got home, my neighbors Nikki and Jordan were standing outside, anxiously waiting to see my new hair. Immediately, the "let's make a mustache " shenanigans went into full swing…
I'll be mailing My Little Pony(tail) to Ms. Stephanie of Art Of Wigs on Monday. So I"ll post details with instructions on my log then!
Loading Comments...