The Minx: White Chicken Chili with Fiesta Cornbread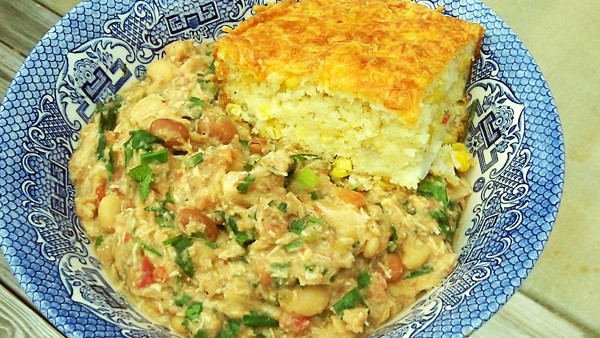 White Chicken Chili
You will need:
Stick blender (a regular blender will work as well)
2 pounds boneless chicken breast thinly sliced
1 can each of pinto, great Northern, and cannellini beans
1 can hominy (white or yellow; I use Juanita's brand)
Cumin (to taste)
1 large can Rotel diced tomatoes and chilies
1 large yellow onion
1 bunch cilantro
1 bunch green onions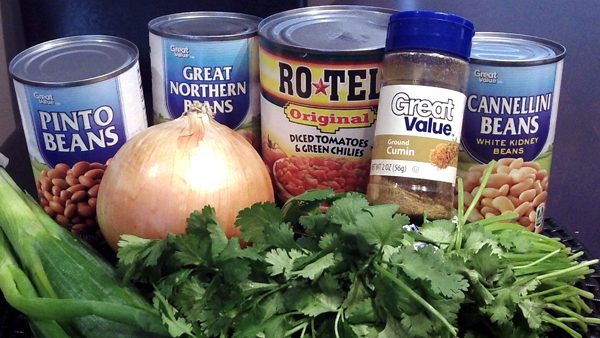 Fiesta Cornbread
You will need:
4 eggs, beaten
1 can cream-style corn
1 can whole-kernel corn (I used two small cans of Border Blend corn with peppers)
2/3 cup oil
2 cups self-rising cornmeal mix (I prefer TendaBake)
16 ounces sour cream (or you can use Greek yogurt)
2 jalapenos (or more if you like it flaming tailpipe hot)
1 large yellow onion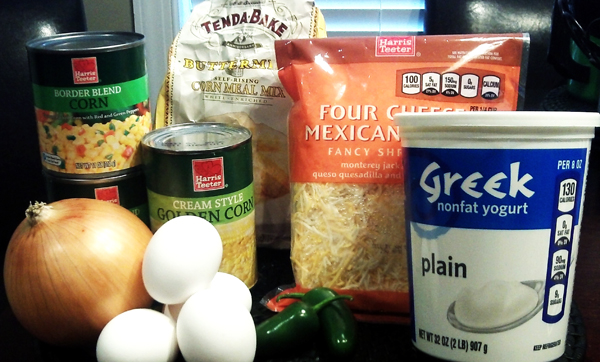 Directions:
Preheat your oven to 350 degrees. Plug in your crock pot. Be sure that your bake ware is centered in the crock pot. If it's too close to either edge, you'll have scorched chili on one side. Then it's all over but the cryin'…
Drain and rinse your beans. This not only reduces sodium (if you're watching that), but it also removes excess skins and the gooey liquid they're packed in. Go ahead and fire up your crock pot. Then throw in your drained beans to warm them. You don't have to rinse the hominy. Just be sure to drain it well.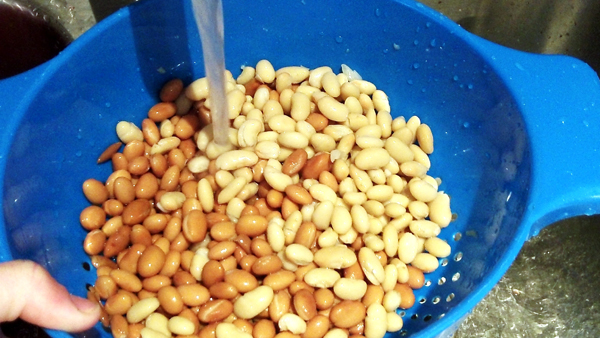 It ain't a party without the poultry
Add a tablespoon or so of oil to a skillet and brown your chicken and chopped yellow onion over medium-high heat, giving it a good dusting of cumin as it browns. Feel free to throw in some garlic salt here, too, if you'd like. After your chicken is browned, slowly add in your big can of Rotel and then bring everything to a simmer.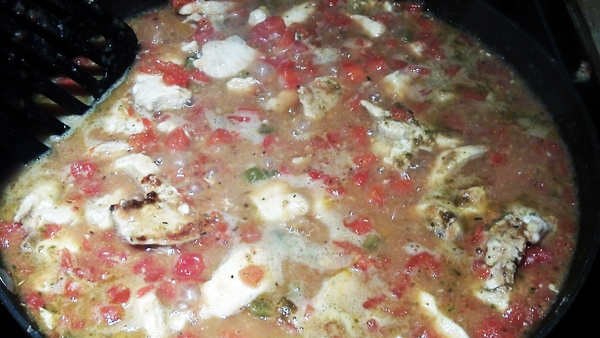 Transfer this mixture over to your crock pot, mixing it in well with your beans and hominy. Put the lid on this and forget about it for a little while, We want the flavors to incorporate. Let's start a fiesta, shall we?
Time for a flavor fiesta!
Mix all your cornbread ingredients together in a bowl. Remember to be careful when slicing/seeding jalapenos. Wear gloves if necessary. Only add the jalapeno seeds if you like a spicier flavor. Rough chop your onion and throw that in, too. You should have a big ole' bowl of something that looks like this.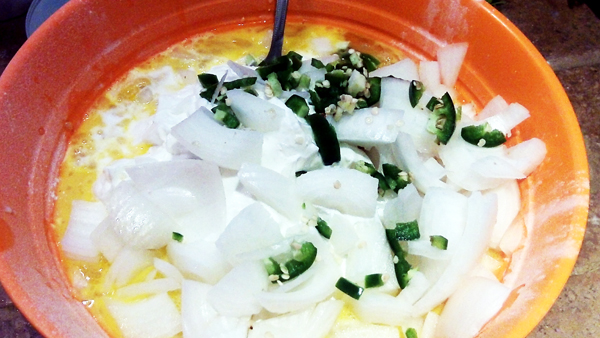 Stir it until everything is well blended and pour into a greased, 9 X 13 pan.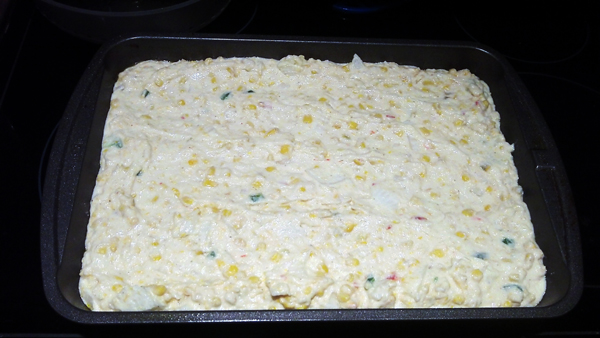 Top it all off with a thick layer of cheese…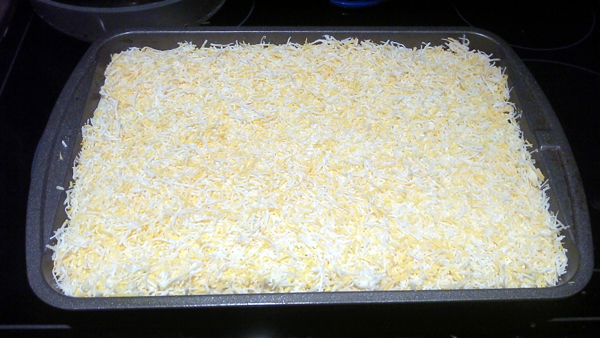 Then put it into the oven for 50–55 minutes at 350 degrees.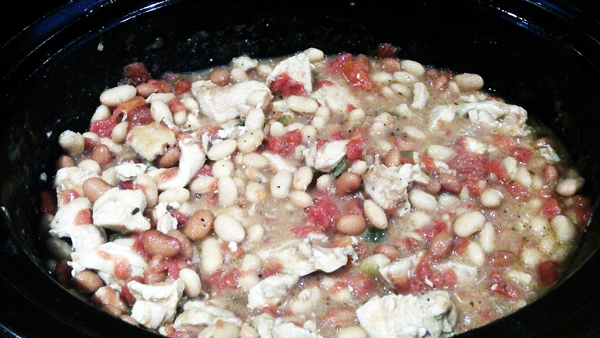 It ain't over until it's over
Now, peek in on your chili. I know what you're thinking. You're all like, "This can't get any better." Au contraire, my friends. It gets way better. Get your stick blender ready and pulse around the crock pot for three seconds at a time until you have a nice, thick consistency. Or pulse in small batches in a regular blender. Either works fine.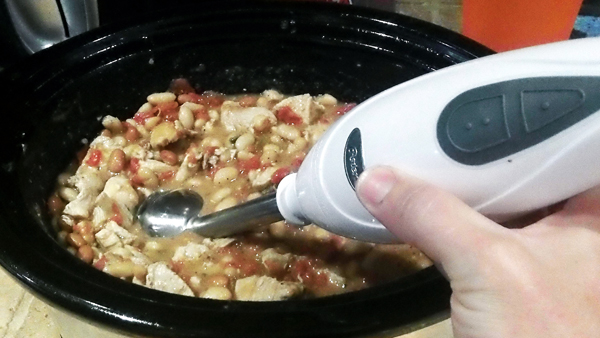 Once you're done breaking down some of your chili, you should have plenty of whole beans and chicken and a good, thick base to hold it all together.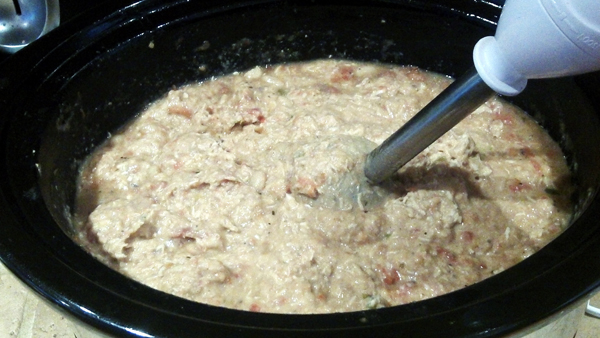 What the bleep is that beeping noise??  Oh, it's your oven timer. Go get the cornbread out. Add another dusting of cheese if you're feeling sassy and let it cool for 10–15 minutes before cutting it.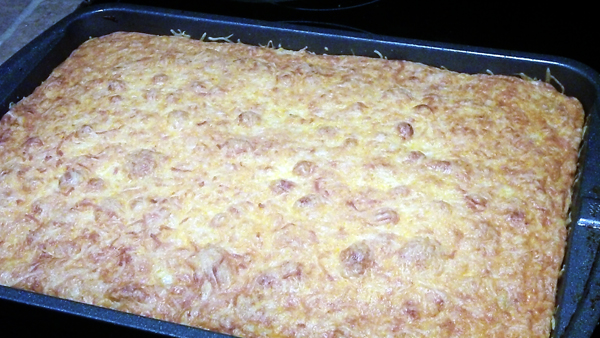 Chop your green onions and cilantro and either top your chili with them or stir it all together. I prefer the second method but to each her own. Here's your finished product, friends!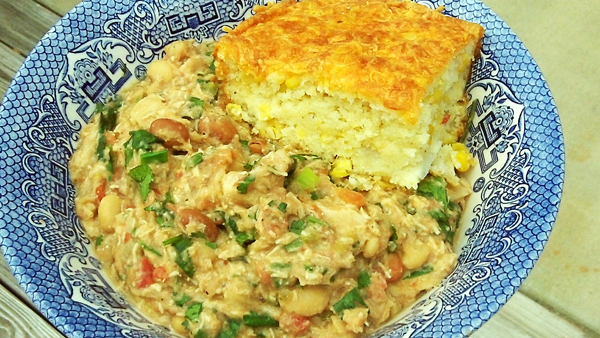 I hope y'all enjoy this as much as my family does. It's an amazing cool weather comfort food with no guilt. You have plenty of fibrous complex carbs and protein! If you're cutting calories, you can always opt out of the cornbread. I would love to hear your reviews of this recipe. Leave them below or send them to me.
Loading Comments...