"Fishy Friday" Recipe: Tilapia Tacos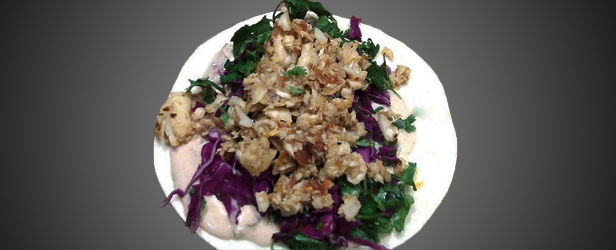 Need a great idea for dinner? Try this easy, breezy fish recipe that's perfect for any day of the week: Tilapia Tacos.
I've made this several times for large groups of friends and the relaxed, make-your-own style really cuts down on time and effort. You can also feed a whole lotta people for around $20.
Now, I don't know the topography of your area, but the rare Money Tree doesn't grow wild in my backyard. So, any time that I find a great meal idea that's inexpensive to make, I Prepare, Perform, and Prevail it.
Matt first tried these at a local Mexican restaurant at the advice of a friend, and he immediately turned to me with his favorite question of, "Hey, I wonder if you could make these at home?" (This is also how the Zuppa Toscana recipe started, by the way).
The tacos cost around $12 at the restaurant. However, not counting the $380 I spent making and re-making it to Booby's standards of perfection, I think I've saved us a couple thousand dollars this year with all the tilapia tacos I've made at home.
*If you hate fish or you despise tacos, try this anyway. It's probably not what you're expecting. But if it is as bad as you thought it would be, feed it to someone else who isn't a picky whiner.
*If you have a seafood allergy, enjoy this illustrated recipe and perhaps try it with chicken.
Prepare:
1 Small Head of Purple Cabbage
1 Bunch Cilantro
2 Bunches Green Onions
3 Limes
Mission Carb Balance Tortillas (Soft Taco Size)
Chipotle Salsa
Mrs. Dash Chipotle Seasoning
1 ½ lb. Tilapia
Greek Yogurt
Perform:
Heat some cooking spray in a skillet, and then add your tilapia. If you're cooking the fish while it's still frozen, which is how I do mine, add about ¼ cup of water to the bottom of the pan. Pop the top on it to get a good, slow boil going, and then let the fish cook for about five minutes (or until opaque).
While the fish is cooking, thinly slice/dice/chop your cabbage, cilantro, and green onions and toss them together, mixing well. This veggie mix will keep for a week or so in the fridge.
Now, once your fish is opaque, briefly remove the fish from the pain and drain out any water. Next, add a tiny bit of oil to your pan and then add the fish back in. Break the fish into small pieces and brown it just a bit over medium heat. Season it well with Mrs. Dash.
Once the fish is browned and the spices have adhered to it, dump in half of your jar of Chipotle Salsa. You want the fish to be moist and flavorful…
Let's throw together our dressing, okay?
Mix one cup of your Greek yogurt with the other half of your Chipotle Salsa. Shake in some Mrs. Dash just for kicks and mix it well with a spoon. Why a spoon? Because you can use that same spoon to ladle this dressing onto the soft tacos. Then you can lick said spoon. That is, unless you're at a get-together. Then, it would only be appropriate if you brought your own spoon. But I digress…
Prevail:
Assemble your tilapia taco any way you please. Then, make your spouse uncomfortable as you try to get a good picture of him/her, his/her EFS White Agency Tri Blend, and the taco (which is similar to getting a herd of cats to line dance).

Loading Comments...