Hannah's Torte Recipe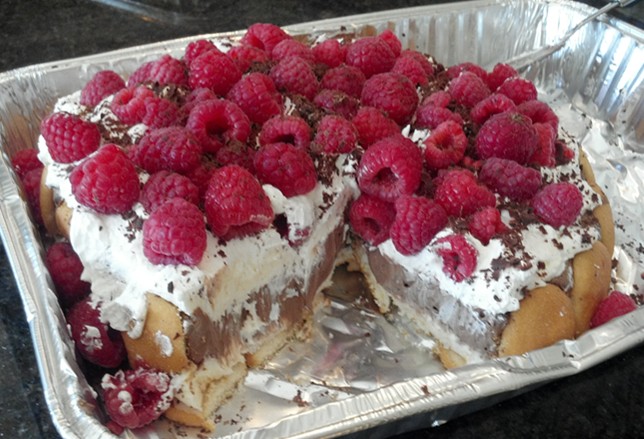 I thought I'd post this here as well as the Nutrition section. This was such a hit, I'm making an even BIGGER one for Christmas!
I'm not sure if this will be a plus or a minus for you, but... there's no baking involved with this recipe. Shhh, don't tell! It won Jello's Best Dessert Award.
Here's MY rendition of the recipe (and feel free to adapt it to your own standards):
1 Box Nilla Wafers
2 Squares Baker's Semi-Sweet Chocolate, Divided (You may not use these, but it helps to thicken and smooth the consistency while only ending up with about 2g of sugar per serving) *You can also use the sugar free chips here if you like*
1 Pkg (2.1oz) Jello Sugar & Fat Free Chocolate Pudding
1 Pkg (1.0oz) Jello Sugar & Fat Free White Chocolate Pudding
2 Cups + 2 TBS Cold Milk, Divided
2 Tubs Sugar Free Cool Whip
2 pkgs Fat Free Cream Cheese
1/4 C Granulated Splenda
2 Pkgs Fresh Raspberries
Line a 9-inch round pan with plastic wrap. Melt the two chocolate squares, stirring every 30 seconds in the microwave. Beat the pudding mixes + 2 cups milk with a mixer (Matt usually has to help me here because the pudding gets SO thick. Add a dash of extra milk if needed.)
Add the melted chocolate and mix well. Stir in a generous cup of Cool Whip and mix until just blended. Smooth the mix into the prepared round pan with a spatula (it will be very thick) being careful not to disturb the Nilla Wafers around the edges of the pan.
Beat the softened cream cheese + the 1/4C Splenda + 2 TBS milk until well blended, then stir in a generous cup of Cool Whip. RESERVE HALF OF THIS MIXTURE
Spread half of the cream cheese mixture over top of pudding mixture, then top completely with Nilla Wafers. Refrigerate overnight or AT LEAST 4 hours.
Here's the fun part-
Invert the torte onto your serving plate and remove plastic wrap. Top with remaining cream cheese mixture, then top with more Cool Whip. Rinse raspberries and heavily layer them across the top of the torte. Sprinkle with a few grates of chocolate and...
ENJOY!
Loading Comments...