Metal Minx Recipe: Diet Cola Fajitas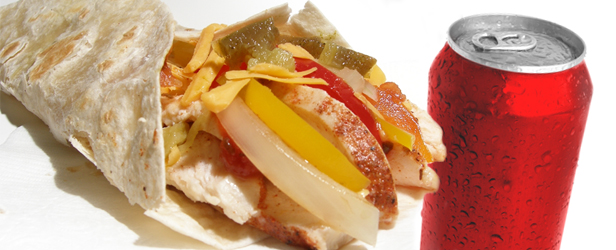 Yes, you read that correctly: Diet Cola Fajitas.
You're probably having a justified initial reaction right now of "What? Diet Cola? That sounds so weird!" Hang in there, though. This is about to be like that time your spouse suggested that 50 Shades Of Grey-ish bedroom idea, and you learned a valuable lesson: stuff that sounds weird usually only sounds weird the first time. After that, not only is it a cool idea, but now all of your friends are doing it, too. Listen to what I'm telling you. Your whole neighborhood will be buzzing about this recipe faster than you can say, "Red Room Of Pain."
As always, Your Feedback Is Appreciated & Encouraged...
You Will Need:
1-2 pounds Skirt Steak, thinly sliced against the grain (You can also add Shrimp)
Red, Green & Yellow Bell Peppers (or your personal preference), roughly chopped
1 Large Yellow Onion, roughly chopped
1-2 Cups Diet Cola
Greek Yogurt, Guacamole, Salsa, etc. (for topping)
Mission Carb Balance Tortillas
Spices for the Fajita Seasoning (from Food Network):
3 Tbs Cumin
2 Tbs Rough Cracked Pepper
2 Tbs Minced Garlic
2 Tbs Cornstarch
1 Tsp Paprika
1 Tbs Hot Chili Powder
1 Tbs Salt
1 Tbs Beef Bouillon (or chicken bouillon if you're using chicken meat)
OR...
Okay, it's Honesty Time.
We can't all be Paula Deen. If you don't have these ingredients, you suck at measuring, or you don't have the time to throw this marinade together, you can absolutely substitute a packaged Fajita seasoning mix (I favor McCormick). This works well in a pinch, and I always keep some on hand in case I run out of one of my main spices.
*Don't try to be a hero. If you think "Tbs" and "Tsp" are interchangeable, you need a "Pkg"...
Let Me Give You Something To Marinate On:
Reserve at least a couple of tablespoons of the dry spices.
Mix the rest of the dry spices (or packet) with the diet cola, and pour it over your skirt steak.
Refrigerate for at least an hour, preferably two.
I'm Impatient. Let's Cook!
Let's pretend it's been an hour or so, shall we?
Pour enough oil in a skillet to cover the bottom, turn up the heat and get it hot and shimmery.
Add in your steak, lifting it out of the marinade and reserving the cola/spice mixture for later.
While the steak is still in the early rare stages, add in your onion and peppers.
Get some good sear marks on everything, and while your steak is still pink and your veggies are very crisp, add in your reserved cola mixture.
Bring the pan to a good boil since this will activate the cornstarch and thicken everything up.
Two minutes left on the clock, Chefs. Start Plating!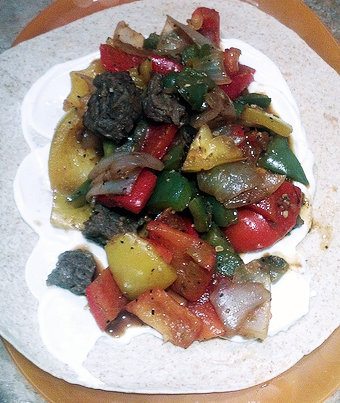 Lay out your tortilla on a large plate and spread it with your toppings. I like salsa verde and greek yogurt on mine. Matt likes red salsa and guacamole on his. I know, opposites attract, right? Add a heaping helping of meat and veggies, and ENJOY!
Once again, I know what you're thinking. "Man, that's a big-a** fajita! That's like, burrito-sized!"
Don't sass me. I've tried serving this with the fajita-sized tortillas, and it was laughable. I'm a piñata smasher like you've never seen—I'm all about what's on the inside. And more filling=more happiness. Also, with only one big-a** tortilla, I can accurately gauge my calories and macro breakdown. I'm more concerned with carbs right now than anything else, so one serving to measure is very helpful.
Loading Comments...