The Minx: Homemade Cocoa Crispies Cereal!

Minx's Fun Family Friday Recipe
I love to cook. I mean, I really love to cook. Which is nice because both Matt and I really, really like to eat. I'm constantly looking for new food adventures, and I recently stumbled upon Lauren Goslin's fabulously well done blog, Oatmeal With A Fork. The main ideas of the blog are Paleo, Gluten Free, Sugar Free, etc. There are meals for almost every type of diet choice, so I'm pretty sure I won't be running out of recipes to try for quite a while.
The first recipe that caught my attention was one for healthy "Cocoa Crispies." I, of course, made some Minxy Modifications for the version you see here, but Lauren's original blog recipe is Vegan, Gluten Free, Grain Free, and Paleo approved. If you or a loved one has allergies or is on a limited ingredient diet, I would strongly suggest exploring what Oatmeal With A Fork has to offer!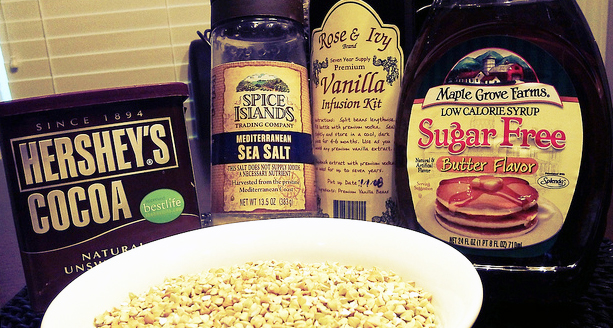 Only Five Ingredients!
2 Cups Raw Buckwheat Groats
2 Tablespoons Vanilla
6 Tablespoons Cocoa Powder (or Natural Cocoa Powder)
1 Teaspoon Sea Salt
10 Tablespoons Maple Syrup
Note:
I used Maple Grove Farms Sugar Free Maple Syrup, which is sweetened with Splenda. If you're not into artificial sweeteners, you can certainly use pure maple syrup—just remember that you're adding a significant amount of sugar and empty calories to your cereal. The reason I use lower calorie syrup is because I like to eat more cereal for less calories, carbs, and sugar…it's a win-win!
The vanilla in my picture is an infusion I made back in 2008. If you've never made your own vanilla, I urge you to do so. It gets better and better and…well, you get the point. Buy yourself some high quality vanilla beans, split and scrape them, throw 'em in a bottle, fill it to the top with premium Vodka, and BAM! You've got yourself a seven-year supply of Premium Vanilla Extract. As you use the vanilla, keep refilling the bottle with your premium vodka for up to seven years. I also add two fresh vanilla pods each year, so the vanilla flavor really pokes you in the face.
Get Ready, Preppers!
In a large bowl, cover your raw buckwheat groats with water and let them soak for at least 12 hours. Much like making almond milk, this isn't an instant gratification style recipe, but it's well worth the wait. I promise. Just think, if you start soaking these tonight, you can have them for breakfast this weekend!
So, we've covered our groaties with water (at least an inch or more to allow for absorption):
They're going to get kind of slimy, and some skins and/or sediment will float to the top. Rinse and drain the groats several times. Then, pour them into a pan that is lined with paper towels and dry them to the best of your ability. There's no magic way to do this -—and I'm just telling you in advance, those little groats are going to do their best to stick to the paper towels. But hey, with a name like "Groat," you should've known they'd be difficult to work with…
I had relatively good success by holding up the groaty paper towels and scraping the groats back into the pan with a rubber spatula (and then repeating the process with more dry paper towels). Don't feel bad—I said several ugly words and scattered little wet groats on the floor, too. I also made a note on my Taste Tester Comment Sheet that stated, "Next Attempt: Start with 3 Cups of Buckwheat Groats." If you have kids, make them do this part. Just make sure they know they'll be cleaning up as well...
Here's where we start enjoying ourselves. Mix your groats with the syrup, salt, vanilla, and cocoa...and feel free to try a few tastes!
Next, spread the mixture out evenly onto a nonstick baking sheet (or use parchment paper).
Bake at 200 degrees for 3 hours. This drying process is similar to how I made deer jerky. Fortunately, my oven has a "Cook Time" feature that turns off at a preset time, so it's pretty uninvolved. Once this is done, break your hardened groat mixture up into small, rough pieces. I used a rubber spatula, but if you baked everything on parchment paper you should just be able to "peel" up the pieces and break them with your hands.
Now bake your broken pieces for another hour and fifteen minutes at 200 degrees to finish the drying process. Then set them out for another hour at room temp—they get crispier as they cool.
Serve as a cereal (amazing!!), a granola over yogurt, or a sweet treat all by itself!
Note:
I love making my own Almond Milk, but I'm also a huge fan of Blue Diamond's Unsweetened Almond Coconut Milk. I add a few drops of liquid Stevia extract, and it's just sweet enough with no aftertaste. I'm already formulating ways to modify this recipe by adding flax, chia, and hemp seeds—the low oven temperature won't damage the nutritional content.
I'm always interested to hear feedback from you readers.
Loading Comments...