The Minx: Tuna Tuesday

Let me preface this recipe by saying that I'm well aware of its simplicity. I'm not claiming to be the originator of all cheesy tuna pastas. However, this is a dish that I developed to replace the boxed version. Whole grain pasta and cheesy melt (instead of the powdered kind) make this a delicious, one-pan-buffet of calories.
Note:
If you're a life-long clean eater and frown upon "processed" foods, or you hate saturated fats, then do us both a favor and quit reading. Don't bother commenting on how unhealthy this is or how it should be organic/unprocessed/bluh-bluh-bluh. Just go make yourself a green smoothie while the rest of us eat our faces off. We'll be here when you get back. Here…or in the recliner.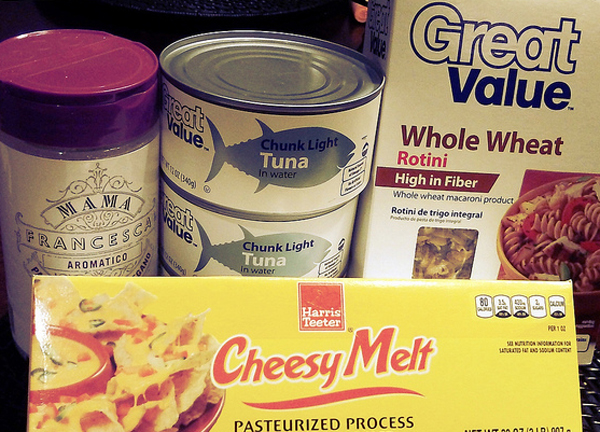 You Will Need:
1 box whole grain rotini, penne, or elbow pasta
32 ounces cheesy melt (I use generic, but you want something comparable to Velveeta. "Real" cheese gets too stringy).
1 cup Milk (Or until all the pasta is covered)
3 12 ounce cans chuck light tuna
Parmesan Cheese (to taste)
Garlic Salt (to taste)
Parsley (to taste)
It Really IS a One-Pan Meal:
Spray the bottom of a skillet with nonstick cooking spray and dump in your uncooked pasta. Cover it with your undrained tuna (the pasta needs water to soften it), and add milk until all of the pasta is covered. Top this tuna/pasta mix with squares of the cheese melt and garlic salt.
Now, pop a top on this and bring it to a low boil, being careful not to scorch the pasta on the bottom. As the cheese melts, and before the pasta softens, you're going to have a really full skillet. I mean, that's only unless you're cooking in a Shrek-sized pot or a wok...I would also suggest using a flat spatula in order to gently "fold" the mixture towards the center. To do this, start from the outer edges and lift from the bottom to evenly incorporate the heat and help the cheese melt.
Oh, and don't be upset if you spill some outside the pan—it happens to the best of us. See?
Once your cheesy tuna pasta is boiling, turn the heat down to low and let it simmer for about twenty minutes, stirring occasionally. It should thicken up and look something like this:
Plate your cheesy tuna pasta and top it with Parmesan cheese and parsley. I suggest letting it rest for a few minutes before serving—that hot cheese mixture will burn the ugly word out of your mouth.
I'd love to hear your feedback on this recipe. It's a favorite around our house when I'm pressed for time.
As Always, Your Feedback Is Appreciated & Encouraged…

Loading Comments...