Recipe: Low-Carb Chicken Penne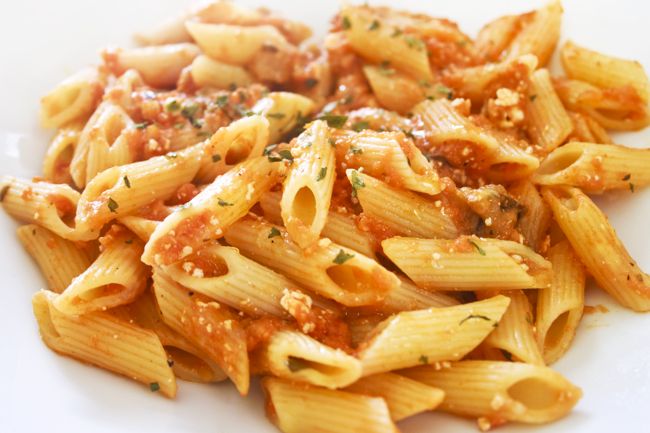 Low-Carb Chicken Penne
I'm a HUGE fan of Dreamfields low-glycemic pasta (shown here) which has a lot of inulin in it to reduce blood sugar impact. It's even safe for diabetics! Here's my rendition of chicken penne (forgive me for the haphazard pieces of rotini thrown in there; I had 1/4 of a box of Dreamfields rotini left over and tossed it in just for fun).
2lbs boneless skinless chicken breast (I use my plain chicken that I've precooked)
1 TBS minced garlic
1 large can of Italian diced tomatoes
1 small can diced tomatoes and hot green chiles
1 small can crushed tomatoes
1 large can mushroom pieces and stems
Oregano, Parsley, Garlic and Onion Powders to taste (I use PLENTY; remember that oregano and parsely are FULL of antioxidants!)
1 Box Dreamfields Penne Rigate
Cook pasta according to directions; cook garlic and chicken with cooking spray in a large saucepan. Add in all other ingredients except for pasta and stir until bubbling. Add in cooked drained pasta and stir to coat well. Season with additional herbs if desired. Makes 6 servings.
*Best Part: You can portion this up and freeze it for a super-quick meal later!
Loading Comments...