The Minx: Creamy Chia Poppy Seed Chicken

So, I learned this recipe from my beautiful friend Jaime, who is always coming up with ways to "healthify" old favorites. After having this once at her house, Matt made the infamous "I-wonder-if-you-could-make-this-at-home..." comment. A few taste tester parties and some Minxy modifications later...and here we are with Creamy Chia Poppy Seed Chicken!
In addition to poppy seeds, I added in one of my favorite nutritional powerhouses: chia seeds! I love the rich, nutty flavor of both poppy and chia seeds. Although poppy seeds are found in many commercial products like dressings and baked goods, some people steer clear of them completely in order to avoid any traces of opiates from showing up in random drug screenings. This is completely understandable, and if desired, you can absolutely substitute chia seeds for the teaspoon of poppy seeds. Then you will simply have yourself a Creamy Chicken Chia Casserole!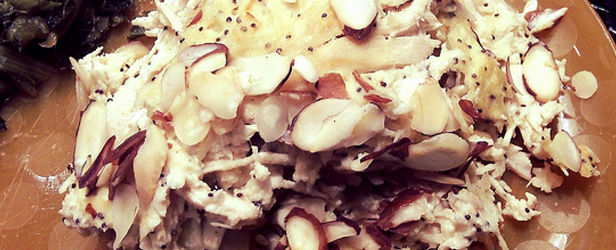 **One ounce (about 2 tablespoons) of chia seeds contains 139 calories, 4 grams of protein, 9 grams of fat, 12 grams of carbohydrates, and 11 grams of fiber, plus vitamins and minerals.
You Will Need:
1 teaspoon poppy seeds AND 2 tablespoons chia seeds
2 lbs chopped cooked chicken
1 can condensed Cream of Chicken soup (You can use low sodium or reduced fat if you wish)
16 oz. Greek yogurt (I usually use Cabot full fat Greek yogurt, but they were out, so I substituted Chobani 0%)
2 tablespoons white pepper and salt to taste
sliced or slivered almonds
Start by soaking your chia seeds in 2 Tbs of water for about 10 minutes. They'll swell up and get kind of gooey, but don't be scared of how it looks—they'll be too hard if you don't soak them. If you're brave (or despise following directions), you can omit this step. But be warned: chia seeds are extremely crunchy.
Mix your chicken with your 2 Tbs of white pepper and your seeds. I like to kind of toss the seeds and seasonings around with the chicken. Adding them all at once to the yogurt and soup can sometimes create "pockets" of dry powder. If you don't have white pepper, you can use black; however, you'll need to use more and your dish won't look as pretty.
Add the yogurt and soup, mixing very well and making sure that everything is completely combined. If you'd like a creamier casserole, you can always add more yogurt or even a stick of softened butter (if you're not watching calories). Matt and I prefer a slightly drier casserole with a firmer texture, but it's totally up to you! (The original recipe calls for mixing in one sleeve of crushed buttery Ritz crackers, but I don't use those unless it's the weekend or when I'm making this for company). Now, spoon everything into a well greased 9x13 pan.
Cover with your sliced or slivered almonds. (I love to really lay them on thick)…

Bake at 350 degrees for an hour, and then broil for a few minutes if the almonds aren't toasted enough.
I serve this with several different sides, but my favorites are turnip greens, green beans, or yogurt-garlic-parsley mashed russet potatoes.
With only a few simple ingredients and very little prep, this makes an excellent low-carb weeknight dinner!
Loading Comments...