Leftover Turkey Pot Pie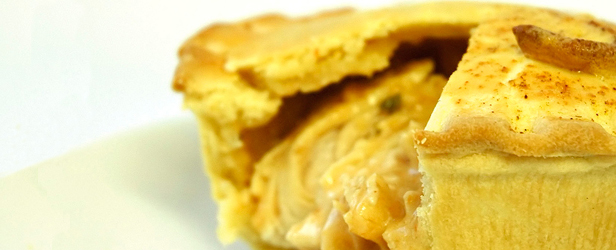 You overcooked the Thanksgiving turkey, so now what?
I'll tell you:
Turn that dry, boring turkey into a yummy, flaky pot pie. What's more, you can also use chicken.
Ingredients
2 pounds leftover turkey OR Boneless skinless chicken breast
1 can Cream of chicken soup
1 pound bag Frozen mixed vegetables (Any variety)
1 box pie crust (pre-made with 2 crusts)
½ teaspoon pepper
1/3 – 2/3 cup Water
Mrs Dash or other salt free seasoning (optional)

Directions
Preheat oven according to instructions on pie crust box.
Put bottom crust in a large 9x13 baking dish and place in preheated oven. Only bake/warm for a few minutes(5-10) —just to make the bottom crust slightly crisp. DO NOT FORGET IT IN THE OVEN!
While the bottom crust is in the oven, cube your chicken into bite size pieces. *TIP—Partially frozen chicken is easier to cut without it sliding and mashing all over your cutting board.
Coat a skillet with cooking spray or olive oil and heat to Medium-High heat. Once warm, add your chicken and cook until no longer pink. *If using turkey, skip this step.
While the chicken is cooking, microwave the vegetables. (They don't need to be hot and ready to eat, just thawed. They will go into the oven so no need to over do it).
Once the chicken and veggies are done, mix them together in a bowl along with the pepper, water, and soup. *If you like a thinner, soupy filling add 2/3 cup water. If you want it thicker and a little drier, go with 1/3 cup water.
Evenly spread mixture over bottom crust in the pan.
Place the second crust on top.
Bake for approximately 20 minutes. *Until the top crust is crispy and golden brown.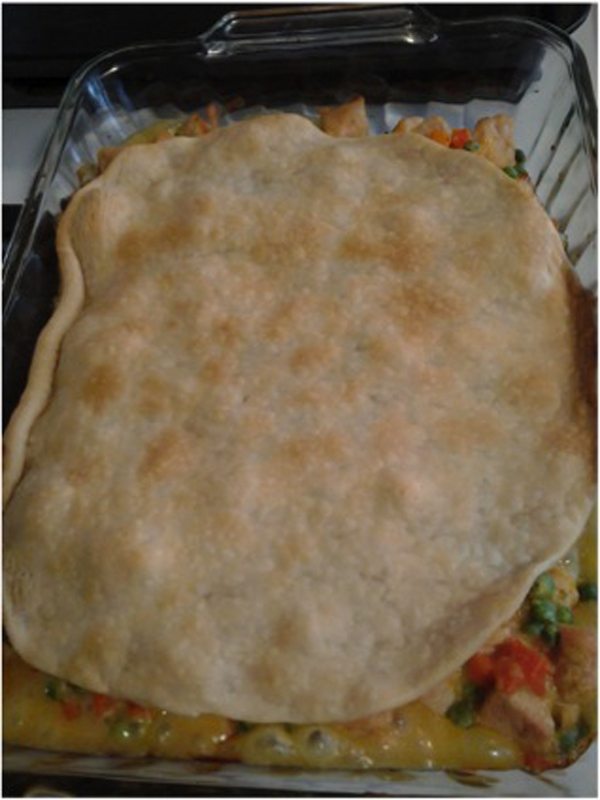 Mmmmm... look at that bubbly goodness.
Loading Comments...