Snatching Victory from the Jaws of Defeat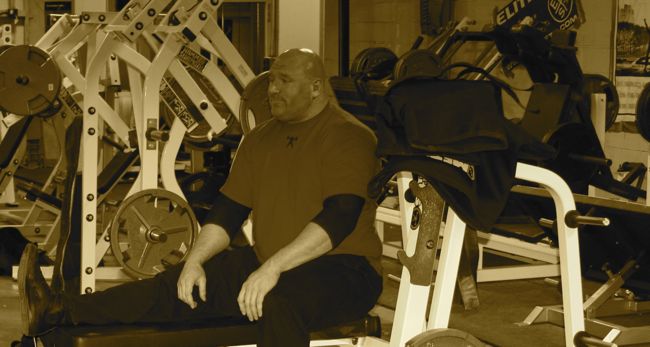 I competed at the Europa last weekend. Gene and Amy put on another terrific contest. All the equipment was great. The warm-up area was set-up well and it was easy to get in the warm-up sets we needed.
My day started off badly. I never quite got settled with the squat. I think my fears of doing too much work and aggravating my hip caused me to severely undertrain. As Billy Mimnaugh would say, I was doing "Regressive Underload." Everything looked fine, but felt horrible. I felt like my hips were all over the place under the weights. On top of that, I had trouble keeping my weight back on my heels. Everything seemed to drift forward.
I opened at 750 pounds and got it no problem, but it felt bad. I went to 825 and everything that I could have done wrong, I did. I passed on my third because I really thought I was going to injure myself. I had no business putting that amount of weight on my back that day. My Regressive Underload put me in a bad spot.
I walked away from the event for about 20 minutes, pouted, and then pulled it together.
All of my bench work felt great. I opened at 550 pounds and made it look harder than it needed to be. I went to 575 and nailed it. Then, I took 600 pounds and smoked it, as I should have. I had a few more pounds in me, but I'm very happy with that result.
This set me up to have a chance at beating my total from the meet in March. I opened at 650 pounds, then went to 720 and beat my March total. Despite my terrible squat performance, I made progress. I then went to 760 for an all-time PR and nailed it.
I walked away with the biggest total and the biggest deadlift of the day which garnered me $1,000. So, I win!
I have some video, but I'm not sure how to get it on the site. I don't do video. My people do. Once I get it squared away, I'll post it up.
My college sweetheart was in town for a long weekend and she took the video. It was a good weekend, all in all.
I'm heading to Arkansas this week to visit my sister and ride four-wheelers. I'll take the next two weeks off from the gym to let my mind and body heal up. I'll drag the sled a few times a week until then. I'm also getting my physical therapy appointments set-up so I can get working on the hip. Vincent's physical therapy did wonders for him, so hopefully I'll have similar success.
Loading Comments...