Union Fitness: Pittsburgh's Community Gym
Interview by Sheena Leedham, written by Sydney Schulte, & filmed by Josh Goedker
---
Initially designed to be an outlet for people working during the day, Union Fitness is part of Nova Place, a multi-million dollar urban redevelopment of the former Allegheny Center in Pittsburgh, Pennsylvania. The gym is located in-between Nova Tower One and Nova Tower Two.
Admittedly, it took a little while to Union Fitness owner Casey Williams to figure out how to best accommodate the gym for its users. On top of that, Union Fitness had about 3,000 square feet to spare in the back end and no office plan, so he threw the office in for a comfortable place for employees and customers alike.
"I knew I wanted to create a staff around that [space], a staff that could be more engaged, and that worked out really well," he says. "People took to it."
What sets Union Fitness apart is that it centers itself on strength — not CrossFit or cardio. "You can reach some of your goals by doing a lot of strength-based movements in our barbell class," Casey says, referring to it as "our take on CrossFit."
An Epic Moment of Enlightenment
It was a bit of an uphill battle to get Union Fitness to where it is now. Faros Properties, Nova Place's developers and owners, had a different vision for Union Fitness than its employees did. Casey says Faros Properties wanted the gym to be an amenity; he challenged Faros Properties to see it his way, and luckily, the developers embraced and continue to support Casey's vision.
He recalls sitting in the Faros Properties management office while the gym was being built, and thinking, "What do I want it to be? What should this look like? What are some overarching principles and values that would do well in any gym?" And it came to him.
"I went with 'epic.'"
Education, Passion, Integrity, and Community
Education is about the staff and members. The staff must be educated in order to empower the members, so Union Fitness puts money toward continuing education.
"If staff is interested in learning, say, weightlifting certifications and that kind of stuff, we'll do that."
True to elitefts' motto, Union Fitness also passes down what they've learned to the members. They ensure that people feel comfortable coming into the gym and creating their own workout. Maybe it's not ideal, but Casey believes they should be able to come in at least one day and feel good about what they accomplished.
Passion is all about loving what they do.
"Not to bash any of the big corporate gyms, but that's not us," Casey says. "We want people to feel like this is their community gym." And that's where integrity comes into play. It means a lot.
"We only have our word."
The bigger piece of integrity is a promise. If they say they'll do something, then they'll do it. Members should be getting value out of what they're paying for, and that's something Casey firmly believes. In this context, value is most likely perceived differently, which is why he strives to ask gym members about areas of improvement or things they can include. This could mean adding new classes or changing class times to a time that's more flexible to members' schedules. "They're all small group classes for that reason," Casey adds. "We want to have that back and forth with everybody."
All of that ties in with community. Casey stresses the importance of gym members' comfort. He wants members to feel like they are part of something and feel proud of it — specifically speaking, Union Fitness itself.
Casey wants to hear members say things like, "Oh, I go to Union Fitness. I'm excited to do that. I have friends there." It's more than just a gym. Casey admits that as trite and cliché as that sounds, it's important to him and Union Fitness as a whole.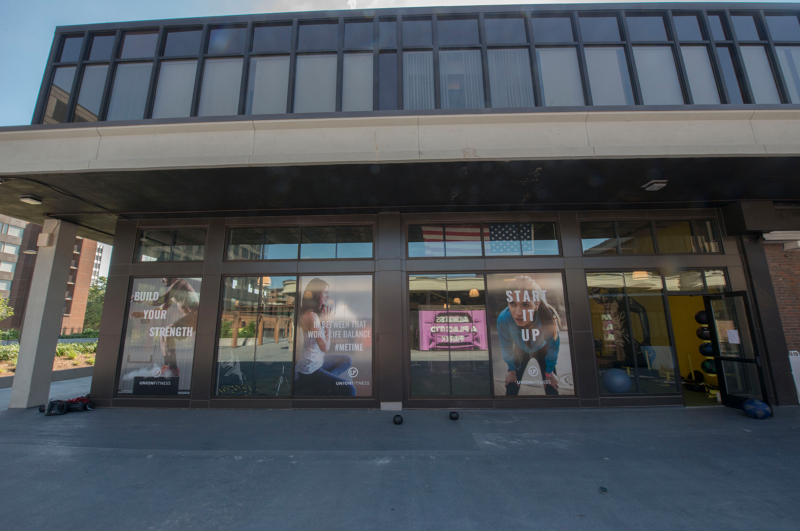 Oil, Honesty, and Steel Support Beams
Before managing Union Fitness, Casey worked in oil and gas for six years. Prior to working in that industry, he knew nothing about it — zero experience or knowledge in sales or business — so jumping into that was nerve-wracking. He enjoyed it, though.
"There came a point where corporate America was enough for me. I had this opportunity to come work here, and it was kind of the same scenario."
Casey had been in gyms before and knew what he wanted a gym to function like, but that's all he knew. He found that being honest with himself about what he did and didn't know while leaning on Dave Tate, JL Holdsworth, C.J. Murphy, and the elitefts team who had "been there, done that" for support and information made a huge impact.
"I need to go back to them to rehash some of the stuff that was really over my head from Day 1."
Along with the assistance from elitefts, Casey also found help from Nova Place's marketing team. He learned that gyms are specific and part of a different niche. That marketing team helped him find the target audience he sought as well as the messages he wanted to project.
Using the language and imagery of unions and steel — both of which have roots in Pittsburgh — held it all together.
Reality, Meet Expectations
When it was time to open Union Fitness's doors to the public, Casey had a grand image in mind of what it should look like.
In reality, it did not meet expectations.
"Day 1, I don't remember if anybody walked in the door. We were like, 'OK, maybe we need to send another email out. Maybe we need to go visit these people.' That was tough."
That wasn't the only thing that Casey didn't foresee coming.
The hours were crazy, and the place was almost a ghost town. Three staff members ran the joint — with the numbers during the earlier days of Union Fitness, three members working at a time were all the people the gym needed.
But classes did pretty well. Instead of trying to push members over to personal training or to something staff preferred, he adapted to the members' needs and made classes a priority. It's a huge portion of what Union Fitness does now.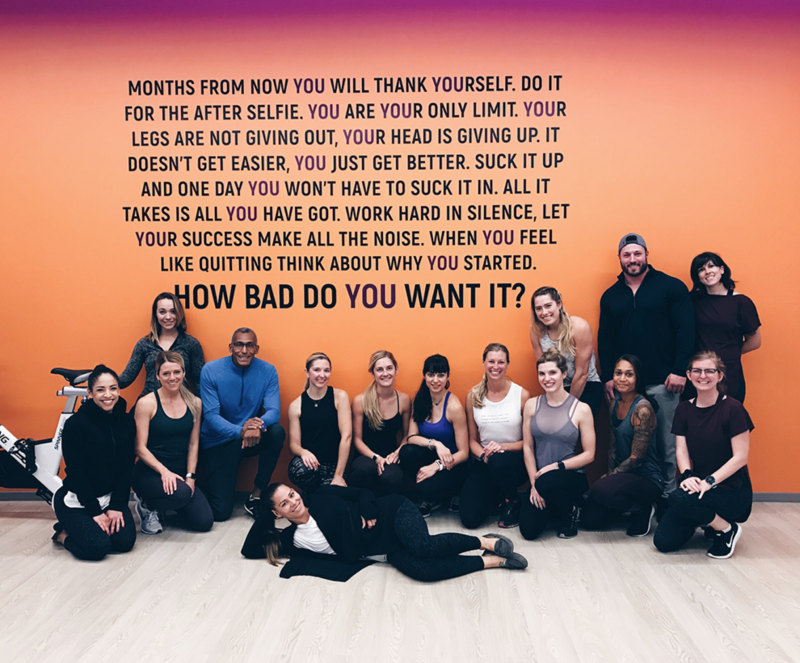 Staff Stepping It Up
Casey credits the staff for having flexibility and faith in those early days. He also had to adapt, and for him, that meant stepping back from coaching and focusing more on management and the business, accounting, and marketing aspects of things.
Stepping back from coaching meant he had to leave a lot of the work up to his staff — and that was the biggest thing that got Union Fitness up and running. "Kudos to them."
This meant having a couple of staff members at the front desk while others taught classes. The hours were long, odd, and unpredictable. Had it not been for all of their support and flexibility, Union Fitness might not be here.
As Union Fitness continued to grow, Casey hired more than just multi-tasking front desk workers; he added personal trainers and coaches to the roster. He found most of these people by word of mouth, particularly from the tongue of Todd Hamer and friends in the fitness industry. While he couldn't always offer a full-time gig, let alone a part-time one, he found trainers willing to work for a shift or two every so often.
Admittedly, that didn't look good on Union Fitness in terms of commitment, but financially, the gym wasn't there yet. But when memberships started going up and more money came in, Casey hired more people for more than an afternoon or two of work, including a director of personal trainers.
Employees have different perspectives and backgrounds, and it makes a world of difference when each of them brings these things to the table and the gym members.
Tailored Personal Training
Personal training is exactly how it sounds. Come into Union Fitness with a list of goals (or maybe one goal) and be realistic — something that Casey's learned quite a bit about from those early days at Union Fitness.
"Instead of [a goal of] 'I want to look better,' what is better? You might wake up tomorrow and feel like you look better. Let's come up with something realistic, some numbers. What interests you? Do you want to run? Do you want to lift? Do you want to do a little bit of both?"
Union Fitness personal training clients tend to be average people of all ages. Casey uses the example of an older client. After customizing a program for her, she began to notice that simple chores and tasks around the house became much easier for her than before. She doesn't have to call her son and ask for assistance. It's given her more mobility and freedom.
In that sense, Union Fitness personal training is very specific and tailored for each and every member. It also helps that staff members have specialties in different backgrounds — strength training, yoga, and even mobility work. Having the ability to direct clients to those specialties is priceless. Let's say lifting hasn't been working for a client, but maybe yoga would? In that case, they'd receive help from a trainer who specializes in yoga.
Welcome to the Strength Lab
Union Fitness started with strength training at first, mainly due to the fact it started out with Casey and two other staff members and it's what Casey's most familiar with.
The Strength Lab has more women than men, or at least 50/50, which is great. Casey prides Union Fitness on inclusivity, and he and his staff try to make a connection to everyone who walks through the doors and make them all feel like they belong... even if the space can feel intimidating with 500-pound squatters and 300-pound benchers.
That doesn't seem to alienate those who attend Strength Lab classes, such as Powerful, which is the barbell class. Powerful teaches the squat, bench, deadlift, and overhead press — the basics. Even though it's a class, it's not a one-size-fits-all deal. It's not going to assume everyone there is going to hit 80 percent and go up. It helps members figure out where they need to be that day.
"It's not personal training, but it's pretty damn close."
Union Fitness also offers a class called Fatbell Revolution. Rather than just use the average kettlebell, Fatbell Revolution uses fat kettlebells because they're super easy for teaching people to do proper kettlebell movements. "You don't have kettlebells banging you in the back of the wrist," Casey says. "It's a 50/50 strength and cardio class."
Fatbell Revolution is a great class for beginners who aren't sure what they want to do. Attendees don't have to go heavy, and it's simple.
Then there's the Bodyweight Bootcamp Class. It's a sort-of life skills class that gets people up and moving around.
Enter the Cardio Lab
Outside of the Strength Lab is the Cardio Lab. In the past, it's been used for spin classes, but no one was particularly interested in it.
Casey and the staff moved out some of the bikes and added skiers and rowers. There, Union Fitness offers Powerful Bootcamp. "It's a 50/50 strength and cardio class that uses some HIIT style training with battle ropes, Fatbells, and other implements that pose different challenges for members," Casey says.
It's a great class that gets people up and moving around without stressing too much technique. Surprisingly, a few powerlifters will take up this low-impact work class.
There's also yoga, power flow, and a few other restorative classes as well.
Murph and Turf
After seeing the elitefts Erect-a-Rack at The Spot, Casey thought it was awesome. So he got one for Union Fitness. "Even if it's not the most functional thing, it looks so good," he says. "Now, it is totally functional. It's great, and we slapped it right in the middle, put some turf down, and I asked Murph, 'What do you think about turf?' and he's like, 'The more the better.'"
More turf it was, though Casey admits he could have added more. "You were right, Murph, I needed more turf."
The addition of turf would allow some conditioning work in the winter.
Casey also threw in two monolifts, two competition benches, two deadlift platforms, a few belt squats, and GHRs. "Did we need double of everything? Maybe not, but it works out really well."
On a given weekend, Union Fitness can have anywhere from 10 to 25 people squatting, so that can help clear traffic. Without doubling up on these, it'd make it more difficult to serve members.
"In some ways, it changes the culture a little bit," Casey says. "It doesn't force us to be more inclusive, but it gives us the opportunity to be more inclusive."
Why elitefts Equipment?
Mike Barravecchio, the guy who got Casey into powerlifting, was a big fan of Westside who followed Louie Simmons a lot, which eventually led Casey to Dave Tate and elitefts.
Clint Darden and Steve Goggins were the first two people Casey followed religiously (Casey recalls Steve's elitefts training logs being terrible and Clint's YouTube videos being insane). He interacted with them through Twitter chats and eventually met Steve at his first meet. Team elitefts engaged with Casey, and he felt a strong connection to the company and the people who worked for it. Casey ended up training with Todd Hamer, the then-RMU head strength and conditioning coach and elitefts columnist, who got his start under Mike "Buddy" Morris, who used to help run the elitefts Q&A.
"It was like I couldn't escape elitefts. It was infiltrating every gym I had been to in some form or fashion. Besides that, any of the elitefts equipment I used was awesome."
All of the elitefts equipment is quality — it doesn't go bad, plus it's customizable. Working with Matt Goodwin, who walked Casey through the process, was also helpful. Casey found it was easy to be honest with Matt, who's created all of these spaces for other people and their gyms, and he can trust him.
Engagement, trust, and quality. Those are three words that come to Casey's mind when it comes to elitefts equipment.
---
Some More elitefts Equipment at Union Fitness
---
Future Goals
For 2019, Casey already has plans in the works to expand Union Fitness. They'll be adding a 1,500- to 2,000-square foot classroom space with outdoor turf and roll-up garage doors — of course, outfitted by elitefts. He also wants to introduce something more engaging, like a mace or kettlebell-style class, along with new coaches and trainers. The focus will be on providing variety while still empowering people to create their own version of strength.
For More Information
To visit Union Fitness in-person, go to Nova Place, 100 South Commons Pittsburgh, Pennsylvania 15121, or enter Nova Place through its Alleghany Square entrance.
Visit Union Fitness online at unionfitness.com.
Contact Union Fitness at join@unionfitness.com or email Casey at cwilliams@unionfitness.com.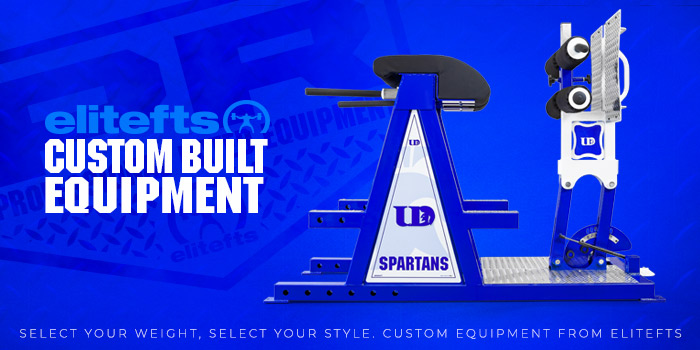 Loading Comments...