FBI Charges Coaches, Hollywood Actors, and CEOs in College Admissions Scandal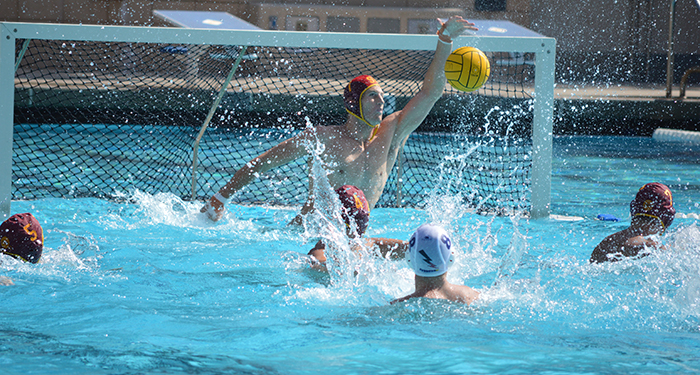 On March 12, the Federal Bureau of Investigation charged 50 people in a nationwide college admissions scam, alleging cheating on ACT and SAT exam, falsifying information for athletic recruitment programs, and bribing coaches and administrators.
The FBI worked with cooperating witnesses (CWs) to bring this scandal and the people who participated in it to light. Read the reports in full here.
William "Rick" Singer, CEO of Key Worldwide Foundation, a non-profit he claimed was a charity, and the Edge College & Career Network LLC, a for-profit college counseling business, conspired with wealthy parents, including Full House's Lori Loughlin (better known to the American public as Aunt Becky) and Desperate Housewives' Felicity Huffman, as well as college athletic coaches, college counselors, and college exam test administrators.
This scandal involved bribing SAT and ACT exam administrators to allow one of those charged to take these exams in the place of students or to correct students' answers after taking the exam, bribing athletic coaches and administrators to ensure their children's admission to elite universities under the guise of recruited athletes, and using Key Worldwide Foundation as a smokescreen to conceal the source of bribes.
In some cases of getting children into a college via athletic recruitment, the alleged conspirators falsified information about their children's athletic abilities and some coaches went along with it as well.
One such coach was Laura Janke, a former assistant coach for women's soccer at the University of Southern California, who helped then-insurance company senior executive Toby MacFarlane create a bogus athletic profile for his son. The profile claimed the student played on his high school's varsity basketball team (he did not) and gave false information about the child's height: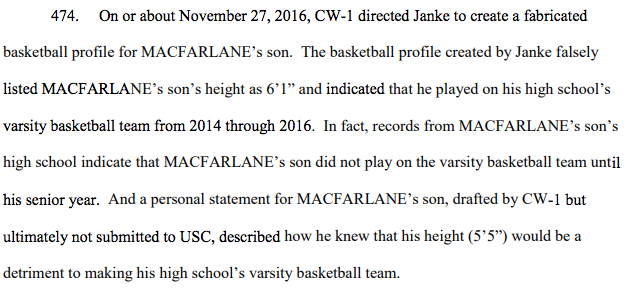 Other coaches who were charged include:
Gordon Ernst, former coach for men and women's tennis at Georgetown University (left in 2018)
Donna Heinel, senior associate athletic director at USC (fired due to this scandal)
Jovan Vavic, head coach for men and women's water polo at USC (fired due to this scandal)
Laura Janke, former assistant coach for at USC (left in 2014)
Ali Khosroshahin, former head coach at USC (fired in 2013)
Jorge Salcedo, head coach of men's soccer at University of California, Los Angeles (on leave due to this scandal)
John Vandemoer, sailing coach at Stanford (fired due to this scandal)
Header image credit: Neon Tommy © Flickr
Loading Comments...