Introducing New elitefts IG Athlete Ryan Belcher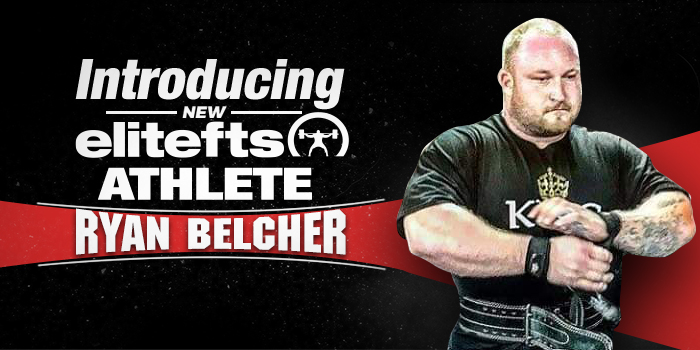 Ryan Belcher discovered powerlifting in prison, and elitefts found a new team member in Ryan.
Ryan is from Ypsilanti, Michigan, where he works for Belfor and comes home each day to his wife and two sons.
He started powerlifting in 2014, which he describes as being in "the darkest corner" in his life. As it turns out, there isn't much to do in prison, so Ryan spent his time lifting weights. After some time there, he and the prison guards noticed that he was quite possibly the second strongest man out of the 1,565 inmates in the compound.
While he recognized this strength, Ryan didn't realize just how much potential he had for powerlifting until he'd finished serving his time. The big eye-opening moment for him was in March 2018, at his first powerlifting meet, where he totaled 2,006.
One year later, Ryan won the SHW division at the 2019 Arnold Classic with a 2,255-pound total — his second-ever meet.
His best lifts to date are a 950-pound squat, a 525-pound bench, and an 805-pound deadlift.
Ryan intends to compete August 3rd at the Pioneer Tribute Meet in San Antonio, Texas. As he prepares, he also looks forward to being part of elitefts because "every single person involved with elitefts has made me feel great and already like a family member."
Welcome to the team, Ryan.
As one of elitefts' first Instagram Athletes, everything he logs will be on his Instagram profile: @iam1him.
Loading Comments...