Surgery, Recovery & Some Past History On Me...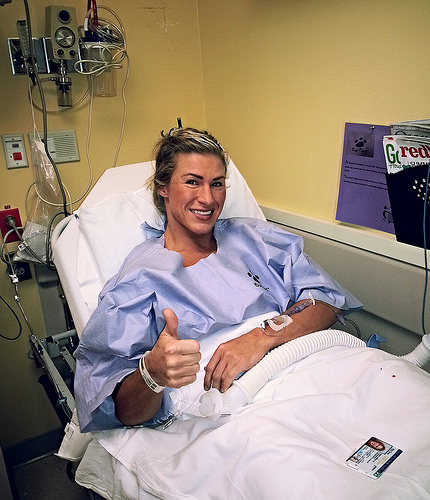 What's Up Next For Hannah?
Hey there! I'm honored and humbled to share my life and training with y'all. I just celebrated the completion of my first full year as a Firefighter in Greensboro, NC, and it's been filled with excitement! After graduating Recruit school, I set a goal to get back to my former powerlifting numbers of a 450lb Squat, 325lb Bench Press, and 450lb Deadlift- while simultaneously training for the Firefighter Combat Challenge, which has been dubbed "The Toughest Two Minutes In Sports". It's been a constant give-and-take to stay strong while training to be explosively fast. I've learned a lot along the way, and my training has paid off in dividends!
I competed September 27th, 2014 in full power women's 148 class powerlifting in Myrtle Beach, SC, where I went 8/9 attempts with a 405lb squat, 290lb bench, and 405lb deadlift, 1100 Total.
It wasn't my best showing, but it was the first time I've competed in over a year and a half, and it was good enough to set all new SPF first place records in the Police & Fire Division.
I also competed October 17th in Montgomery, Alabama in my first-ever Scott Firefighter Combat Challenge. I finished with a time of 3 minutes and 23 seconds, which took Second place and earned a 2014 Top Ten Ranking on the Scott Firefighter Combat Challenge Website.
My goals as of right now are to train hard to regain my 1200lb total in a Powerlifting meet early 2015, then focus my full attention on a sub- 3 minute Combat Challenge time in May 2015. A time under three minutes will put me in the Prestigious Lion's Den, which is similar to a Hall Of Fame for The Combat Challenge.
I know, I know- Strong AND Fast? Those two together aren't easy to train for! But with hard work, perseverance and a Strong(Her) attitude, anything's possible, right?
Upcoming:
On November 6th, 2014 I will celebrate Six Years Cancer Free. An Ovarian Cancer Survivor, I've learned that it's not the Destination that's important- it's the Journey. Thank you for sharing mine!
Who Am I… Really?
"I'm Just A Nobody… Here To Remind Everybody… That There's Somebody… Who Can Save Anybody"
Job 19:25- "But as for me, I know that my Redeemer lives, and He will stand upon the earth at last"
Remember to Follow Hannah Johnson-Hill and EliteFTS on Facebook for info, specials and log post previews!
Thanks for reading, and
As Always, Your Feedback Is Appreciated & Encouraged... Send It To Me HERE!
Due to the hospital's "No makeup, no deodorant, no hair products" rule, I won't be accepting visitors. K Thx. But they didn't say I couldn't wear EliteFTS gear, so StrongHER!!
Surgery & Recovery Update:
OK, so I retract my "I fully plan on feeling like a million bucks by tonight" statement. More like 50 Cent, kind of. But not as cool. Most painkillers make me extremely sick, and I threw up the whole ride home from the hospital, which made my poor violated belly button very sad. So right now I'm taking extra strength Tylenol and SuckItUp, which is working but not in the dreamy way other painkillers might. Right now it's more like a "pain is weakness leaving the body; don't be a meow-meow" kind of deal.
I'd forgotten about how they blow you up like a balloon with Carbon Dioxide to be able to have room to work, and now I have righteous shoulder and back pain from the gas bouncing around in there. Unfortunately you don't just poot it out, you have to move around for the gas to dissipate, and moving sucks right now. I'd rather stay still and poot. But staying still will just prolong the agony, so I walked the Bully Babies twice around our neighborhood, stopping every two minutes to readjust my posture and feel the gas rumbling around.
This surgery was a huge step forward in my treatment plan. Since my first operation in 2008, I've developed quite a bit of scar tissue, both from the incision and also on my remaining ovary and fallopian tube. I've had Polycystic Ovarian Syndrome for many years, and scar tissue from the developing and dissipating cysts has started to give me a lot of pain. Most noticeably during the colder months, but especially when lifting. At times the pain would be so bad I couldn't tighten my lifting belt.
So, this operation killed two birds with one stone. First, it removed the painful scar tissue and gave my surgeon a good look at my other organs to be sure we're still doing awesome in there. Secondly, he clipped my remaining Fallopian tube, which will allow me to stop taking birth control. I carry the MTHFR gene mutation (don't laugh, I know it sounds real funny) which puts me at an alarmingly high risk of blood clots, stroke and aneurysm. My options were to go on blood thinners forever (yeah, right) or stop taking birth control, have my tube tied and forget about that stupid MTHFR gene (I know, there's another funny. I think I'm still dopey from the surgery. I'll prolly delete that later.) Obviously, I chose the latter.
In addition to the MTHFR gene, I had surgery and was treated for Ovarian Cancer in 2008. I get bloodwork every three months to stay on top of any weird hormonal changes or cancer markers, and I was promised that at five years Cancer Free I could graduate to getting tested every six months. Then last year, This Day Happened, and I thought my life was over… again.
That turned out to be a false positive result, but it still set my treatment plan back a year. So, November 6, 2014 is my Celebration Day. It means I'll graduate to every six months, which will cut back on a huge amount of anxiety for both me and my husband. **NOTE: Coming from a person who has been diagnosed with a potentially life-threatening condition, I've had a revelation. It's not as hard to be "the sick one" as it is to be "the one who loves the sick one, and wants above all things for the sick one to be healthy and happy again". I've seen the toll that my battle has taken on Matt. I see how strong he is for me as I wait for my test results. Always keep in mind that the one you love shares your struggles. Be appreciative!!
So, all in all, this surgery was a huge milestone for me. I'm thankful for my awesome, stone cold fox of a husband, Dave & Traci Tate, my EliteFTS teammates, and friends and family. Also, thanks to you the Readers for your support over these past eight, incredible years. Here's to our journey together!!
Thanks for reading, and
As Always, Your Feedback Is Appreciated & Encouraged... Send It To Me HERE!
Loading Comments...