Metal Minx's Kale Recipe: Zuppa Toscana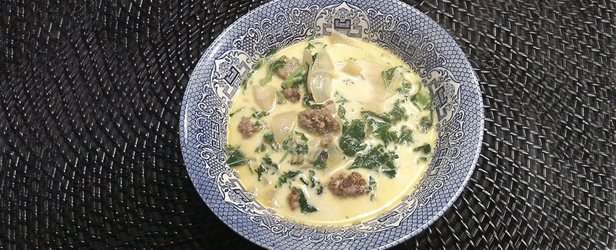 Here is a delicious recipe using kale. In addition to being the Best Soup You'll Ever Make, this is an Olive Garden knockoff that puts the cost of what my husband affectionately refers to as "A Big-A** Pot" of soup at about what you would pay for two bowls at Olive Garden. So, eat up and let me know how you like it!
*The original version of this recipe includes russet potatoes, but I omit those in order to keep this almost zero-carb.
You Will Need:
2 lbs. sausage (I used mild)
3-4 large yellow onions (I diced two of these and then cut another two into chunks for added texture since I don't use potatoes)
64 oz. chicken broth
32 oz. water
red pepper flakes (to taste)
Truck Bed Full of kale (Trust me on this—you should buy much more kale than you think you will need. This stuff shrivels up like Oprah on a juice cleanse.)
1 quart heavy cream
Step 1:
Wash your kale. Not only has it been harvested by hand, but it's also been picked through at the store by unwashed hands and old hands and toddler hands and your hands. Don't make me go into detail about how you get E. Coli, mmmm-k? Wash it—preferably with an enviro-friendly cleanser that removes pesticides.
Use the swish-n-soak: Swish the kale around in water, let it soak, and then swish it again. (Thirty seconds at a time). Rinse well.
Step 2:
Using a heavy stock pot, remove the casings and brown your sausage, adding red pepper flakes to taste. I feel the need to stop here and reiterate that you should NOT lean over the pot while you do this. Those red pepper flakes will own your face. Or, like a reader wrote in, invite someone you don't like over for soup and have them add in the pepper while standing over the pot. Your choice.
Before it's completely done, add in your diced and chunked onions, getting them nice and brown as well. Try to avoid slobbering in the pot even though this is going to smell awesome. Oh, and lock the front door to keep the neighbors out. (I wouldn't say that if it hadn't actually happened at my house). After you have some nice searing action on the onions and sausage, pop a lid on the pot and let those suckers sweat it out for 3 to 4 minutes, or until the onions are slightly translucent.
Step 3:
Once the onions and sausage are almost done, add in your 64 oz. of chicken broth and 32 oz. of water and bring it to a rolling boil. The soup will be a boring caramel color, but we've got a lil' makeup in store for our Pygmalion Zuppa...

Step 4:
Finally, chop your kale. Remember, add a lot more than you think you'll need. Now, I know what you're thinking right now. You're thinking, "Wow! That's a lot of kale!" Not so fast, Ricky Bobby—you can call that Kale Magic Man.
Now you see it...

Now you don't!

Step 5:
Bring your soup to a slow boil one more time to wilt the kale. Add in your cream slowly, stirring as you do. Now sigh with contentment as you take in the finished product.
Note:
Now, some people like a creamier soup, others like more of a broth base. It's your preference. Keep in mind that this is a no-carb soup, so we're really going for a "silky mouth-feel." (I got that from Iron Chef). And, ahem, although we all just learned new foodie terminology and it may be tempting, I would not advise using the term "mouth-feel" when describing this soup in mixed company. It tends to raise eyebrows. Just a friendly tip...
Now, your first instinct will be to fall on this soup like lions attacking an unattended baby wildebeest, but I urge you to have restraint. It gets better, trust me. Put the lid back on the soup and let it mellow for an hour or so on warm. Everyone around my house actually says it's "Second Day Soup," which just gets better and better flavor over time. I wouldn't know if it's "Third Day Soup" or not; it never lasts that long, and I haven't been able to find "A Big(ger)-A** Pot" to make a larger portion.
Hope ya'll enjoy this recipe and let me hear from y'all!
Loading Comments...