EliteFTS SWIS Symposium 2023
EliteFTS SWIS Symposium 2023, Oct 20-21
Columbus, Ohio
Save $200 Off the Door Rate While Spaces Are Available!  


Where strength, hypertrophy, and sports medical professionals come to master proven methods, techniques, and strategies from world-renowned experts.
The SWIS Symposium is a two-day event hosted by Dave Tate (elitefts) and Ken Kinakin (SWIS). As an attendee, you'll maximize your effectiveness with your training, clients, or patients. 100% result-based!
Digest a wide range of topics, from warming up, strength and hypertrophy to recovery and rehabilitation protocols. 
As a novice or master in your field, you'll walk away better and more informed. 
VIP NOTE: Ten spots only! You are invited to EliteFTS on Sunday for a private training day. Dave Tate, Dr. Ken Kinakin, and others will be available to assist you throughout the day and provide a private Q&A.
From $547.00
To $1,400.00
Oct 20, 2023, 10:00:00 AM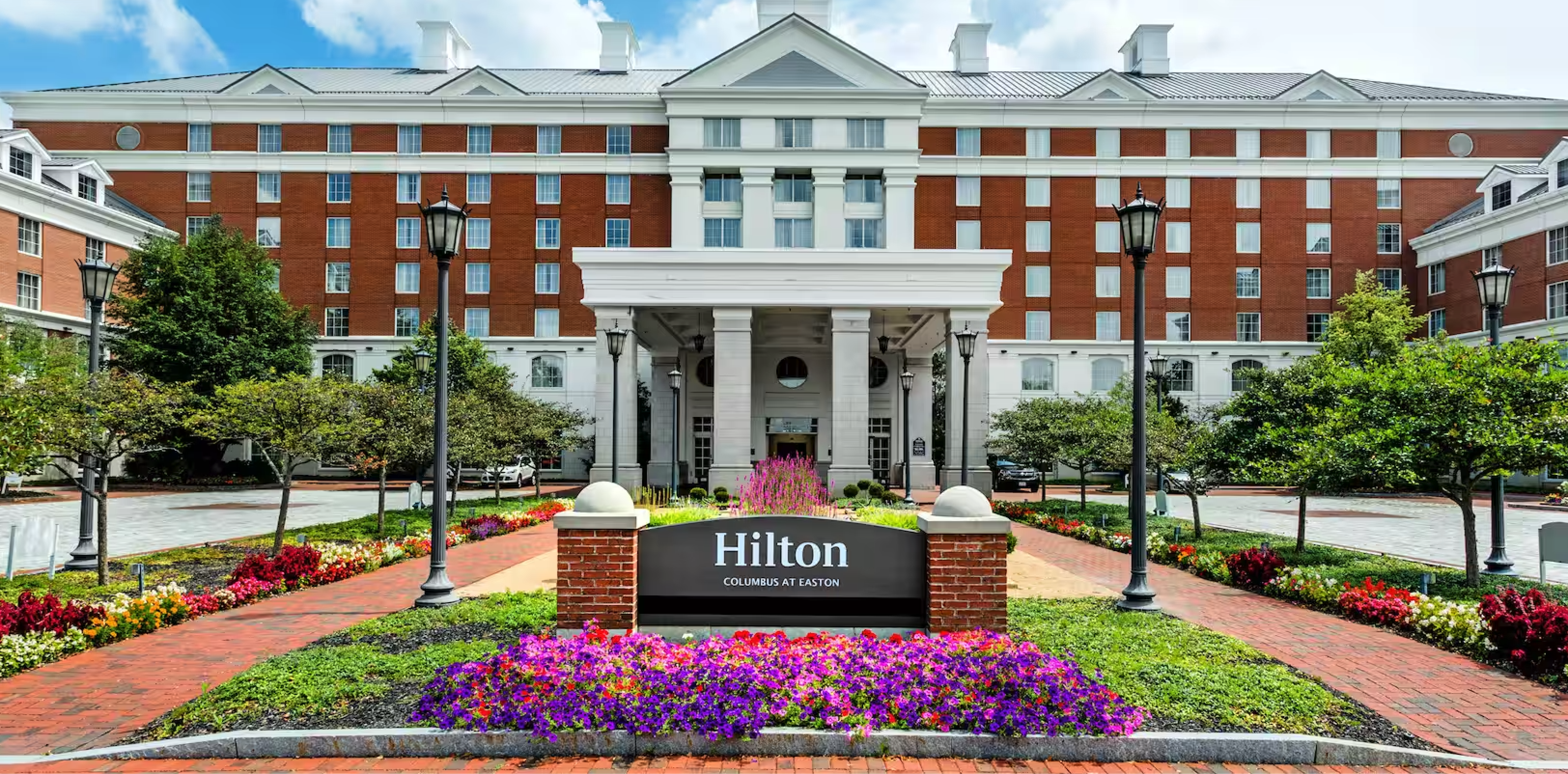 Attention Strength Athletes, Coaches, Trainers and Practitioners Looking To Level Up Their Skills...
For More Details & Confirmed Presenters - Click HERE



EliteFTS SWIS Symposium
Date: Oct, 20-21, 2023
Place: Columbus, Ohio
Symposium Hotel: Hilton Columbus At Easton
3900 Chagrin Drive, Columbus, Ohio, 43219
WHO IS SWIS FOR?
Strength Coaches
Gym Owners
Personal Trainers
Powerlifters
Bodybuilders
Crossfitters
Recreational Weight Trainers
Chiropractors
Physical Therapists
Medical Doctors
Osteopaths
Athletic Trainers
Nutritionists
Kinesiologists
---
Why Should You Attend?


The economy is wreaking havoc across the industry. The industry has changed and will continue. This is when you need to double down on networking, skill sets, and how to lean into your strengths. The best time to thrive is when others are failing. Nobody likes this, but it's the truth.

Networking - you become who you surround yourself with. If you are the big fish in a small pound, you are limited in your personal growth. If you are the best at your craft - who do you have pushing you to get better so you don't become replaced with technology or someone better?
Setting all the networking aside. You will learn from industry-leading experts like…


Matt Wenning
Dr Andrew Lock
Laura Phelps
Dr. Todd McDougle
Brian Carroll
Dr. Eric Serrano
Jim Wendler
JL Holdsworth
Mike Isreatel
Kassem Hanson
Justin Harris
Stu McGill
Stan Efferding
Chris Duffin
Dr David Leaf
Jordan Shallow
Mike Tuchsherer

Plus many more (schedule below)


They will be presenting on the topics of: Lower Back Injury and Prevention, Recovery, and Rehabilitation Exercise selection, coaching language, blood flow restriction, hormone optimization, breathing protocols, advanced training protocols, warm-ups, how to leverage nutrition, pain management as well as a business, steroid, and rehab pannel.
"I have attended well over a hundred seminars in the past and always tried to bring someone with me to toss ideas around. This helped me retain and implement ideas and concepts in my coaching, training, and business at a higher rate. I highly encourage you to bring someone to get the most out of the experience; if this is not possible, we will be doing something different this year by having people in the hallways so that you can toss ideas around, make introductions, and answer any questions you may have. I have never seen this done before, but I would have LOVED this (being an introvert) when I was starting. I spent many years missing out on the most valuable part of conferences, seminars, and symposiums. Networking "
- Dave Tate
CEO elitefts
---
Special Pricing Options:
Early Bird Registration - While Spaces Are Available (Save $200.00):
Register early and save 29% on your ticket - pay only $547.00 U.S.

At The Door Registration:
Missed the early registration deadlines? No worries, you can still join us at SWIS 2023 for $737.00 U.S.

Don't wait - register now and secure your spot at this can't-miss event!
---
Testomonials
The testimonials below were taken from our post-event SWIS 2022 survey. Our #1 goal for these surveys is to improve our events year over year; we do not ask for names as this provides more valuable information. This is why you will not see names with each testimonial below but the date and time the survey was submitted.
Dave Tate
This was my second SWIS conference. I am always impressed by the level of expertise and knowledge of the presenters. The event is always informative and gives me something to implement on Monday morning when I return to work.
11/17/2022 09:32 AM
SWIS 2022 was an incredible experience. The presentations contained world-class information, but more importantly, it was great to network and meet others in the field!
12/9/2022 05:03 PM


The weekend far exceeded my expectations; having been to "similar" events such as NSCA, etc., I found SWIS to be just as if not more educational from an academic standpoint while also being more engaging and feeling like more of a community of strength professionals.
11/27/2022 10:23 PM
Swis was organized and thought out, from the scheduled timings of the seminars to the speakers who led them. I came expecting to learn new ideas and elements, and I left with my expectations surpassed. I appreciate that the workshops were recorded so I can refer back in the future or watch ones I didn't get to see, as there was an information overload in all the right ways! I'll be going back and have already recommended it to others
11/22/2022 12:53 PM
This was my second time attending SWIS, and it was worth the investment. The two things I like best about the event are the breadth of topics, so there's something for everyone, regardless of your level of experience or specific focus, and that all the presentations offer at least one solid takeaway, whether that's information about a course, a bit of immediately useable training information, or some research to look into further. Kudos to the team for a stellar event.
11/21/2022 11:07 AM
The level of expertise in the building was extremely impressive, and many speakers left you wanting more. Between the various professions, personalities, and focus areas, there was something to spark anyone's interest. The event made me consider extra considerations when considering my outlook in my profession. It inspired me to dive deeper into specific areas of health/fitness that I did not expect.
11/18/2022 06:08 PM
SWIS has become my absolute 'must' conference each year it's offered. Even as my role in the health and fitness industry evolves, SWIS continues to offer the most valuable and relevant learning experience available to anyone in the industry.
11/17/2022 05:24 PM
SWIS 2022 was my 1st experience at a live venue with speakers and conferences on health and training. I was blown away by all the information and captivated by the speakers' enthusiasm and authenticity. I recommend to anyone seeking to get better at what they do in the health and fitness industry.
11/16/2022 11:45 AM
---
Refund Policy
No refunds after October 11, 2023 and no refund for not attending.
---
VIP Training & Mentor Experiance
TRAIN AT THE WORLD FAMOUS elitefts COMPOUND
This exclusive, once-in-a-lifetime experience is LIMITED TO 15 elitefts SWIS 2023 delegates.
Check This Out!
In addition to the symposium, you'll have access to the world-renowned elitefts Gym in London, Ohio. Note: The elitefts Gym is exclusive, private, and impossible to get a training session at.

You will step into the same gym where many of the strongest athletes in the world have trained and make your mark on the same racks, benches, and platforms where thousands of personal records have been made. Who knows, maybe you'll even break your own!


And...


The VIP event also provides exclusive networking with like-minded lifters, athletes, coaches, and practitioners. This is the best way to up your game and take your training to the next level.


And...


As a VIP attendee, you'll receive an exclusive s5 Training t-shirt and swag bag, enjoy a BBQ dinner, and have the chance to participate in a Q&A with industry legends Dave Tate, Ken Kinakin, and others. Nothing is off the table - get your burning questions answered by the best in the business.

And...


Dr. Ken Kinakin will assess every attendant interested - He will also have several of his "magic tools" <- That's what Dave Tate calls them.
And...
All attendants will receive a lifetime membership to Dave Tate's Talk Talk Crew and ALL the Past SWIS Symposium Online Video Collections.

50% of the spots have been taken, so register today to ensure you take advantage of this once-in-a-lifetime opportunity.
* The Table Talk Crew contains over $1000.00 worth of content via eBooks, Programs, Seminars, Lectures, and Video Series.
Schedule
Sunday, Oct 22 at elitefts
- 10 AM Train
- BBQ 12:30
- Q&A 1:30 - 4:30 or later



Location

elitefts
1402 State Route 665
London, Ohio 43140
---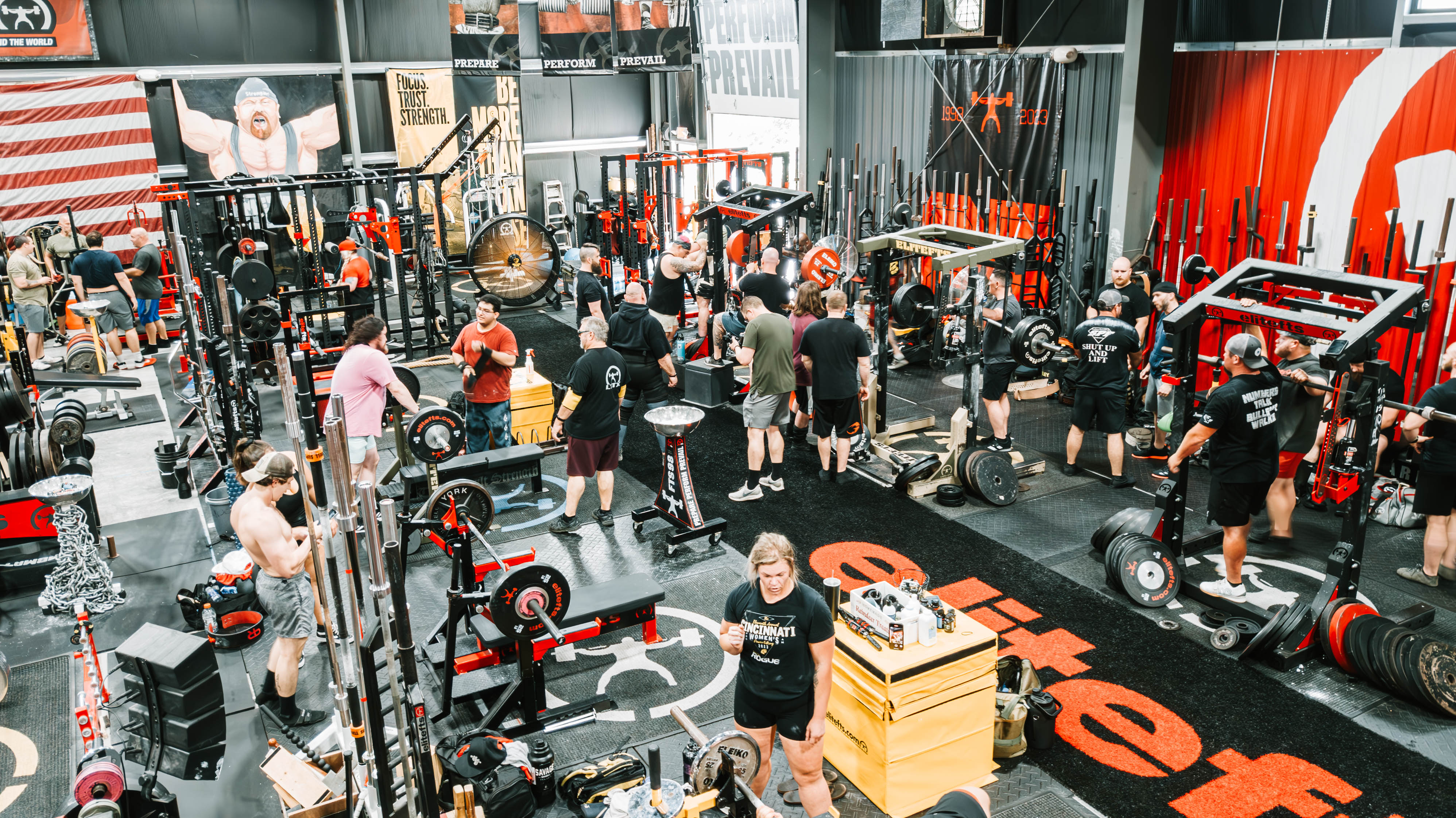 Hilton Columbus at Easton
Booking
Group Rates Apply: Reserve Your Rooms at: CLICK HERE
or
1.) 1-800-HILTONS (1-800-445-8667)

2.) Request the Hilton Columbus at Easton

3.) Dates of Stay

4.) Group Code = FTS

5.) Confirm with credentials, credit card, and email address
---
---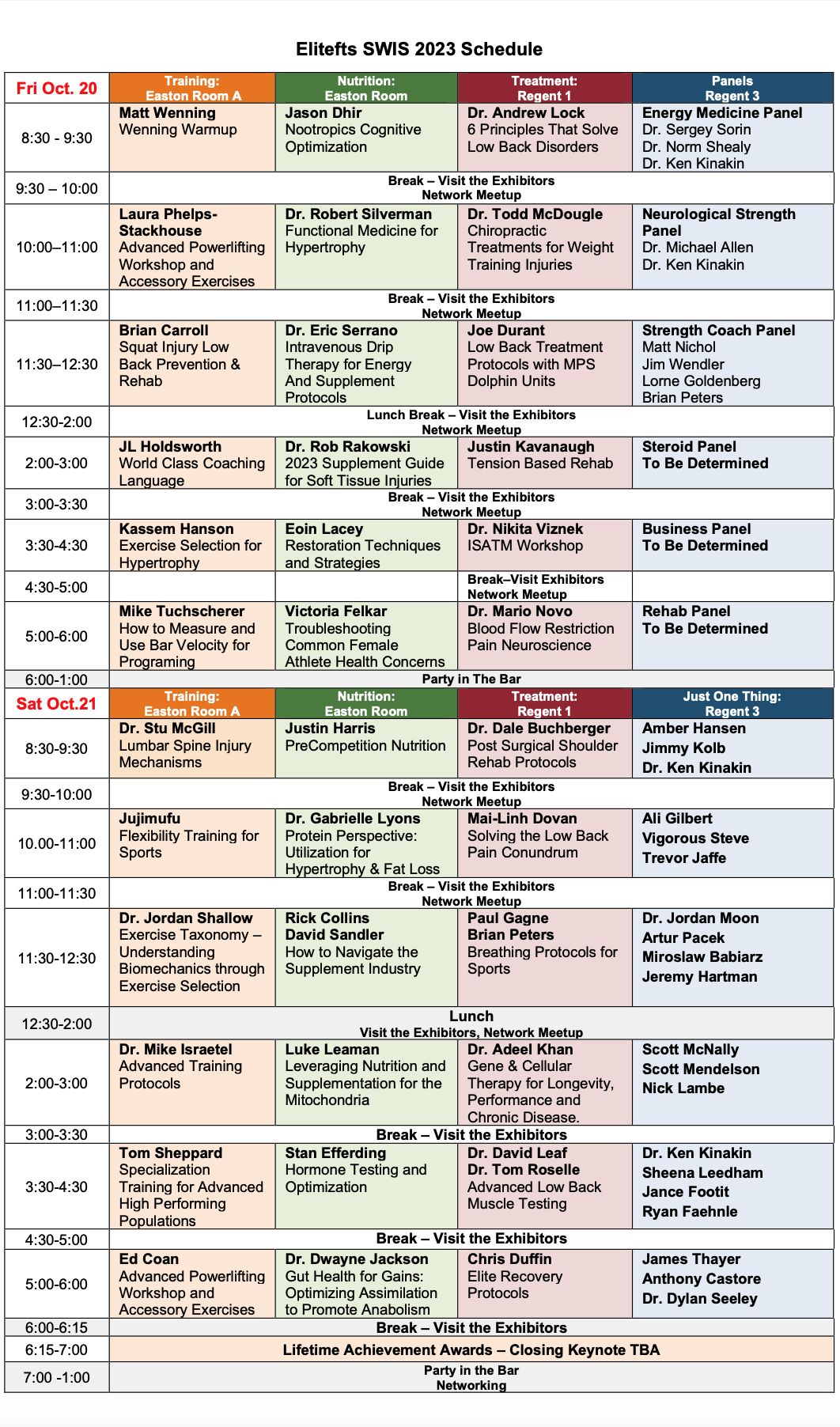 | | |
| --- | --- |
| Venue title | Hilton Columbus at Easton |
| Venue Description | This grand hotel is 5.3 miles from Port Columbus International Airport and 10 miles from downtown Columbus. All of the rooms and suites offer classic decor and custom-designed beds, plus flat-screen TVs and WiFi (fee). Executive rooms provide access to the Executive Lounge's free breakfast and evening appetizers. Dining options include an upscale-casual restaurant, sports bar, lobby lounge and cafe. Other amenities include a heated indoor pool and whirlpool tub, a fitness center, and a business center. There's also a free airport shuttle and parking. |
| Venue Address | 3900 Chagrin Drive I Columbus, OH 43219 I USA |
| Space Title | EliteFTS SWIS Symposium |