Breakfast of Champions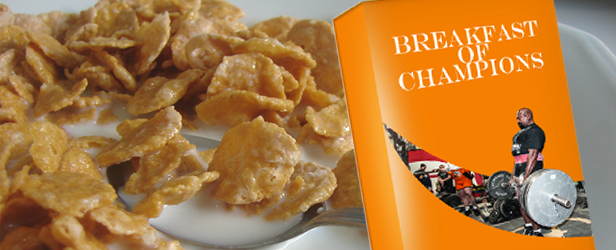 Nutrition is always a popular topic. Whether it's a discussion about weight gain, leaning out, shedding fat, cutting for a competition or show, or simply trying to live a healthier lifestyle, everyone seems to want to know what others are putting on their plates. Just take one look at your Instagram feed...you'll know what we mean.
Still, if you are an athlete, what you cook up in the kitchen plays just as much of a role in your performance as those hours you spend training. So if you want to be an athlete, you must fuel the powerhouse.
And what do real champions eat? Take a look below...and then go buy a chicken, you're going to need a lot of eggs to keep up with these guys.
Shelby Starnes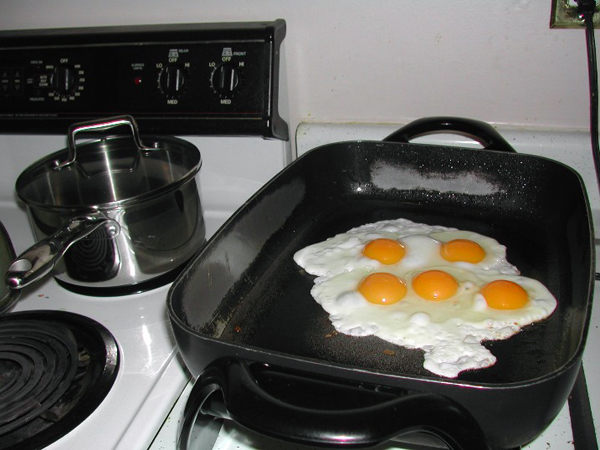 5 whole eggs cooked in coconut oil
1 cup of spinach
1 ounce of avocado
1 cup of oatmeal with blueberries and cinnamon
1 scoop of whey protein (mixed in water)
vitamins/supplements
Todd Hamer
5 eggs with flaxseeds, tomatoes, and pepper
Homemade bread with peanut butter and homemade jelly
Juice made with water, mango, banana, blueberries, and kumquats all blended together
Vincent Dizenzo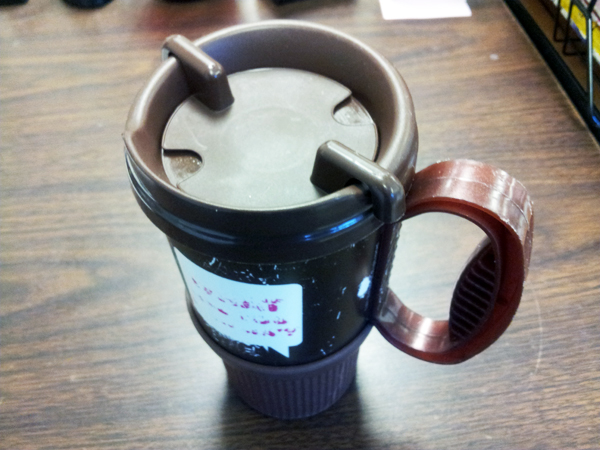 All I have is a cup of coffee with 2 tablespoons of organic heavy whipping cream. For the most part I am not hungry in the morning, so I don't eat for about the first five hours of the day. I'm actually much more awake and alert as a result. In addition, by staving off my calories in the early part of the day, I can have bigger meals later in the day. I hate small meals!
Steve Goggins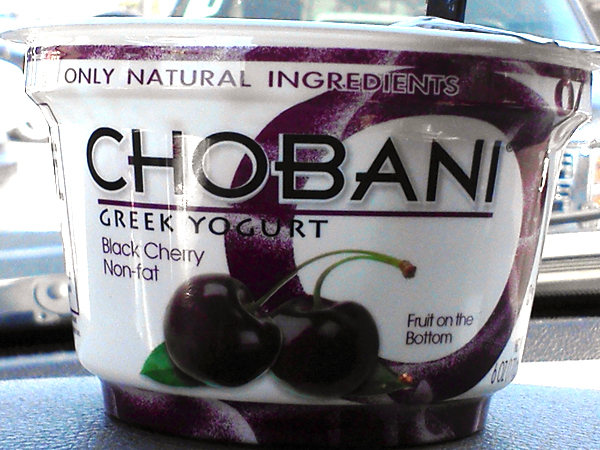 Every day I have to have my Greek yogurt as my first meal.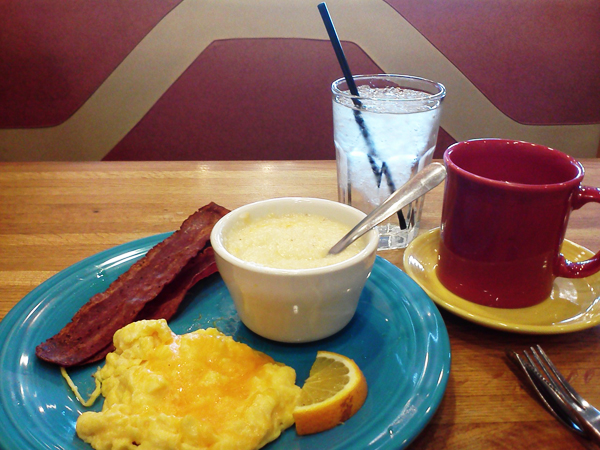 About once or twice a week I will have a full breakfast—turkey bacon, eggs, and such with coffee.  However, even on those days my Greek yogurt comes first.
Jo Jordan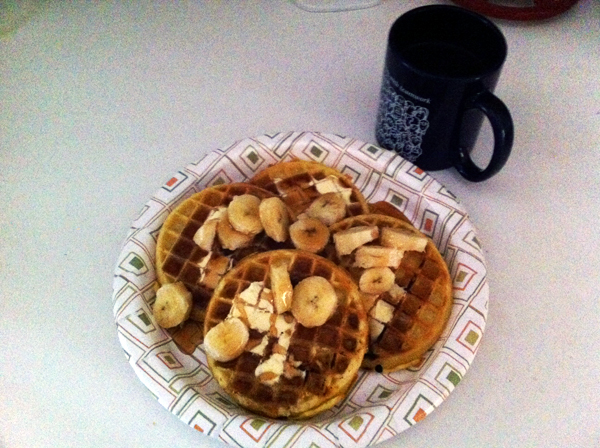 One of my typical breakfasts: 4 waffles with bananas and a cup or two of coffee.
CJ Murphy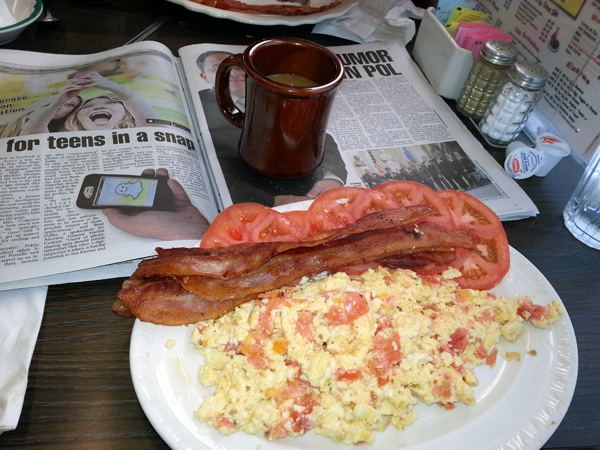 Here's a typical day for me:
Wake up: 10 grams of whey isolate, 2 tablespoons of coconut milk, and coffee
Two hours later: 6 egg whites, 2 whole eggs, 4 pieces of bacon, 1 sliced tomato, 476 cups coffee, and 1 large glass of water
Jonathan Mike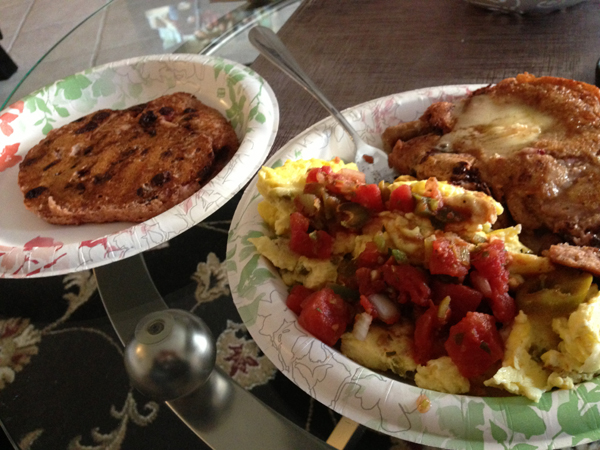 A typical breakfast for me is: 6 eggs with salsa, 3 whole wheat chocolate chip pancakes with some butter on top ( 1 on the left and 2 on the right, stacked ), and 3 to 4 strips of bacon (underneath the eggs).
Julia Ladewski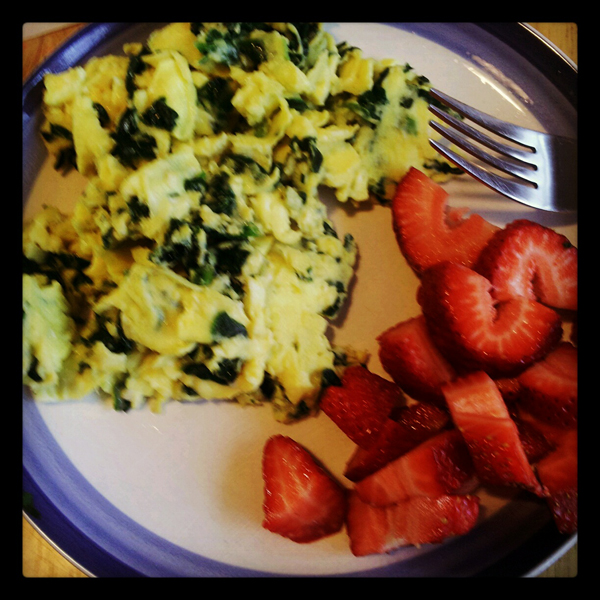 Here is a picture of my most recent breakfast...usually it's just coffee, but since my recent figure show, this is it: eggs, spinach, and berries!
Dr. Tom Deeble
No picture since it's just a protein shake with creatine and fiber, along with vitamins and fish oil. Now and then I'll have some additional bacon and whole grain toast with smart balance. If I'm out, I usually order a cheesesteak-style omelet with black coffee or water.
Sheena Leedham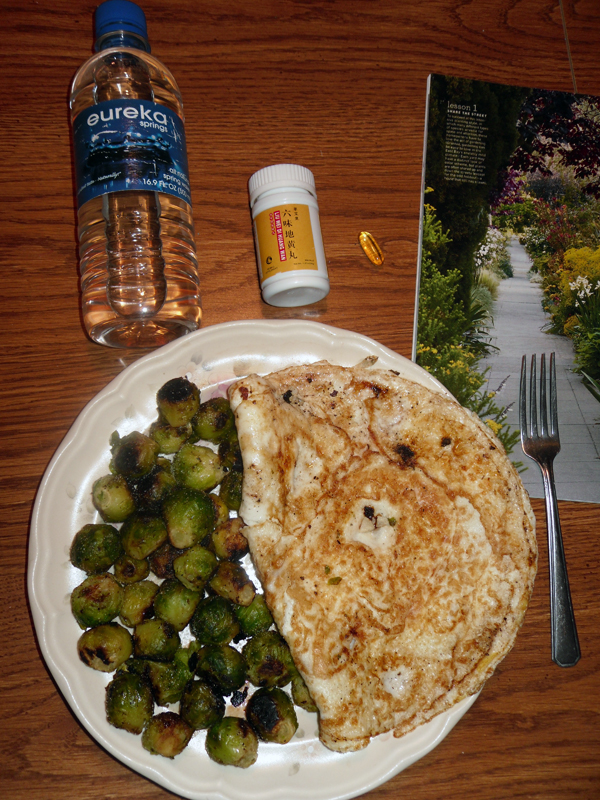 1 Treadmill *not shown in picture
1/2 lb. bag Brussels Sprouts (Brussels Sprouts are thawed and sauteed until seared in a pan that's sprayed with a few sprays of Canola Oil)
8 Egg whites (fried with 1/4 clove minced garlic in a pan coated with 1 tsp. of Coconut oil)
16 oz. water
8 pills Liu Wei Di Huang Wan (for overall wellness)
1 Fish Oil Capsule
1 Martha Stewart Living Magazine—in between bites I learn how to care for Mexican feather grass and California poppies
(The herbal supplement and fish oil pill are taken post-meal)
Amy Wattles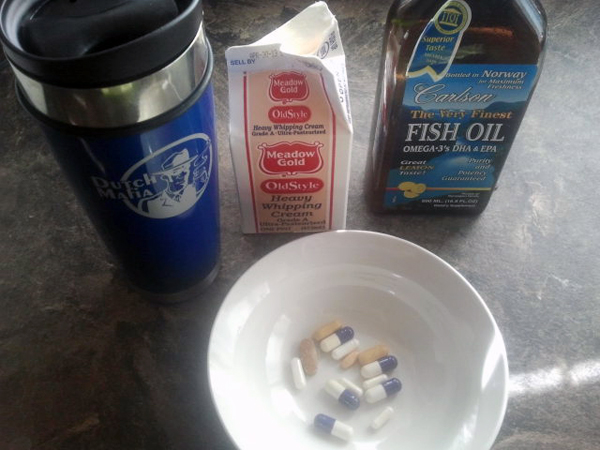 A giant cup of coffee (or five) with heavy whipping cream, along with fish oil and supplements (multi vitamins, vitamin C, vitamin D3, adrenal rebuilder, Iodoral, Pregnenolone, DHEA, R3). This lasts me through the first five hours of the day until pre-lunch at 10:30 a.m.
James "The Thinker" Smith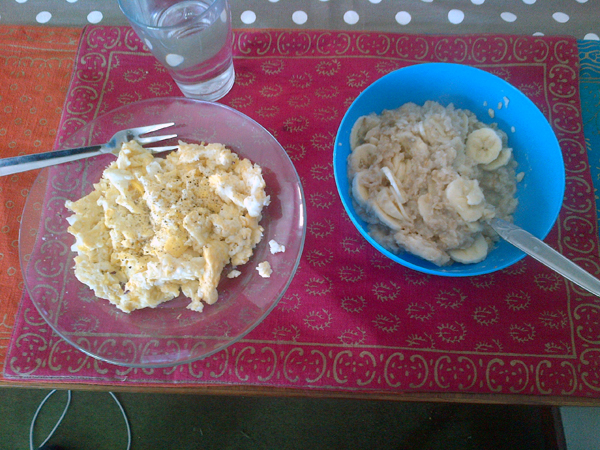 Seven days a week:
4 whole eggs plus 2 whites scrambled in the pan with olive oil
1 cup of whole oats (made with water) with a sliced banana
water to drink
Josh McMillan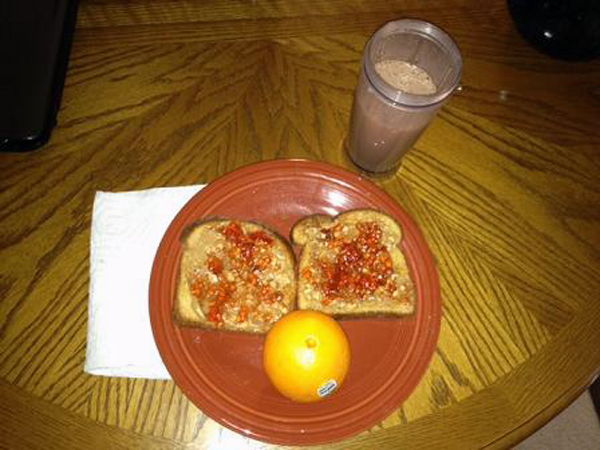 2 pieces of 100% whole wheat toast with Natural peanut butter (crunchy) and sugar free strawberry jelly.
1 orange (and/or apple or pear)
1 protein shake made with 2 scoops (50 grams of protein)
Mick Manley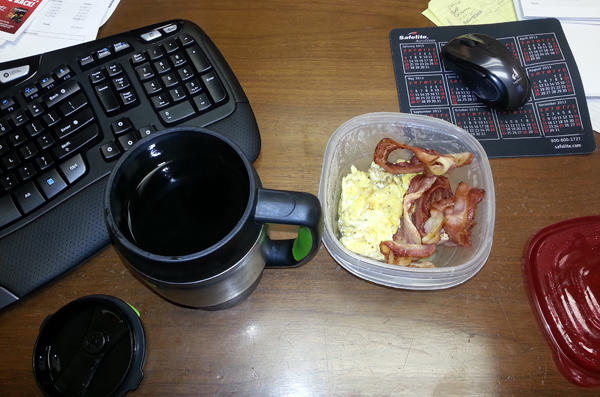 6 whole eggs, 4 strips of thick cut bacon, and 25 oz. of coffee
Zane Geeting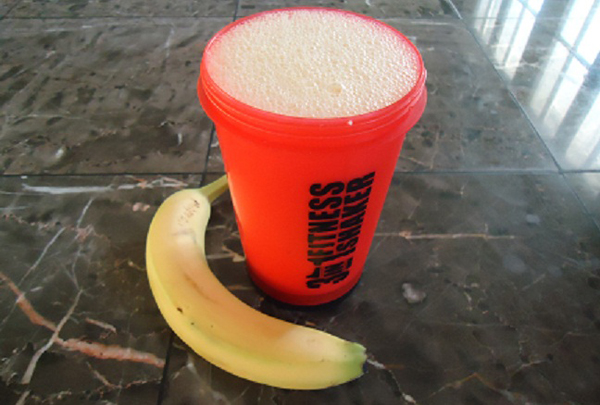 This is my breakfast at least six days a week: 10oz. whole milk, 6 whole eggs, and 1 cup of oats—all blended together as a shake. Plus a banana or some other fresh fruit.
Erik Eggers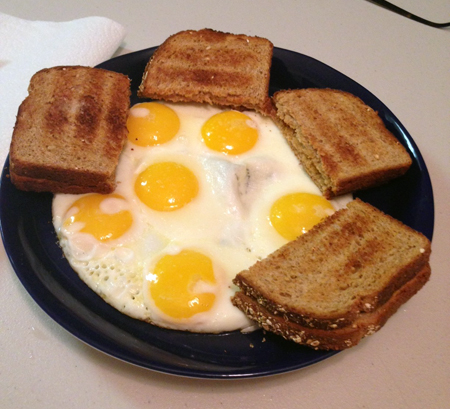 Six eggs (sunny-side up) with multi-grain toast (lightly buttered) and orange juice.
Eric Maroscher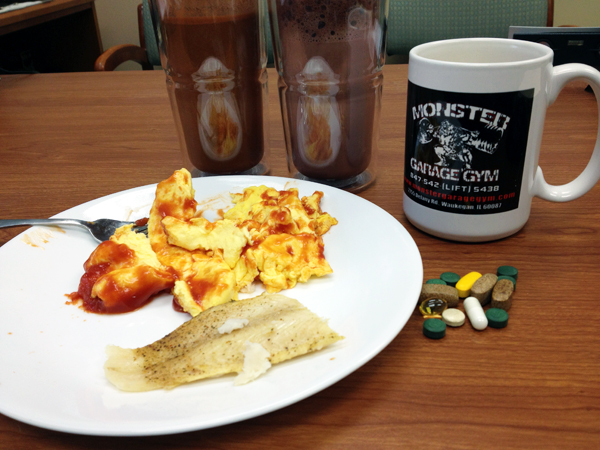 My typical weekday breakfast consists of the following:
Protein Shake (consisting of 12 oz. of almond milk, 2 scoops of whey protein, and half of a banana)
Juicer Juice made with my juicer machine (made with 1 orange, 1 tomato, 3 carrots, 1 cucumber, and 1 green apple)
Egg beaters with salsa or ketchup
Smoked Salmon, or fish, or lean ground beef (today was fish)
Cup of coffee (fat free creamer and  1 table spoon raw sugar)
Supplements: Spirulina, liver tablets, zinc, D3, phosphatidy choline, choline, etc.
*Weekends: I add a serving of grits to my weekday breakfast as well as peanut butter on multi-grain toast.
*Prior to breakfast I have 1.5 servings of L-glutamine with a full glass of water as soon as I get up in the morning.
Alexander Cortes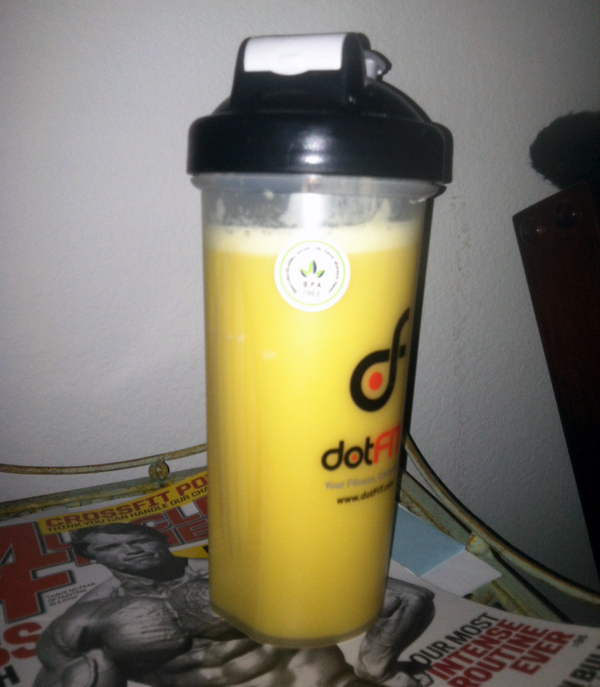 This is a dozen raw eggs shaken up. I typically only eat breakfast three to four days a week, and this is what I consume 100% of the time. My rationale for drinking this is 1) it's a fuckton of protein and cholesterol, and 2) it gives me mega testoserone.
Ted Toalston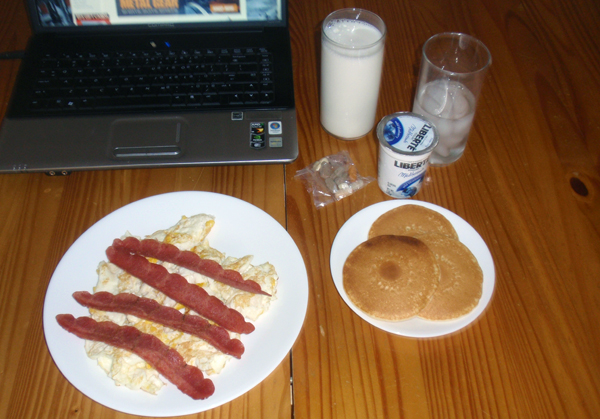 For breakfast today: 8 egg whites, 1 whole egg, 4 strips of bacon, 3 Eggo frozen pancakes, 1 Liberte mediterranee yogurt, 1 glass of whole milk, water, and an Animal pak.
Matt Kroczaleski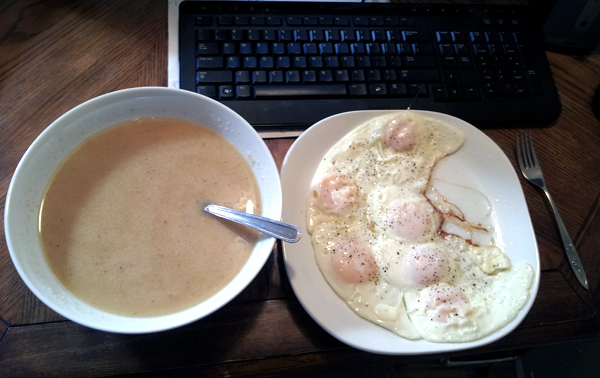 This is how I start my day: 6 eggs and 1/2 cup (measured dry) of malt-o-meal.
Brian Schwab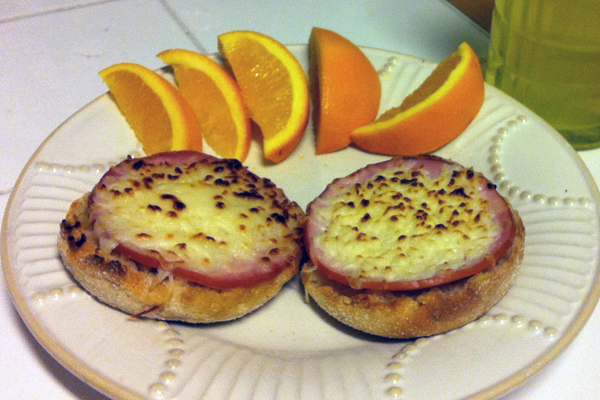 For years I had a shake for breakfast with whey protein, peanut butter, ice cream, and all of that good stuff. Although it was a fast option, unfortunately it always seemed to wreak havoc on my stomach. I finally decided to start waking up earlier and eating healthier. The zone diet (40/30/30 ratio of carbs/protein/fat) seems to be ideal for regulating blood sugar and energy levels, as well as for helping to maintain and increase lean muscle. It's essentially a healthy way of eating and also incorporates more fruits and vegetables than I would normally eat. Here's one of my typical zone breakfasts: an English muffin, two pieces of Canadian bacon, mozzarella cheese, and half of an orange.
Mike Szudarek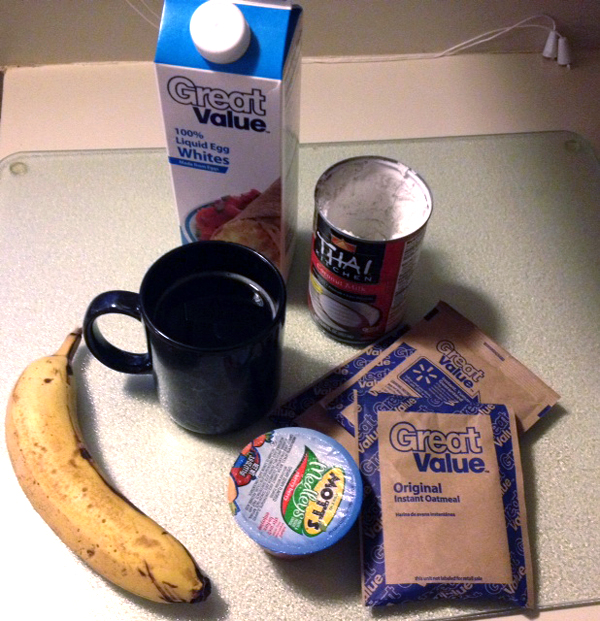 My typical weekday breakfast consists of the following: A dozen egg whites, a banana, mixed fruit, plain oatmeal, and a cup of coffee with a tablespoon of coconut milk. I generally blend the oatmeal, banana, and mixed fruit together and drink it. I also drink the egg whites. The entire meal takes less than five minutes to prepare and consume, and it saves a tremendous amount of time in the morning.
Chase Karnes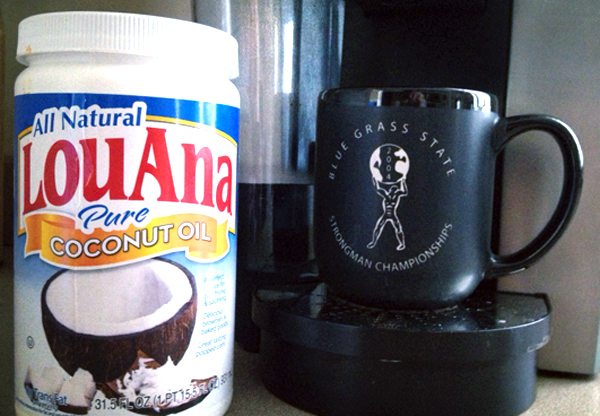 I follow a mix of The Renegade Diet and Carb Back-Loading, so I start each day off at 5:15 a.m. or 6:15 a.m. fasted with one cup of coffee and a tablespoon of coconut oil. My first meal is typically at 9 a.m. or 10 a.m. and consists of a protein shake, unsweetened coconut milk, and almonds.
Chad Aichs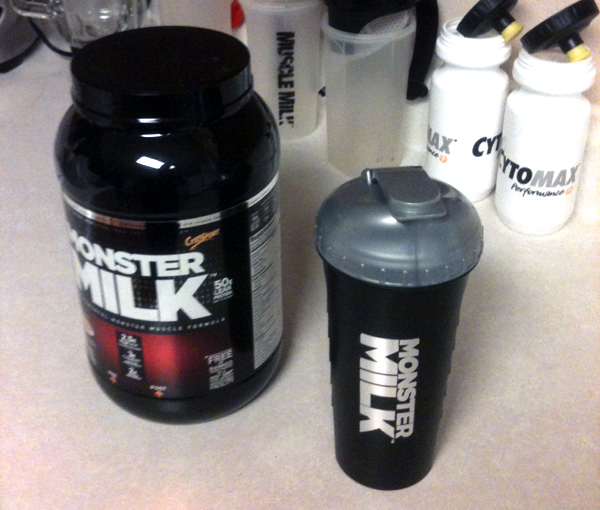 I normally am not a very happy camper in the morning and don't really care to eat, so my saving grace is Monster Milk. I start almost every day with one.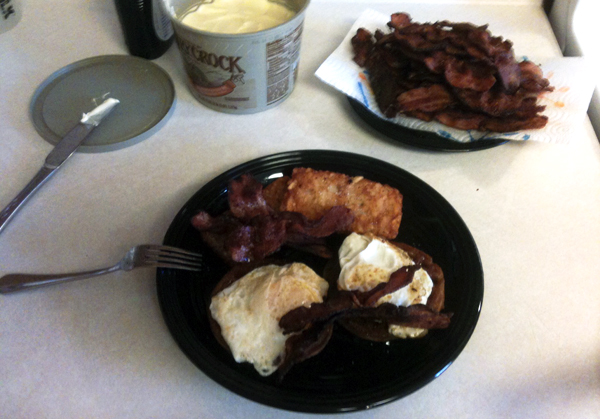 On the rare but lucky days that I am off I will usually sleep in, so my breakfast is more of a lunch; however, on these days I will eat an actual breakfast. One of my favorites is bacon (or some kind of pig, mmmm), hash browns, and pancakes or waffles (cooked in coconut oil so that they are nice and crispy) topped with eggs over-easy. I have been known to cut all this up into a huge scramble and then top the whole things with maple syrup, salt, and pepper.
Dave Kirschen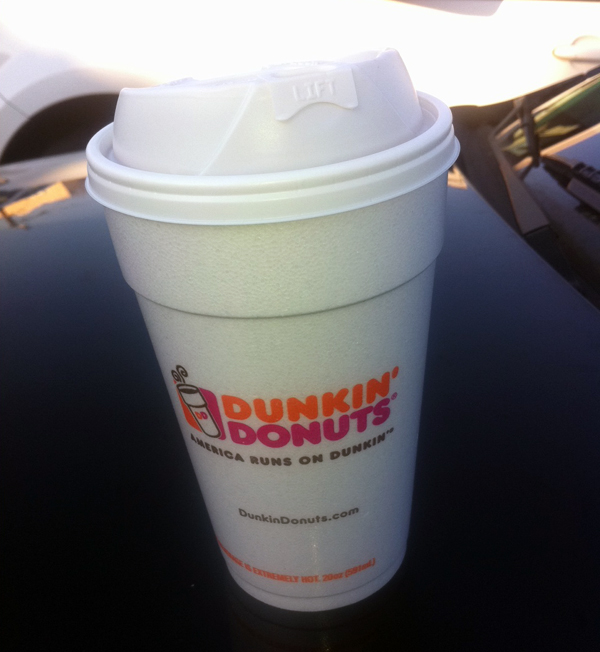 Cream, one Splenda.
Today was Dunkin, but depending on the day I might also cycle in 7-11, QuickCheck, or WaWa. If my wife has given me my allowance that day, I might go to Starbucks for something dangerous.
Chad Walker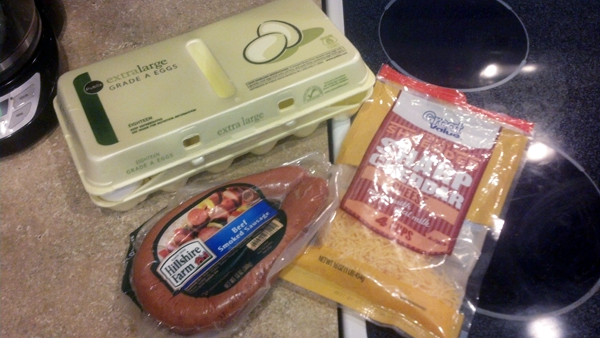 My breakfast is a scramble of 5 eggs, half of the sausage, and a handful of cheese.
On the Plates of elitefts™ Facebook Fans:
Tim Swanson: Three cups of egg whites, guacamole, cream cheese, and salsa. Boom.
Rob West: Pancakes with peanut butter on them and black coffee.
Vini Brzostowski: Six eggs, two slices of bread, black tea with lemon, and zinc.
Robert Huskinson: 250g lamb leg, 20g butter, 10g almonds.
Quinn Whelen: I workout early, so apple whey protein mixed with milk, chocolate syrup, and peanut butter.
Jerome Cook: An egg and spinach omelet, three slices of bacon, and two cups of coffee. (Along with a handful of supps washed down with creatine).
Dean Daskalieros: Two chicken breasts with rice and four whole eggs with a protein shake.
Rich Lorenz: Six whole eggs, a bagel with cream cheese, and a 24 oz. coffee.
John Zman:
Three eggs and two servings of Greek yogurt.
Amy Jo Horvath: Four egg whites with avocado and tomatoes, 1/3 cup of oats, and a huge ass cup of coffee!
Rongsheng Fang: I have almost the same thing every morning—two cups of full milk, 1.5 cups of oatmeal, and two pieces of whole grain bread with peanut butter.
Matthew Papageorge: 13 egg whites cooked in coconut oil and served with three cups of cauliflower. Nom nom nom low carb days.
Ronnie Bossie: Coffee, an eight-egg spinach and tomato omelet, and a side of traditional beans and rice

Fernando Cruz: Oatmeal with peanut butter, orange juice, and fruit salad.
Melissa Gabrielle-From: eggs and bacon! bacon! bacon!
Adam Simon:
Two-thirds cup of oats, 200g chicken, spinach, and 2L water.
Colin Patrick Dore: Hash browns, four eggs, salsa, some chocolate that I found in the cupboard, and a chicken drumstick for dessert.

Loading Comments...