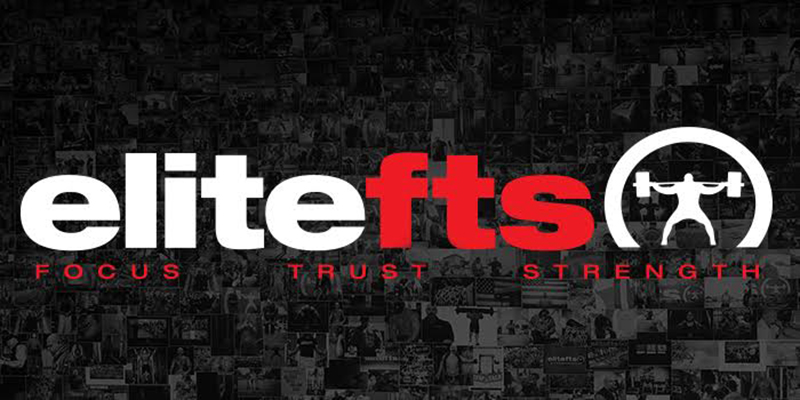 elitefts
Your partner for strength.
elitefts is the premier destination for everything strength: professional-rated equipment and training information from across the industry. We have helped the strong become strong(er) since 1998 by following the primary aim to Live, Learn, and Pass on.
Co-founded by Traci and Dave Tate, elitefts was born in 1998 with one simple goal: to make average athletes great and great athletes elite. From a brand to a culture, what started as a website solely providing a Q&A, articles, and seminars progressively transformed into a company that has been educating and outfitting the strongest athletes around the world for more than 20 years.
Core Values
Focus, Trust, Strength
Our core values, Focus, Trust, and Strength, have enabled us to be the industry's top information and equipment destination for strength athletes or anyone who places training at a high priority within their life.
Our focus is how we can better support our readers and customers to be the industry's top information and equipment destination for strength athletes or anyone that places training at a high priority within their life while continuing to earn and hold the trust we've built for over 20 years. 
Our trust grips a vision of strength that encompasses the synergistic work of elitefts staff, brand representatives, outside contractors, and suppliers to make our customers and readers stronger and independent. Here at elitefts, we don't give handouts or spoonfeed people programs. Instead, we give hand-offs, teach how to program for yourself, learn how to make yourself better under the bar, and mentor coaches on how to expand upon their training philosophy. 
Our strength applies across the board. We look for strength in the equipment that we build. We build the equipment that's top of the line so that the strongest of the strong can push their boundaries while emerging lifters can feel safe in acclimation. We look for strength in those that represent elitefts and are physically and mentally strong.
We keep this vision stable, mobile, and in constant development inspired by our core values in a number of ways: by continuously expanding a committed editorial staff; by always seeking partnerships with businesses, non-profit organizations, educators, and others to share accurate, actionable information; by constantly seeking product innovation, a stronger global supply chain, and additional equipment partners; and by constantly striving to remain a cost-competitive destination that is customizable and fully supported by world-class service.
What We Do Proof Points
Live, Learn, Pass On
Company
Meet our customers wherever they are—from our website and social media to inside the gyms and clinics. We have always been there 24/7/365 for our partners at

elitefts.com

A diverse array of experts from across the industry from nearly every discipline of strength and related fields. From the trenches of the weight room to academia and everywhere in-between

After a partnership of more than 20 years with our employees, customers, and business partners, we have proven that people are our most valuable asset and information is the second most valuable asset

More than 30 active partners and suppliers are currently doing business with elitefts

If one can lift it, load it, pack it, wrap it, or wear it, elitefts has it
Superior Training Knowledge
Coaches, authors, and other contributors come from the widest range of sources and encompass nearly every aspect of strength training

More than 9K articles, more than 8K coaching blogs, and more than 2K informational and instructional videos found on YouTube

A diverse range of experiences—from PhDs and other professional educators to collegiate coaches, strength sport and physique competitors, gym owners, and trainers, to others who have accumulated decades of training expertise and knowledge
Professional-Rated Equipment
More than 20,000 product SKUs available for purchase—ranging from strength equipment, powerlifting gear, bars, weights, cardio, apparel, accessories, supplements, books, and multimedia

Premiere destination of professional-grade products and equipment outfitting prestigious institutions including, The Washington Football Team, Jacksonville Jaguars, New York Mets, Tampa Bay Lightning, University of Miami, and more

Assist with assembly of equipment onsite or over the phone, including any programming/training needs
Customer Experience
Personalized and detailed quote system to meet customer's strength training needs and budget. Customers are provided with the product price, tracking information, expected delivery, and assistance with the freight company

Phone lines remain active for a minimum of 2K hours each year per representative to assist customers in their purchasing experience

Utilize customer feedback, comments, and complaints to improve service

Develop a relationship with the customer after the initial purchase to assists with training and equipment questions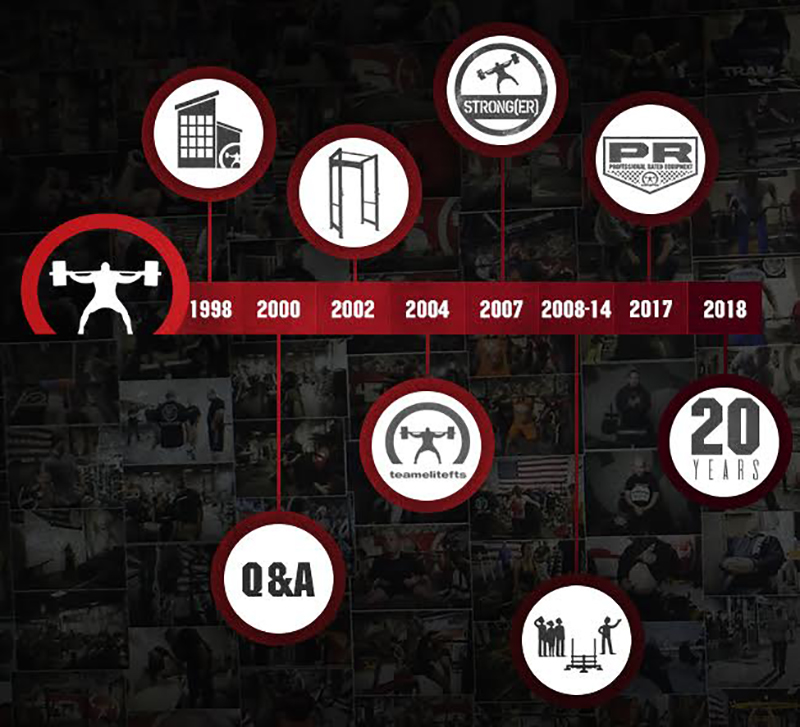 The elitefts Timeline
The 1970s — Developing Values
The family, friends, community, and personal experiences co-founders Traci and Dave Tate had while growing up helped shape the values of elitefts today.
For Dave, honesty and integrity were paramount in every action: "I was taught at a young age the importance of quality over quantity, and it was driven into me that if you start something, you finish it, and you do it with honesty and integrity."
It was during these formative years, and as a direct result of several key events early in life, that both Traci and Dave unknowingly were molding their own morals, ethics, and principles. Today, it is the values of Focus, Trust, and Strength that serve as guideposts in every action and aspect of daily business.
The 1980s — Discovering a Passion for Strength
For Dave, his passion for strength is about breaking personal records and finding peace:
"Growing up, training was my biggest passion. It was my way to deal with all the adversity the world tossed my way. It was my haven. When I was a kid, the gym was the one place I could go to be in charge and decide whether I succeeded. It was my place to build and grow — mentally and physically. It also meant standing out from the crowd and being great."
For Traci, her strength was much more internal. Getting pregnant at a young age was the scarlet letter she had to endure:
"As I think back to that time, it still brings tears to my eyes, but through that experience, I have grown to be a strong independent woman that will do whatever it takes to grow everything and everyone around me." Traci also used the gym as a way to escape and deal with day-to-day frustrations. "This is where Dave and I met."
For this power couple, when it comes to business, this passion for strength fuels everything they do. It's in their DNA. It's who they are. It's what they do.
1985 to 1996 — Feeding a Never-Ending Desire for Knowledge
Education is how elitefts achieves competitive differentiation and drives market opportunities. For nearly an entire decade prior to our beginning, co-founder Dave Tate did his own self-study of strength and conditioning. This included reading all the Russian training manuals he could find, consuming nearly everything available on strength and conditioning, attending countless seminars, and networking with as many coaches and trainers as possible. Today, elitefts owns the greatest inventory of free strength training-related information in the industry and remains fully committed to leveraging the spirit of teaching, customer feedback, and educational resources into new product categories to drive future growth.
This was a decision made by Dave long ago, and it has gone unchanged:
"When it comes to educating and helping others reach their goals, premium training information is mostly marketed toward those who can afford to pay for it. From the beginning, elitefts has taken a different road. We decided to side with the masses. And that means responding to the needs and desires of people around the world: people who place training as a top priority in their life; people with different needs, dreams, and aspirations; people who want to increase their strength and improve their everyday lives. Our business is based on a partnership with the customer. elitefts is an education company that just happens to sell top-of-the-line strength equipment and accessories — not a strength equipment company that happens to provide education."
1998 — elitefts Is Born
The story of how elitefts got started depends on if you're talking to Dave or Traci. They both, however, agree that it would not have been possible without each other.
Dave realized there were thousands of coaches and athletes looking for quality training advice, he set up a simple question-and-answer forum through a powerlifting website and began writing articles to help these athletes and coaches. It was at this moment elitefts was born. Dave saw a need and set out to meet it:
"I could not believe the incredible amount of misinformation in regards to strength training."
Traci set up the business entity for a consulting business for fitness and personal training. While venting her frustrations at the gym one day, Louie Simmons chimed in, "Why don't you sell my products?" Dave and Traci started with several products and a $1,000 loan, and the rest is history.
However you look at it, Dave and Traci were able to tie education and products together, leading to the birth of elitefts. elitefts was founded with one simple goal: to make average athletes elite and elite athletes great.
In 1998, the first of more than 250 educational seminars took place and the first product was sold.
1999 — Branding Our Name
During the first year of business, it was immediately realized that for the company to grow, it needed to be branded "elitefts." The name came from online readers who didn't want to type out "Elite Fitness Systems," so they shortened it.
Dave remembers the readers' input as an important part of the name:
"I like that readers created it, so I trademarked it. They are just as much the company as anyone."
2000 — Educating and Outfitting
To us, "educating and outfitting the strongest athletes around the world" means providing the education, motivation, and empowerment to help athletes — those who place training as a top priority in their lives — get better. The business of elitefts is built on education, product innovation, a highly efficient global supply chain, and strong strategic execution. What sets elitefts apart, in Dave's own words, is that "we are in the PR business."
At this time, the Q&A section first appeared on elitefts.com, and the online store was launched.
2002 — Branded Equipment
The first elitefts branded equipment line originated this year and was available for sale.
2004 — Team Members and Under the Bar
Important advancements to both education and equipment were made this year. The first elitefts team member appeared on the Q&A, the elitefts brand mono-style squat stand joined the market, and Under the Bar was published, highlighting the values behind our company.
To date, over 50,000 copies have been printed.
2005 — Internal Enterprise Investment
elitefts invested heavily in internal enterprise software and systems to better serve customers. Sponsored athletes' and coaches' training logs made their first appearances on elitefts.com, providing direct access to the practices of industry-leading coaches and strength athletes.
2006 — Apparel Line
For the first time, elitefts apparel was available and sold on the site.
2007 — Strong(er) and Strong(her)™
The elitefts collegiate line of equipment was introduced and the Strong(er) and Strong(her) brands first appeared.
2008 to 2013 — From Brand to Culture: Growth Through Media Investment
Our transition from a brand to a culture began in 2008 when a handful of sponsors converged at an old tractor dealership in the middle of Ohio farmland that now doubles as our second company gym and customer showroom. Three different generations of powerlifters trained, helped one another, learned, shared experience, told stories, laughed, and became one. This exemplified living, learning, and passing on.
In 2008, elitefts also added accessories to the site and reached an important milestone of 2 million visitors per month. Investment into the elitefts media department surged and site readership grew.
In 2009, two major milestones were reached: the exercise index was introduced to the site, detailing dozens of training movements, and elitefts served 100,000 customers.
In 2010, the Learn to Train Seminars were first conceived to support the Make-A-Wish Foundation.
elitefts has always been about helping others, but in addition to strengthening athletes, our commitment has since grown to help strengthen our community. Today, The Make-A-Wish Foundation is now one of our flagship charitable endeavors. To date, we have had the honor of giving nearly $300,000 to this organization.
In 2013, the E-Vault, which provides free access to all content, went live. There were more than 200,000 downloads in the first month. elitefts also reached half a million orders.
2014 — Team elitefts Growth: eCommerce Platform Expansion
The team expanded to an all-time high of 160 talented members: strength athletes, coaches, staff members, columnists, advisors, and other contributors.
Members have held strength and conditioning coaching positions at major universities, positions within the NFL, launched their own product lines, authored books on training, owned training centers or gyms, squatted more than 1,100 pounds, bench pressed more than 800 pounds, deadlifted more than 800 pounds, have set multiple all-time world records, have been ranked in the top 10 for their weight classes, and have been published in major magazines, such as Men's Health, Men's Fitness, Flex, Muscle and Fitness, Maxim, Powerlifting USA, Penthouse, Muscle and Fitness, Women's Health, Shape, Muscular Development, Planet Muscle, MMA publications, boxing journals, and many others.
2015 — Social Media Outreach
The Tour De Force and Passion-for-Profit seminars are released online for free, the elitefts Facebook page reaches nearly half a million likes, and elitefts celebrates the 20th year in business (2018).
2017 to Present Day — Investing in the Future
In an effort to improve distribution capabilities and become an even better place to host the many interactive seminars and events elitefts offers each year, the company completed construction of its new 30,000-square-foot headquarters (offices, warehouse, and gym) built on three acres of land in 2017.
In 2017, elitefts launched the Sports Performance Summit. This specialized event helps strength and sports coaches learn training methods and fundamentals that will allow them to facilitate growth and success among their athletes.
Additionally, the Strong(er) Business Summit was launched. This unique event assists the business end of the fitness industry, providing helpful resources and insights for gym owners, trainers, and other fitness professionals looking to make their businesses stronger.
The one-millionth customer was served during this time period with the new and improved customer service platform, including a new phone system.
elitefts reached well over 22,000 new product units made available for sale on the site, with close to one million customers completing purchases over the years. elitefts sells equipment to at least one team in four major sports (baseball, football, basketball, and hockey).
Customers included the Washington Redskins, Brooklyn Nets, Toronto Maple Leafs, and New York Mets, among others. Readership also grew, reaching more than two million views and nearly 500,000 unique users. The one-millionth page of free content also became available, along with 8,175 articles, 882,000 Q&As, 2,228 YouTube videos, over 30 professional training and coaching blogs, and over 22,000 products.
elitefts expanded the Custom Built line to personalize garage, private, high school, collegiate, commercial, and professional weight rooms. This line includes custom selectorized equipment, benches, posterior chain equipment, plate-loaded equipment, erect-a-racks, competition equipment, 4-way towers, prowlers, racks, chalk bowls, motivational items, weights, bumper plates, and more.
elitefts developed the new "Professional Rated" designation to communicate best-in-class equipment. "Professional Rated" indicates that an elitefts-branded power rack with the "PR" designation has passed specialized testing that assesses the item for load capacity, stabilization, repeated use, and fit and finish.
In 2018, elitefts introduced new plates and barbells to the site.
elitefts continues to build new business alliances with many of the highest-quality and most trusted companies in the industry, including Cerberus, PRIME, PowerCenter, XD Fitness, and Ultra Human.
In 2019, elitefts celebrates 20 years in business.
There were many successes throughout the year that made the anniversary even more celebratory: rebranding our core values of focus, trust, and strength (FTS) in elitefts' logo, implementing a new customer service system, bringing back the Learn to Train (LTT X), hosting another Sport Performance Summit, expanding our custom-built offerings, and developing our new line of bars and bumper plates.
In 2021, elitefts upgrades its e-commerce platform to provide customers with a better desktop and mobile shopping and educational experience. The Train Your Ass Off series continues, and Dave Tate's Table Talk Podcast hits the ground running. YouTube subscribers hit 110K.