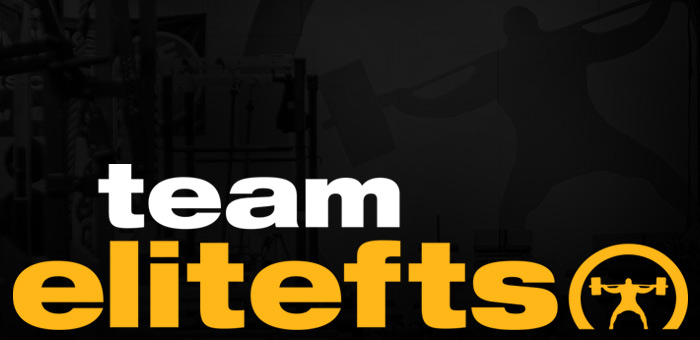 Team elitefts™ has been honored to develop, cultivate and affiliate with some of the world's most successful strength athletes, coaches, trainers and therapists around the world. These relationships have enabled Elitefts.com Inc. to  evolve into one of the greatest strength training resources available today and it continues to provide personal development and reward for its members.
Many team members that have gone on to achieve great things and developed successful careers in a wide variety of areas. Team Elitefts' alumni work at every level in the industry—from becoming successful business owners, university and professional coaches, and athletes, to private trainers, equipment makers, and beyond.
We take great pride in the work many of our Alumni have gone onto do. While you may not see them on the site, they make themselves known as ambassadors, advisors, contributors, customers, fans and everything else an organization could ask of its Alumni. They have cut the path and increased the standard for all those who have followed.
Our purpose today remains simple: To assemble a group of elite athletes, trainers and coaches for the purpose of making average athletes elite and elite athletes great.
16 members have landed strength and condition coach's positions at major universities
5 have found positions within the NFL
50 have launched their own product lines
33 have authored and sold their own books on training
35 have started their own training centers or gyms
Numerous have set multiple all-time world records and 51 have been ranked in the top 10 for their weight class
Several have went onto create 7 figure sales within the industry.
More than 60 have been published in major magazines, such as: Men's Health, Men's Fitness, Flex, Muscle and Fitness, Power, Maxim, Powerlifting USA, Penthouse, Muscle and Fitness, Women's Heath, Shape, Muscular Development, Planet Muscle, MMA publications, Boxing journals, and many others
27 have their own successful online training business
12 have strated their own online businesses
More than 40 have conducted and/or spoken at strength and conditioning seminars & clinics
22 have obtained their Masters or PhD.
All have reached the pinnacle in their sport, shared valuable insight and knowledge with our customers, and fully leveraged our resources to help advance their own personal goals and career aspirations.
Alumni includes all past team members of more than one year and current members with one year + time with team.
Name / Year Added
 Dave Tate 2000
Bob Youngs 2000
Danny Blankenship 2001
Martin Rooney 2001
Tom Myslinski 2002
Jim Wendler 2002
Paul Childress 2002
John Bott 2002
Buddy Morris 2003
Sixty Two 2003
Coach H 2003
Mike Ruggeria 2003
Lance Mosley 2003
JL Holdsworth 2003
Thomas Deebel 2003
Donnie Thompson 2004
Travis Mash 2004
Brian Schwab 2005
Marc Bartley 2005
Mark Bell 2005
Jason Ferruggia 2005
Chris "OX" Mason 2005
James "The Thinker" Smith 2005
Alwyn Cosgrove 2005
Joe Defranco 2005
Michael Hope 2005
Mike Johnston 2005
Chad Aichs 2005
Julia Ladewski 2005
Joe Bayless 2005
Matt Smith 2005
Steve Goggins 2005
CJ Murphy 2005
Karl Tillman 2005
Steve McDonald 2006
Ryan Smith D.C. 2006
Matt Kroczaleski 2006
Zach Evan-Esh 2006
Jim "Smitty" Smith 2006
Scott Yard 2006
Hannah Johnson 2006
Chris Clark 2006
Charles Bailey 2006
Mike Szuderek 2006
Ano Turtiainen 2007
Matt Smith 2007
Jani Murtomaki 2007
Dr Micheal Yessis 2007
Mark McLaughlin 2007
Travis Rogers 2007
Justin Harris 2007
Eric Talmant 2007
Jeremy Frey 2007
Jo Jordan 2007
Matt Rhodes 2007
Joey Smith 2007
Charles Bailey 2007
Harry Selkow 2007
Shelby Starnes 2008
Angry Coach 2008
AJ Roberts 2008
Josh McMillan 2008
Landon Evans 2009
Juliet Deane 2009
Josh Bryant 2009
Matt McGorry 2009
Chad Wesley Smith 2009
Vincent Dizenzo 2009
Steve Diel 2009
Al Caslow 2009
Brian Carroll 2009
Matt Wenning 2009
Jason Pegg 2009
Ted Tolston 2009
Molly Edwards 2009
Mike Robertson 2010
Christian Carter 2010
Jen Comas 2010
Amy Wattles 2010
Andy Deck 2010
Clint Darden 2010
Steve Pulcinella 2010
Michael Keck 2010
Adam Driggers 2010
Mike Speidel 2010
Clint Smith 2011
Dave Kirschen 2011
Sam Byrd 2011
Zane Getting 2011
Chad Walker 2012
Marshall Johnson 2012
Mick Manley 2011
Todd Hammer 2012
Jennifer Petrosino 2012
Jonathon Mike 2012
Ashley Jones 2012
John Meadows 2012
Brandon Patterson 2012
Sheena Leedham 2012
Shane Church 2013
Brandon Smitley 2013
Erik Eggers 2013
Alexander Juan Antonio Cortes 2013
David Allen 2013
Coach G 2013
Chase Karnes 2013
Amit Sapir 2013
Ken Hill 2013
Bryan Mann 2013
Eric Maroscher 2013
Gabe Naspinski 2013
Joe Schillero 2013
Scott Stevenson 2013
Casey Williams 2013
Meana Franco 2013
Mark Dugdale 2013
Yessica Martinez 2014
Chris Duffin 2014
Alycia Israel 2014
Sherri Whetham 2015
Ken Whetham 2015
Swede Burns 2015
Danielle Overcash 2015
Matt Ladewski 2015
Chris Janek 2016
Ben Pollack 2016
Joesph Sullivan 2016
Christian Anto 2016
Marillia Coutinho 2016
Zachery Gallman 2016
Donald Day 2016
JP Carroll 2016
---