To place an order, choose one of the following methods:
Online: Enter your order directly on the World Wide Web. We provide a "shopping cart" to allow you to select products as you browse our website. When checking out, we provide a secure SSL session to protect your privacy including credit card information.
Telephone: Call toll free in the United States 1-888-854-8806 during EST Monday through Friday. For calls outside the U.S. you can reach us at 740-845-0987 or send us an email.
Fax: Fax your order to 1-740-845-0498 any time. or Mail your completed order receipt after entering your order using our online shopping system along with check or money order to:
EliteFTS 1402 State Route 665 London, Ohio 43140
For detailed product information, please check our website first. If you cannot find what you're looking for, send us an email. We do not sell our customer list, so rest assured that your privacy is protected at EliteFTS.com.
Purchase Orders
We do not offer sale prices for POs and shipping and handling is arranged through our company and will not accept outside shipping arrangements.
Payment Options
We accept the following:
Credit cards – Visa, MasterCard, American Express and Discover
Money Order – The money order must be in U.S. funds. Please make sure your name is on the money order. We will ship the products as soon as we receive the money order. We do not ship orders until we receive payment.
Checks – We use a check guarantee service so there is no hold time for checks to clear. As long as the following conditions are met, we process the order immediately upon receiving your check. We do not ship orders until we receive payment.
The check must be in U.S. funds drawn on a U.S. bank.
A $20 fee will be charged for returned checks.
No "starter" checks will be accepted. Your name must be pre-printed on the check.
Your physical address and telephone number must also be pre-printed or hand written onto the check. No PO Box addresses accepted.
If we are unable to get an immediate approval from the check guarantee service, we reserve the right to decline the order or deposit the check and wait 3 full weeks to give it adequate time to clear before shipping the order.
C.O.D. is not available. Due to too many returned packages, we no longer offer this method. Pre-payment by credit card, money order or check is required.
Gift Cards
Gift Card Terms and Conditions
Shipping Options
We pride ourselves on being able to process most orders the same day they are received.
Please allow 5 to 10 days for UPS delivery.
Oversize and heavy items are shipped freight carrier.
With freight carrier shipments, inside delivery and installation is not available. It is the receiver's responsibility to unload and install product(s).
More on Freight Shipping
Orders are shipped by UPS Ground in most cases. UPS does not deliver to P.O. Boxes so you must list a valid street address with your order.
Other shipping methods are available such as UPS Next-Day or Two/Three-Day delivery and UPS Global/International delivery. You pay shipping costs for these methods, which are based on the weight and destination. Simply enter your order online and you will be presented with all shipping options that we can do so you can choose between price and speed of delivery. By indicating a special delivery method, you are giving us authorization to charge you for this service. Please be aware that orders placed after 12:00 noon EST (9:00 am PST) will usually go out the following business day.
UPS does not deliver on weekends or holidays. Do not include these days when estimating your expected delivery date.
There is no guarantee that your order will go out the day you order. If you have specified a One, Two, or Three Day delivery and are placing the order after 1pm EST, it is likely your order will be shipped the following business day.
UPS Ground Shipping Times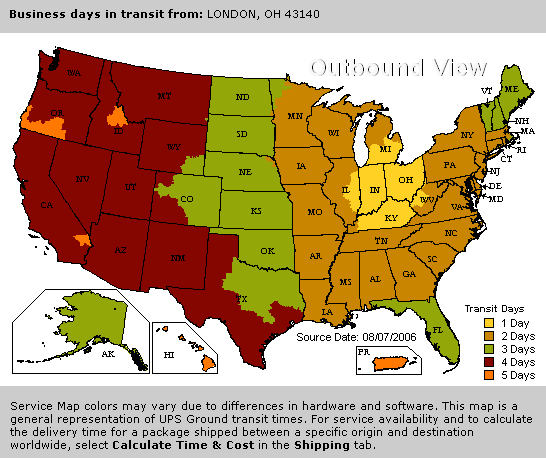 International Shipping
We currently only offer UPS expedited and express for international shipping at this time. Dave (The Boss Man) explains why in these links below.
International Q and A with Dave Tate
We do however use International Freight Shipping for all equipment orders but you will need to contact customer service or equipment sales for a shipping quote.
Any dispute over shipping, taxes, customs or duty should be addressed to UPS or the Freight Shipping Company.
Sales Tax
Sales tax is regulated by each state and the counties within those states. We keep updated on these regulations and collect accordingly.
International customers may be subjected to taxes payable to your own country upon receiving the package, but we do not collect or know what the amount of these taxes are. Check with your country's tax authority.
Canadian Orders
UPS has provided us with the following statement for our Canadian customers:
"Canadian Customs requires Canadian recipients to pay applicable duties and taxes on each shipment entering Canada. This may include PST, GST, HST, duties and other taxes of goods (e.g. excise tax). A brokerage fee is also charged to process shipments and present the requisite customs paperwork to Canada Customs on the importer's behalf.
Your order will be shipped under UPS's e-Trailer Brokerage Program (eBP), where eligible shipments imported into Canada are subject to applicable duties and taxes as well as an average of $10.00 flat brokerage fee($4.00 USD entry prep fee + $6.00 CAD bond fee on ground shipments; $10.00 CAD bond fee on air shipments) for shipments valued below $200.00 USD. Additional fees will apply on shipments over this value. Shipments valued at $200.00 CAD and above and/or being imported to Canada for commercial purposes and/or subject to specialized clearance may incur additional fees.
Please, be aware that UPS will request payment of these charges at the time of delivery. You have the ability to call UPS ahead of time (1-800-742-5877) to pay these charges, eliminating the need for payment on delivery. "
For quickest delivery, we recommend that you call the UPS toll-free number and pre-pay for these charges, as this will avoid repeated delivery attempts should you not be there personally to pay the fee at the time the driver arrives.
Sales and Promotions
Elitefts.com reserves the right to cancel any sale or promotion at anytime.
All free items are limited to one per house hold.
Only items specifically marked as free shipping are eligible for free shipping.
Elitefts.com is not responsible or to be held accountable for any pricing mistakes online or verbal.
Any order Elitefts.com deems as "abusing the sale" will be cancelled and refunded within 1 business day and customer notified.
Elitefts.com has the right to refuse any order.
Damages and Shortages
Merchandise damaged during shipping or shortages (missing items) must be reported to EliteFTS within 24 hours of receipt. We will contact the shipping company for visual inspection of the merchandise and box. We will then replace any confirmed damaged or missing merchandise.
Inspect all merchandise at the time of delivery before signing off with driver.
Damage occurring during shipment must be noted with the delivery driver in order to file a claim for damages. Failure to do so may result in a claim being rejected.
Keep all original cartons and merchandise as received
Damage claims must be filed with the freight carrier before we can replace lost or damaged merchandise.
Return Policy
All returns and exchanges are welcomed by EliteFTS. Just return the item with notation of all your information and instruction regarding your exchange or refund. Full credit will be issued for merchandise returned within 7 days of your receipt of shipment. A 25% restocking fee will be applied to returns after 7 days. Please note, a 25% restocking fee is applied to all returns.
Items that CANNOT be returned.
Custom made or custom order products may not be returned.
All apparel must be returned with original tags attached and in condition to resell.
All equipment and barbells cannot be returned, but they are covered under manufacturer's warranty.
There will be no refunds on books, e-books and DVD's.
Any downloadable software product cannot be returned.
Merchandise returned over 7 days of receipt of shipment.
With the exception of shipping errors, refunds or credits are not issued for shipping charges.
No other warranty written or implied exists. Manufacturer's Warranty claims must be addressed to the manufacturers.
Powerlifting Gear Return Policy
All Gear to be returned must meet these guidelines in order to be accepted:
Merchandise must returned within 7 days of receipt of shipment
Merchandise must not be visibly worn. (We will be unable to restock for resale)
Merchandise condition must be in the same conditions as received. (ex: odor free, liniment free, baby powder free, chalk free etc.)
Send all returns to the following address:
EliteFTS
1402 State Route 665
London, Ohio 43140
Apparel Care Instructions
Apparel (Non-Metal Gear) Care Instructions:
Machine wash warm, inside out, with like colors. Only non-chlorine bleach. Tumble dry medium. Do not iron. Do not dry clean.
Metal Gear Care Instructions:
Hand wash with mild soap and water.
Back Orders
We regularly stock every item we carry. Although every attempt is made to maintain inventory of each product we carry, occasionally we may run out of certain products. In this case, we will mark the product "out of stock" on our website. If any product is not in stock for an order, we will ship out the in stock items and hold the back ordered item until it is available.
These policies are subject to change at any time without notice.
We are constantly updating our products. Some products may change (size, style, color) from what is shown in catalog.
Prices subject to change without notice