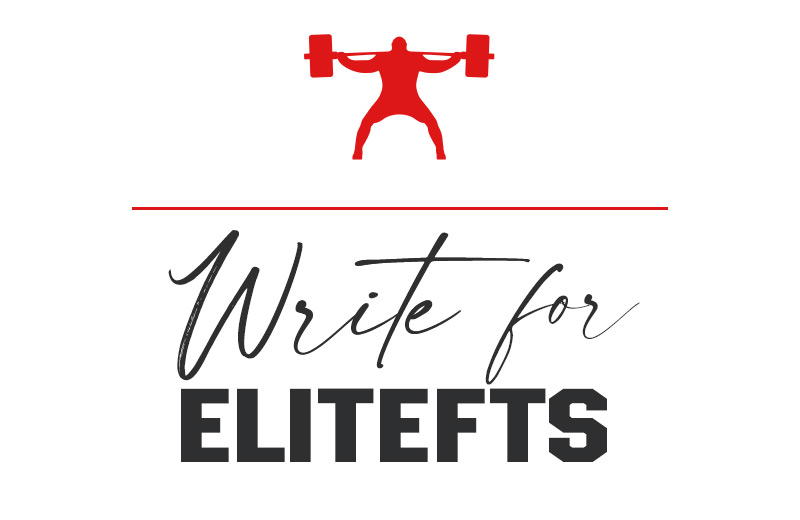 elitefts™ is the premier destination for everything strength: professional-rated equipment and training information from across the industry.
We have helped the strong become strong(er) since 1998 by following the primary aim to Live, Learn, and Pass on. Read our Company Story.
We encourage our readers, customers, and friends to submit content that is both informative and of genuine interest to those who make training a top priority.
As an Outside Submission Author, climb the writing ranks for a chance to become a Featured Writer or Columnist! Read below to learn more about these roles.
Before submitting an article our way, please review the following guidelines that detail the specifications we have set prior to publishing your work.

Featured Writer
elitefts™ chooses six featured writers—outside submissions OR columnists—to showcase quarterly. Each Featured Writer will receive a three-month publication schedule to hone their craft.
We consider:
Credentials

Active participation within the field

Click-rate analytics

Where the author is on the Live, Learn, Pass On spectrum
A featured writer may gain exposure through a(n):
Hero on the website's front page,

Email newsletter blast spotlight,

Social media campaign highlighting the featured piece and other author works (if applicable).
Columnist
A Columnist is an elitefts™ Team member that writes and publishes at least six articles within a contractual year. A team member has exclusive access to elitefts™ events and professional networking resources, receives ongoing exposure through email and social media content, and earns reward points to save on the best equipment in the world.
We consider:
Character

Writing skills

Credentials

Active participation within the field

Click-rate analytics

Where the author is on the Live, Learn, Pass On spectrum

At least six (6) articles published on elitefts™
elitefts™ has been honored to develop, cultivate, and affiliate with some of the world's most successful strength athletes, coaches, trainers, and therapists around the world. These relationships have enabled elitefts to evolve into one of the greatest strength training resources available today and it continues to provide personal development and reward for its members.
Many team members have gone on to achieve great things and developed successful careers in a wide variety of areas. Team elitefts' contributors (past and present) work at every level in the industry—from becoming successful business owners, university and professional coaches, and athletes, to private trainers, equipment makers, and beyond.
Outside Submission Author
Outside of the organization, an Outside Submission Author can submit an article for review and publication on the site.
Based on the above criteria, Outside Submission Authors can qualify for a Featured Writer spot and Columnist position.
For an outside submission to be reviewed, we consider:
Credentials

Active participation within the field

Where the author is on the Live, Learn, Pass On spectrum

Adherence to submission guidelines

The Basics
Submit articles via email to articles@elitefts.net as attached Microsoft Word documents or provide a Google Doc link.
Give your article a title that reflects its content. Don't just call your document "FinalDraft2" because it will confuse us, and we might punch our computers.
Don't forget to include your first and last name, email address, as well as a short bio paragraph along with the submission.
Describe who you are, where you're from, your credentials, and your active role within the field.
Any appropriate images, photos, or charts should be separate attachments. If you put them in the Word doc you send, the image quality and size may diminish.
Please attach pictures of the correct size and indicate where you would like them to be placed in the article. If you don't have the need for article-specific pictures, we can supply photos from our picture library.
'Create your own gravatar' at www.gravatar.com. Choose a picture that will serve as a bio image. This image will accompany your article. Link the gravatar to the email address you used to submit the article.
When you submit an article, don't send a follow-up email. Trust us, we got it.
Sometimes it takes up to six months for articles to get reviewed or published.
If we're going to use your article, you will receive an email that'll include an approximate publishing date. You'll receive another article once the article is live on the site.
All About Content
Write on coaching, training (strongman, powerlifting, bodybuilding, sport-specific), nutrition, motivation, special populations, or business.
The idea is that the reader will be able to take something from your article and apply it. Keep article length between 1000–1800 words.
If you're trying to do a series of articles, send them all at once.
Specify who you're writing for within the article. Speak to them. elitefts' audience are predominately males (77%) between the age of 20-35.
Your article needs to be well-written. You don't have to be Shakespeare, but don't send us a rough draft. We have editors, but their job is to get the articles web-ready. Our editors do not solely exist to edit your terrible spelling, syntax, and grammar. At least make an attempt to write with care, as it's common courtesy. If your article looks like a tornado of lower-case text with bad punctuation, spacing, and/or terrible spelling, we probably won't even read it. You have been warned.
Articles cannot be press releases, advertisements, sales letters, promotional copy, or blatant and excessive self-promotion or hype. All submissions must be original work.
If you're going to publish the same article on your personal website/blog, we cannot publish it. If you are submitting an article written by someone other than yourself, please indicate the original author, including his or her name, email address, and background information.
Source material. Make sure you cite the original authors accordingly. You may include links to your own website(s), but they must not be under construction. Websites must be active and have content for you to link to them from your article. Formatting or Lack Thereof Pre-existing document formatting is stripped out during preparations for posting on the site, so anything used for emphasis or decoration will be lost. If your article contains special characters and symbols, they may be lost during this process. Please no headers or footers—keep it simple.
Please put any references at the end of the document. Be sure to include all pertinent information with references such as author name, publication year, volume number, page numbers, publisher, and publisher location. As previously stated, please do not put pictures in your word document. See "The Basics" section above for clarification.
And Finally
Submission of an article does not automatically guarantee publication on the site.
We reserve the right to accept or reject any article based upon quality, appropriateness, and editorial judgment.
We cannot return any articles that have been sent to us for publication consideration. Although we want to provide authors with the best exposure, we do not pay for content.
We appreciate photos of or by you demonstrating the unique exercises or techniques in your article, but realize that we take photographic rights seriously.
If you submit a photo for inclusion with your article that you DO NOT have the rights to, you will be held responsible for any legal costs incurred because of that.
Remember, we sell strength and conditioning equipment. If your pictures promote brands that we do not sell, we cannot use them.
Due to the volume of emails that we receive daily, we cannot respond to individual queries regarding the status of your submission. If we have any questions, we will contact you.
By submitting an article, you grant elitefts™ international, perpetual, irrevocable, royalty-free, non-exclusive, license(s) to use, distribute, reproduce, modify, adapt, publish, translate, publicly perform, and publicly display your post (in whole or in part) and to incorporate your comments into other works.