Coach G: There Isn't Any Wizard
elitefts™ Sunday Edition
We're back to putting our program down on paper. This article will cover the philosophy and components that make up the conditioning portion of your program. Remember, only one person's ideas and concepts matter—yours!
When I attended The Wizard of Oz play that my niece and nephew were performing in this weekend, I was thinking about these articles and our quest to become more organized strength coaches. I've never seen the film or stage version of The Wizard of Oz before and it kind of blew my mind. All of these weird creatures were trying to go see someone they didn't know to ask him to give them something they already had. It really made me think about all of us who are always trying to get validity for our programs from people we don't know and who don't have any understanding of our situation, facilities, or athletes. There isn't any wizard. The wizard is you!
You're good enough to do this. You're intelligent enough and have enough information, and you have the desire and passion to be the best. You're willing to work harder than everyone else. That is all it takes. The only cool thing about Oz anyway is the army of flying monkeys to do your bidding. Think of them at a meet wrapping knees, chalking your back, and, best of all, flying in the air to put on your suit straps. How bad ass would that be? OK, back to business…
Conditioning philosophy
The objective of a conditioning program is to optimally prepare the athlete's energy systems and muscular/joint structures to meet the physical demands of a championship season. The purpose of conditioning is to allow the athlete to recover more quickly from high intensity work (plays, practice reps) and sustain great effort rep after rep, play after play. It is also important to understand that the conditioning done in the off-season will help develop a more efficient aerobic/metabolic foundation. This will allow faster recovery, getting the athlete into game shape more quickly. Our goal is to reduce the level of fatigue experienced by competing at a maximal level, and conditioning is task-specific. An athlete can be in maximal running shape but sub-maximal game shape.
Contrary to popular opinion, no amount of running, bounding, or hill sprints will prepare the body for the task specific demands of football. It isn't until practice and eventually playing the game that the conditioning necessary to play at a consistently high level is achieved. We have taken into consideration the physiological demands of the sport and the physical toll that it accumulates on the body. Football is a series of maximal efforts lasting 4–8 seconds in duration. This is followed by a rest interval of 10–60 seconds. This is an average of a 1:4 work to rest ratio. This ratio makes football not only an anaerobic-based sport but an alactic-based sport as well. Alactic means that lactic acid (muscle waste) shouldn't accumulate due to the longer rest time given between plays.
We've also found that the demands for the "hurry up" offense prevalent in today's game decreases the rest time between plays. This increases the buildup of lactic acid. That is why the aerobic system base has to be developed. The common misconception of football being just anaerobic isn't true. The tired, dogmatic approach of only training one energy system in either short, interval bursts (anaerobic system) or long, controlled runs (aerobic system) is setting the athlete up for failure. Both systems must be optimally trained.
Choosing to neglect off-season conditioning isn't recommended. Coming into camp deconditioned and not acclimated to the heat will only prolong the time it takes to attain the level of football shape necessary to proficiently practice. There will be and should be situations where fatigue will be a direct result of maximal effort, but if fatigue is a result of a poor conditioning level, you deserve what you get!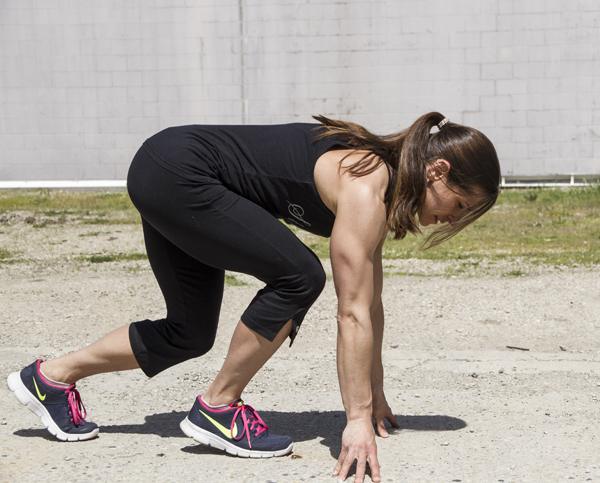 Conditioning components
General physical preparation (GPP): This type of training involves exercises designed to enhance the athlete's general, non-specific work capacity. It should engage different activities to develop increased levels of physical conditioning whether that is endurance, strength, speed, or flexibility. It is an excellent way to work on weak points and develop a resistance to lactic acid onset (lactic acid rapidly drops power output and accelerates total body fatigue). 
The general goals of GPP are to:
Increase work capacity
Increase lactic threshold
Increase mobility
Increase overall fitness
Decrease body fat
Long interval conditioning (aerobic): We establish aerobic capacity by doing longer/intermediate runs (400s/200s). This type of training involves low intensity/high duration exercise that lasts approximately 20–60 seconds with a 1:3 work to rest ratio. This type of workout stresses the aerobic system. Rarely is football ever aerobic. Aerobic fitness does help build the football recovery system by supplying oxygen to the demanded muscles. It allows the muscles to perform harder and longer, giving us a foundation in which to train our other energy systems, and allows the athlete to put forth maximal effort longer than those only developed anaerobically.
The general goals of long interval conditioning are to:
Develop aerobic capacity
Improve recovery
Increase overall fitness
Decrease body fat
Stimulate the oxygen transport system
Short interval conditioning (anaerobic): Once our aerobic base has been established, the focus then switches to developing our anaerobic capacity. This type of training involves high intensity/low duration exercise that lasts 0–10 seconds maximum (100s, 60s, 40s, agilities) with short (30 seconds or less) recovery time. This simulates the average football play and recovery pattern.
The general goals of short interval conditioning are to:
Decrease recovery times
Develop max effort endurance
Increase mobility
Sustain speed
Stimulate the central nervous system under duress
Position-specific preparation (metabolic): This type of training mimics game play. More football specific movements are done as close to game like situations as possible. The work/rest intervals are exactly the same as a game.
The general goals of position-specific preparation are to:
Increase power output to the highest level
Peak the volume
Increase work capacity to the highest level
Get the athlete game ready
Start writing!

Loading Comments...