Throw Out Your Science Books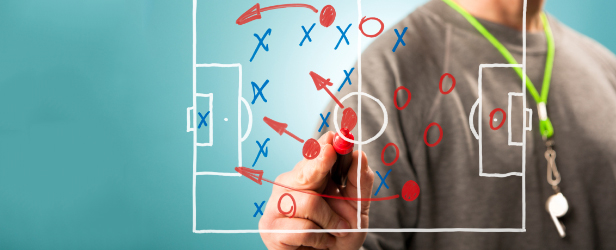 Once a year I'm able to travel to Juniata College and speak at the Pennsylvania NSCA conference run by Doug Smith of Juniata College. Not only does he run a first-rate conference with a ton of great presenters, but he's an all-around good guy! I would be remiss if I didn't also mention the amazing help that he receives from Niki DeSantis. A Juniata College alum, Niki helps out with this conference and also helps the lost souls like me navigate all that is Huntingdon, Pennsylvania.
Here are some of the highlights of the conference as well as what I learned from this experience.
Thursday, June 12, 2014
We arrived at Juniata College, checked in, and headed to the nicest restaurant in our budget (Hoss's). After dinner with the staff, we were able to commandeer some libations and sneak them into the dorms like some college freshmen (it really wasn't sneaking). Curt and Erik of Limestone College joined us. To me, this is the best time to learn. People let their guards down and tell the stories from the trenches. It's funny to me how strength coaches love to "judge" each other, but when we have a beer and talk, we all have the same stories and issues. After a few libations, it was clear to me that Curt and Erik are really working hard to make Limestone's athletes better. I was thoroughly impressed by what they're doing.
Friday, June 13, 2014
I woke up at about 4:00 a.m. for no reason other than the fact that I do this. I stared at the walls until 5:30 a.m. Then I showered and got ready for my talk. We went out to the front of the dorms to begin our trek to Sheetz for our high quality breakfast when it happened. Dick Hartzell came out of the dorm. I stopped him and reintroduced myself to him for about the twentieth time (he said he remembered me, but I'm pretty sure he was lying). Dick then made fun of my intern and went off for a jog. It's awesome to see the energy that Dick still has.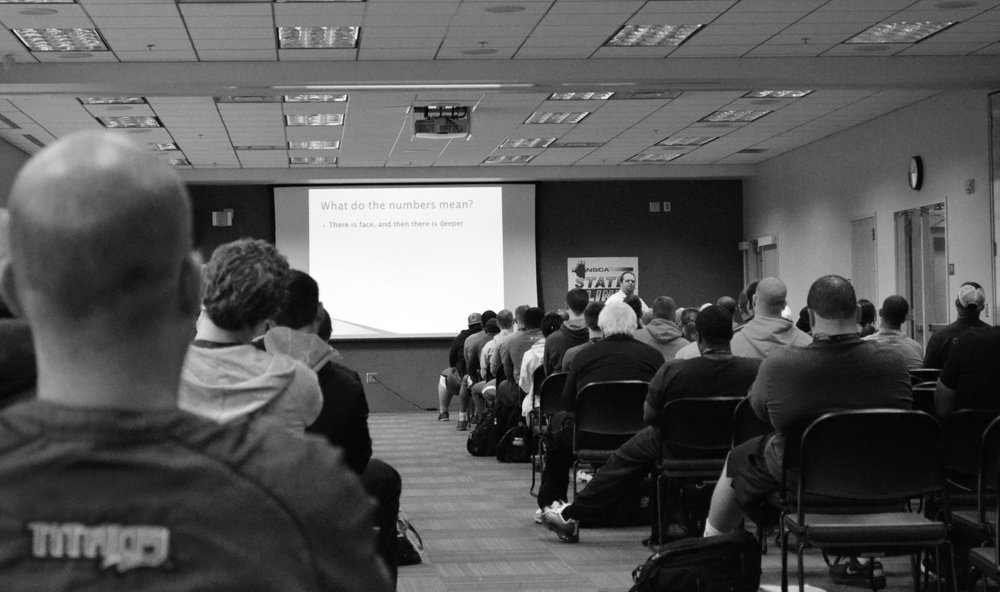 My talk was scheduled for 8:00 a.m. and I was 100 percent sure that no one would show. My presentation was opposite of Dick's. Much to my surprise, the room was packed. I think my talk went well. The title was "Throw Out Your Science Books," and I talked about finding ways to use what books teach us in a practical setting. It seemed to be received well.
Now on to the other presenters…
Jay DeMayo, Basketball Strength and Conditioning Coach, University of Richmond: Jay spoke after me and went over some of the stuff that he's doing with his athletes including the Yessis 1 X 20 work. It seems to be interesting and I know that Jay will also push the envelope as far as where the science of our profession is going. The biggest take away that I got from Jay's talk was to continue to push the envelope as to how the body responds to training. We don't all have Omega Waves and Polar heart rate systems, but we can all do resting heart rates and keep closer track of simple variables like total volume.
Curt Lamb, Assistant Athletic Director for Sports Performance, Limestone College: Curt and I had spoken a little in the past and we shared a few beers the night prior to his talk, so I was excited to see him present for the first time. Curt didn't disappoint. He spoke about how he runs his department and weight room as well as his men's lacrosse program, defending Division II national champions. He clearly runs a first-rate program and had some great ideas on how to be a little more "sports-specific" with his finishers. I really liked this and know that he is always willing to share his information, so look him up. He is an untapped resource in our profession.
11:00 a.m. talk: Notice that there isn't any name here. I was supposed to run back to my room, put on my lifting clothes, and be back in time to hear Andrea Hudy of the University of Kansas speak. Well, as I began the hike back (less than half a mile), I got caught in a major storm and ended up spending the hour hiding under a tent. I was able to get to lunch just before the talks let out. Then I headed over to the weight room for a quick extra lift. All I did was one squat, one deadlift, and two pull-ups for ten sets. I've been doing this on my off days as a way to work technique with the squat and deadlift and get a few extra pull-ups in. It takes about fifteen minutes and I feel better afterward. The weight I used was 135 pounds for pause squats, about 245 (kilos) for the deadlifts, and body weight for the pull-ups.
Mike Brass, Head Strength and Conditioning Coach, Navy: Mike spoke about how they run their strength program at Navy. It was basically an overview of how things are organized. I really liked how he used flat screens to have the basic workout up, but each coach had a "coach's sheet" with all of the athletes numbers as well as injuries and any other important information. He was very big on getting the paper out of the athletes' hands. I'm not 100 percent sure how I feel about this, but it is something that definitely got my mind going as to how I can improve our organization.
I missed Andy Kettler's talk (basketball strength and conditioning coach at West Virginia University) because I was setting up for my hands-on presentation. However, I did send my interns to his presentation and they were motivated afterward to be better coaches. So while I didn't see him speak and haven't spoken to him, he clearly has some good ideas. My goal is to get down to WVU this year.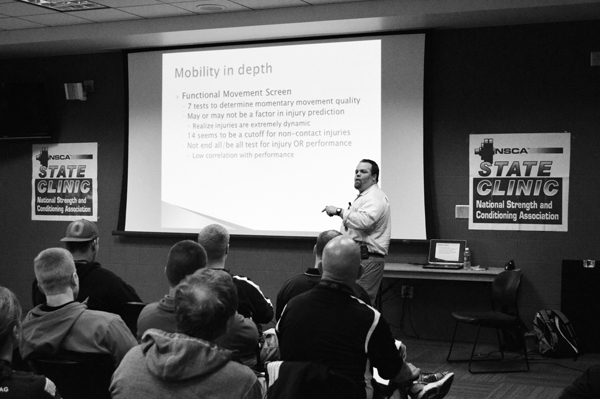 At 3:00 p.m., I gave my hands-on presentation titled "Variations of the Olympic and Power Lifts." I went over the clean, snatch, push press, bench, squat, and deadlift and discussed what I feel is the best way to not only teach these to the athletes but program these exercises. There were some great questions. Most of the questions were regarding the deadlift. I found this interesting because as I said, I'll go over this, but I rarely program deadlifts with my athletes. I do have to apologize because there was a young lady who asked a few good questions. I think I asked her what her name was each time I spoke to her. I even did this an hour later at dinner. I need to get better with names!
After my hands-on presentation, we mingled and talked to people during the different hands-on presentations and watched the beer come in for the cook out. Doug has a great cook out with beer after all the talks. This year there was even a band. Niki gave me the OK to stand in with the band, but while I'm a decent musician, I thought I better not because I didn't want to break some dude's tom tom or snare drum accidentally.
Later on, there was a post-beer beer meeting with some local Mensa members. I found my way there and ducked out when no one was looking. I love you guys, but I was tired.
Saturday, June 14, 2014
The order of the talks was changed. Every year Doug changes the order like a baseball manager and somehow he pulls it off. I don't want to have to do what he does. Due to this, my notes are out of order, so I'll tell you who I saw and what I learned.
Alan DeGennaro, Head Strength and Conditioning Coach, Carnegie Mellon: As I always learn, Alan is wicked smart and a good dude. If you have the chance, get to Carnegie Mellon and visit and learn from Alan.
Tim Beltz, Basketball Strength and Conditioning Coach, University of Pittsburgh: Man, this guy knows some science. Tim talked about rehabilitation with his athletes. I'm pretty sure that my interns were confused. I could keep up, but I needed Tim to spell some of the words for me…like femur. Seriously, Tim is a very smart strength coach and a better person. I'm happy to call him a good friend.
Mike Rankin, Head Strength and Conditioning Coach, Drexel University: Mike is someone I've known for a few years. He was supposed to talk about training wrestlers. Well, he didn't. Instead, he talked about becoming a better coach. The biggest lesson for me was that as young coaches, we often put up walls to try to be more professional. While this is important, it is also important to get to know your athletes and try to help them be better people. Mike gave one heck of a talk and I'm glad he's my friend.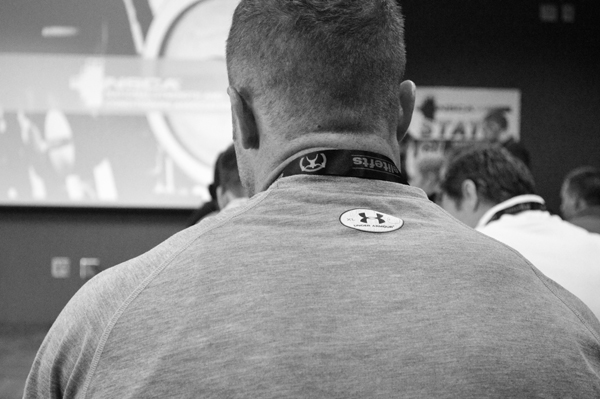 After the talks, we began our trek back to Pittsburgh. Doug runs a first-rate conference and the presenters are also first rate. I always leave these clinics thinking that I need to step my game up. If you think you are the best, you don't know anyone. I believe that I'm the best for my job at this moment, but I also know that every time I see or hear another strength coach, I see holes not only in my programming but holes in my coaching. After this clinic, I've already reached out to a few new people and spoken to others I need to speak to more often. My advice to everyone is get to more clinics, read more books, and realize how little you know.
Loading Comments...