Motivation, Powerlifting, Training
My SPF Powerstation Pro/Am Results (with video)
My SPF Powerstation Pro/Am Results (with video)
My training went relatively well going into this meet and I expected to hit some PRs, but things never seem to go as planned. Honestly, with as many variables as there are with equipped lifting, I'm often amazed that anyone makes it through a meet. If the gear is too lose or too tight, you move too slow or too fast, if the weight loss and rehydration doesn't go right, lack of sleep, lack of food, minor injuries, hell anything. Anything could potentially make or break what happens on this one day.
I didn't have much trouble making weight for this one and actually intentionally came in light for the coefficient at 161.8. I did my usual dehydration and rehydration along with sitting around the hotel room with Trinity and John watching "Hard Times", "Locked Up" (reality prison shows) and "Tru TV" along with a lot of sleeping. We never usually watch shows like these, but always seem to when we go to meets. Both the day before and the day of weigh-ins I'm exhausted. Even when I only have a few pounds to lose it still takes a lot out of me. Either that or these are the only days I have to actually take a minute to slow down.
As usual, I couldn't sleep the night before and was too nervous to eat the morning of the meet which I doubt helps anything. Here's how my day went.
Squat
Warm-ups: 150x5, 260x3,
w/Ace briefs (everyone else seemed to be throwing them on early)-
350x2, 440x1
w/Jack suit, straps down-
530x1
640x1
Opener: 770, good. Unfortunately my hips and knees shot forward when I dipped on my 770 opener which I need to prevent from happening in the future. I was also told by multiple people that my squats looked much deeper from the side than the front so I'll have to try to get them filmed from a better angle next time, if possible.
2nd Attempt: 820, miss. Unfortunately we wrapped my knees too early and I literally had to wait 5 minutes from the time I was wrapped until I was under the bar, which tired me out.
3rd Attempt: 820, I felt good on this one but was red lighted for depth.
Bench
Warm-ups: 95x5, 135x5, 185x3, 225x2, 275x1
w/dd- 405x1/2
3 Board- 495x1
Opener: 585, miss. We had a calamity of errors on this attempt. We set the rack too high and my shirt wasn't set all the way so I ended up losing it.
2nd Attempt: 585, good, although I had to fight through it more than I would have liked at the top.
3rd Attempt: 610, mis-grooved in the last inch at the bottom and lost it.
Deadlift
Warm-ups: w/Ace suit on, straps down- 135x3, 225x2, 315x1, 405x1
straps up- 495x1
Opener: 585, good. Felt as easy as 585 has ever felt. I thought I had a lot more in me.
2nd Attempt: 620, miss. My shoulders got forward from the start.
3rd Attempt: 620, miss. Went the same as the 2nd.
It wasn't a great day, but it wasn't a bad day either considering my placing. For whatever reason, it was a difficult day for a lot of lifters since 12 out of 30 bombed. I only went 3 for 9 and was way off from my best but it was good enough for 2nd overall in the lightweights and $2500. Congratulations to my buddy, Jason Coker, for winning the lightweights. Jimmie Pacifico had a solid day and came in third.
Thank you to elitefts™ for all that they do. Thank you to my wife, Trinity, for all of her help, John Hallman for handling me and elitefts™ teammate, Zane Geeting for his help as well. Thank you to all of the OBB team for their ongoing support. I wouldn't be where I'm at without them.
Regardless of my results, I always enjoy competing and being around other people who share the same passion as me. I got to see some great lifting and always meet lifters that I haven't before. Among others I met Chelsi Figley, who has overcome enormous obstacles to achieve her goals. She'll be competing at our meet in October. I also met Brad Little who won best deadlift with a massive 730 at 181. I'll be picking his brain to work on my deadlift training.
I have some things to work on to prepare for the WPC Worlds in November. You can't expect change from doing the same thing. I'm up for the challenge.
Here's my friend and training partner, John Hallman, who was a big help.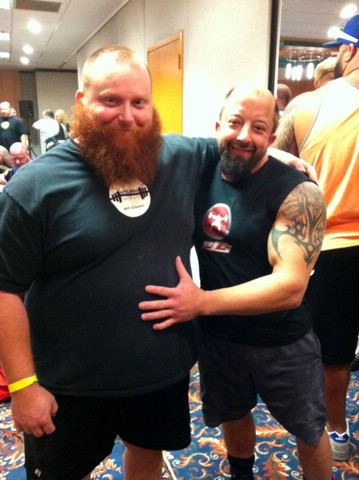 Loading Comments...