Podcasts, Sports Performance, Sports Performance, Strength & Coaching, Training
2 High Schools, 1 Strength Coach, No Problem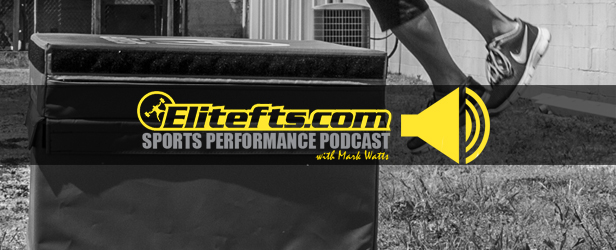 From the first time I met Dan Stevens, one thing was evident: he cares about the athletes he trains as much as he loves training. His professional life revolves around it. Stevens, who is the head strength and conditioning coach at Thomas Worthington High School and Worthington Kilbourne High School, has mastered the art of being two places at once…literally. His distinction and job title he earned via coin flip, of all things, after budget cuts in the Worthington, Ohio school district.
Stevens utilizes decades of under-the-bar experience and training athletes to consistently build his knowledge base. He is the epitome of a life-long learner, which is evident by his involvement with the elitefts™ Learn to Train seminars and the amount of correspondence he has with the best coaches in the profession.
I sat down with Dan in the weight room at Worthington Kilbourne High School. Like every other time I have interacted with Dan, I gained perspective about coaching on so many levels.
Dan Stevens is a rock in a sea of new methods and under-qualified coaches. Stevens has survived the storm of change and has stood by his principles and his unwavering integrity. Coach Stevens has one of the most important and influential jobs in the country.
Topics Covered in this Podcast
Balancing training between two high schools
Training 5/3/1 in two days per week
Training high school softball players
What high school strength and conditioning programs really need
Why more volume is important at the high school level
Programming in 3-week waves
Differences between training freshman and seniors
Coach Steven's manifesto
Specialization in high school sports
Strength is the most important factor
Five exercises Coach Stevens couldn't do without
Loading Comments...