Long-Winded Paxton Strongman 6 Write-Up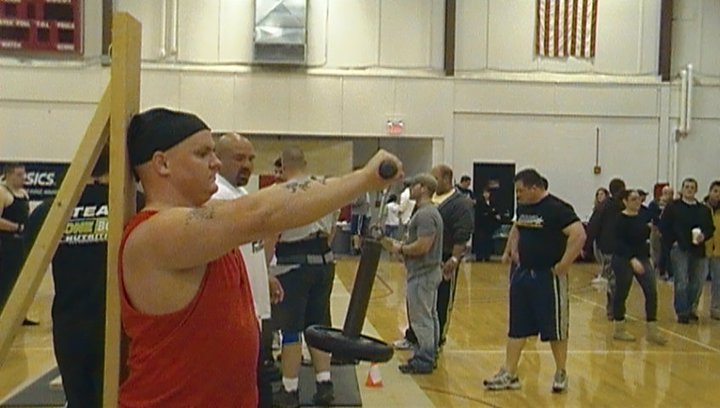 Paxton Strongman is a contest I look forward to every year. It's a great way to cap off another hard twelve months of training. Since it's so well-ran, it's always an amazing experience. This year was no exception.
I've done six of the eight Paxton contests (including Paxton Slam 1). A trophy has always eluded me. Last year I tied for third, but was bumped to fourth due to another athlete having more first place finishes than me. I vowed vengeance this year, and I trained through brutal workouts to make sure that happened. Unfortunately, because of this, I wasn't 100 percent. I'd strained my lower back the week before. I rehabbed it like crazy, but it was still sore on contest day. (Adrenaline is great for temporarily relieving pain, though.)
Luckily, there wasn't any snow on the ground, but it was still bitterly cold. Angela and I arrived at Ana Maria College around 9:30AM, got weighed in, and began to warm up. After seeing a bunch of familiar faces (and some new ones, too), we went to the rules meeting. Soon after, it was go time.
First Event: 210 lbs 12" Log Press For Max Reps (60 Second Time Limit)
I've been busting my butt on pressing all year, since I have very long arms and have never really been good at it. My goal was for ten reps, and I got it. Considering 210 was my max less than two years ago, I'm happy about this.
I'm not sure what happened at the end. Looking at the video, my form just broke down, plus my triceps were fried. I tied here for second; there was a tie for first with twelve reps.
Second Event: 460 lbs Deadlift (12") For Max Reps (60 Second Time Limit)
I absolutely love deadlifting. It is my all-time favorite exercise. It's partly because I have long, gangly arms and short legs, but the brute strength aspect of it really appeals to me. I went into this trying to get at least 15, and that was the exact outcome.
I really felt like I could've gone for 15 more. The only reason I stopped is because I ran out of time. I placed third here; first had seventeen reps and second had sixteen.
Third Event: 45 lbs Front Hold For Max Time
I hate these events. I did pain training for the past three months, plus actually practicing the hold. My best time in training was 45 seconds.
I finished sixth here with 42 seconds. Somebody broke fifty seconds, which is unbelievable. Anybody who has tried this, a Crucifix hold, etc., will tell you how mentally taxing it is. Still, I was pissed that I placed that low. From now on, I'm going to train from the worst angle of these holds. It seems like that's where I end up failing every year.
Fourth Event: 250/Hand Farmer's Walk For Eighty Feet With One Turn
If I'm married to deadlifts, then I'm seeing Farmer's on the side. This year, I stopped pivoting my turn by going wide. In my Paxton 5 video, I almost come to a complete stop trying to turn, and it looks really awkward. This year, my goal was to not stop walking once, and I did just that.
I got just under thirteen seconds and placed third. A lot of people dropped the weights, and I saw many, many pivots. I may post a video later about what not to do with Farmer's. The fact that so many athletes were able to walk forward with the implements sideways impressed the hell out of me, but not getting to that position in the first place is ideal. I'm really looking forward to seeing the official contest results to see who beat me and what the times were.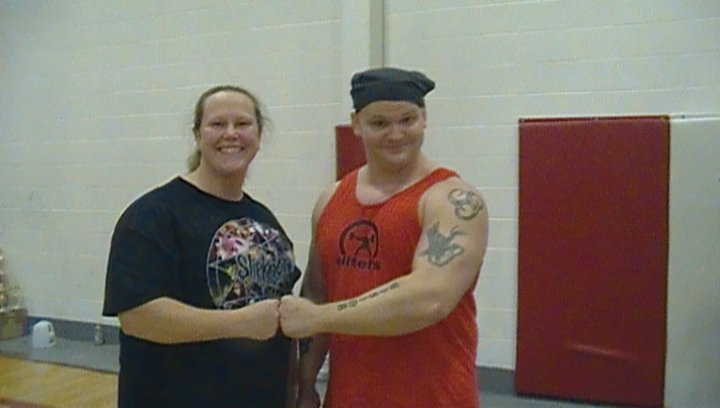 Fifth Event: 150 lbs Barrel (Weighted With Water)/200 lbs Sandbag/200 lbs Sandbag Medley
Using this barrel was one of the more interesting (read: horrible) things I've seen in a contest. It was huge with very little on which to hold. I was very surprised to see that nobody (including me) dropped it.
Sadly, I wasn't fast enough for a decent performance. It looks solid, but I got eighth with a little over 32 seconds. The first sandbag pick was atrocious; I was just trying to grab the thing off the ground and run. Looking back, I should've taken a second to adjust.
Overall, I placed fifth out of ten. Not bad, but not great. Lost fourth by half-a-point, and third by four points. It's a little hard to swallow considering how well I did on some of the events.
This contest taught me a few things:
1) I need to get faster—period. Eighth is unacceptable for any event.
2) I need to incorporate some sort of hold into my training weekly—Farmer's, front, Crucifix, etc. I will build on that mental toughness and endurance.
3) I am about as photogenic as an aardvark.
Those were really the only problems. I am seriously considering moving up to the 231-265 pound class, as I can handle the weights. I come from a powerlifting background, so I had a good strength base when starting. Maybe a twenty pound bulk is the answer. We'll see.
I can't complain too loudly about my placing. With the exception of MA State, I placed in the top five in every contest this year, which is far better than 2009.
With that being said, I am going to be under Josh Bryant's guidance for a while. He has been where I want to be—big numbers, winning shows, etc. I'm 32 years old, and I want to be a Pro by the time I'm 35. I'm willing to bust my ass to get there. I have never had someone else do my programming before, and I am very excited to have such a qualified individual in my corner.
Stuff used in this competition:
I want to thank Angela Mellen, Gina Melnik, Joseph Byrne, Gary St. Jock, Brian Beaupain, Mark Lagasse, Dana Geneseo, Chris George, Murph, Nate and Shayna Fitzgerald, Jim Pierce, Justin Warren, and everyone who came out to watch, compete, and otherwise participate. Also, thank you to the individuals who introduced themselves to me as readers of my log. (That was incredibly rewarding to me.)
The only regret that I have about this contest is that it's over!
Here's my video compilation:

Special thanks to Brad Anderson, the winner of the super heavyweights, for winning WITHOUT a beard. Rock the clean shave, baby!
Loading Comments...