Bodybuilding, Sports Performance
Love Nugget in my Swamp Shorts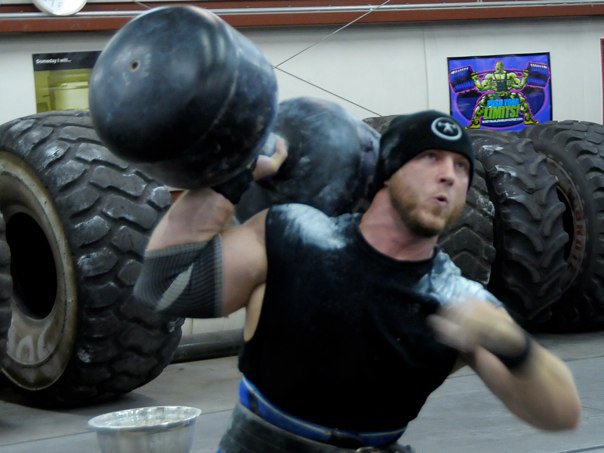 For those who don't know, Brute Strength Gym is a Strongman/PL/Crossfit gym in Norfolk, VA, just outside Virginia Beach. They had a team strongman contest 2 weekends ago to raise money for St. Jude Children's Hospital. Each team consisted of one lightweight and one heavyweight and there were several pros competing.
October 15, my teammate, Lou Costa, and I headed down to Virginia Beach in his sexy little Mercury Cougar. The Coug is made for speed, not comfort. And apparently, if you let the fuel level drop below half a tank, it explodes. Big thanks to my friends David Pike and his girlfriend, Tina, who let us crash at their place Friday night.
Saturday morning we got rolling and headed over to the gym, hung out for a little bit, warmed up, and got the show on the road. The teams were:
Blue Team: David Pike(LW Am) and Craig Pfisterer(HW Am)
White Team: Tom Mutaffis(LW Pro) and Mark Kimener(HW Am)
Red Team: Jamey Ragazzo(LW Pro) and Carl Dorr(HW Pro)
Black Team: Andy Deck(LW Pro) and Lou Costa(HW Am)
Event 1: Yoke Walk/Frame Carry Medley
(80'x850 yoke, 80'x650 frame)
Lou and I had discussed a couple of strategies as this was the second time we had competed together as a team. We decided Lou would do the yoke and I would do the frame. I hung out at about the 40' mark in case any problems arose, but Lou had an easy enough time with it to actually yell at me to get down to the frame while he was en route. As soon as he finished his leg, I picked the frame and hit it. Good start, a little slow on the acceleration, but strong and fast finish. 1st place.
Event 2: Circus DB Clean and Press (180 lbs)
Lou and I went last all day and the number to beat was 4 reps, so we went to work. Lou hit 5 reps by himself which gave us the event win, but I came to compete not watch, so I jumped in and hit 5 reps with it too. We still had 20 sec or so left, so Lou finished up with 2 more reps for a total of 12. On a side note, that is the best DB pressing I have ever done, so big PR. 1st place.
Event 3: Car Deadlift
The other teams were working way too hard on this event, and by the time we were up, the number to beat was 30 reps. I went first and banged out 10 reps and hopped out before hitting failure. Lou nailed 15 and stepped out leaving me 6 more to pull. No problem except for squeezing out a little love nugget in my swamp shorts on the last one. 31 reps total. 1st place.
Event 4: Tire/Power Stairs Medleymy Swamp Shor
(700 tire for 80', 300 & 400 power stairs and 260 keg up the stairs)
Again, the caliber of athlete competing was apparent. We had thought this would be an event that would slow people down, but everyone was killing it. Lou started with 5 flips on the tire and I jumped in to finish up the distance with 4 flips. Lou took the 400 power stairs up, I handled the keg and Lou finished up with the 300 power stairs. We managed to finish in just over a minute for the event win. 1st place.
Event 5: Atlas Stone Series
(225 to 60", 250 to 56", 300 to 52", 315 to 49", 330 to 49", 360 to 49", 380 to 49", 420 to 49"(22" diameter), 440 to 44" (21" diameter), 430 to 40" (22" diameter)
Pike got sick mid way through the competition and was puking in the bathroom during the stones, but Craig put on the sickest performance ever and got all 10 stones by himself. Unbelievable. The other teams either got 9 or 10 stones. Then the black team was up. Lou went first and we alternated every stone. Sadly, when we made it to the 420, I screwed the pooch. I won't make excuses. I should have gotten it. I have done better before. I gave it a couple tries (or a dozen) and Lou gave it a shot (or 3), but the damn thing beat us. We ended up with 7 stones. 4th place.
Overall we ended up winning the competition and more importantly we had a great time. If you live within 5 hours of Brute Strength Gym and have any kind of interest in getting strong, you owe it to yourself to go here. Great facility, great staff, great equipment. It is my Disneyland. I need to thank Barry von Perkins for doing a great job MCing all day, VA state chairman for NAS, Patrick Rodgers for judging the event, Stella, Mark, Pike, Liz and all the BSG crew for getting the event together and running it flawlessly, Lou Costa for being the only person I can ever compete with in a team comp after 2 big finishes, all the athletes who are all top notch guys, and especially Taylor and Mary Beth for coming down to support me and take video and drive me back home after the strongman low hit me. If I forgot anyone I apologize.
Here is video of the shindig:

Loading Comments...