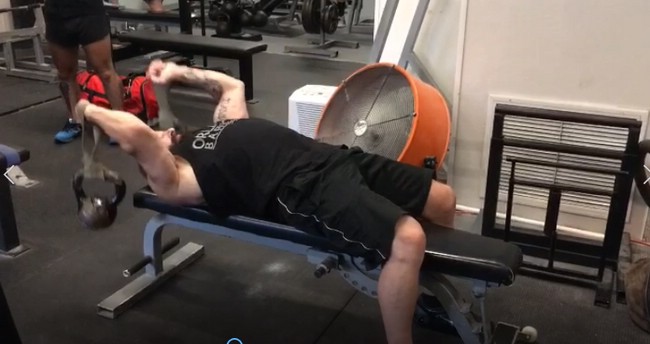 I have been competitively powerlifting for over 20 years. Within that time I have competed raw, single ply and multi ply. I hold the highest all time total of 1930 at 148, the third highest total of 2045 at 165 and have broken over 35 world records, over 25 of which I still hold. Through the years in this sport I have learned a great deal from various training methods, met and formed long lasting friends, as well as learned the importance of balancing life, work, and training.
Elitefts accepted me as a team member over ten years ago and I am currently the longest standing still competing powerlifter on the site. I appreciate Dave Tate and Elitefts for giving me the opportunity to learn from and teach others through the Q&A and my training log.
In 2005 I opened Orlando Barbell – a 24 hour powerlifting friendly gym. As well as running Orlando Barbell I designed and sell the Home GHR, the OBB Power Handles, the Doorway Home Gym, and wrote the 12 Weeks to a Bigger Bench EBook.
My latest contributions were writing the M2 Method EBook, designed to be the quintessential Raw Powerlifting training manual for beginners to advanced lifters looking to get stronger and prevent injury while incorporating the powerlifts and The M2 Equipped Training Ebook, the only ebook designed specifically for equipped lifters.
10 mins treadmill
Prehab
PVC rolled on:
Lower back, shifted to right and left
Upper back, shifted to right and left scapula w/hips up
Armpits
Hamstrings
Glutes
Adductors
Fat Bar Bench-
95x5
135x5
185x3
w/foam/manpon-
225x2
w/loose Metal Catapult-
275x2
295x2
Stability Tricep Extensions w/Elitefts Short Average Bands-
25 lb KBs x10x3
This is one of my best videos since there are guest appearances from Yohan and Rey.

High Rep DB Shoulder Press-
35x15x3
Single Light Band Pressdowns
x15x3
Trinity and I met with the hernia specialist on Wednesday. He entered the room with two younger female interns so I said "Hey, the whole crew is here!" Unfortunately no one laughed. He asked what brought me there and I said "Well, I have a hernia," which I proceeded to show him by slightly lowering my shorts to where the bulge was. He insisted that I pull my shorts all the way down and proceeded to force his finger into areas where it's not meant to go. I could have informed him that my hernia wasn't in my scrotum, but I guess he wanted to see for himself.
He told me that I definitely have a hernia on my right side and "it doesn't look right" on my left. He explained that he would repair them by placing the mesh in there and that "I would never have a hernia there again." I asked how long the recovery time would be and he said that once the mesh is in place it won't rupture, so I can lift as soon as I felt recovered. Trinity asked again and I told her "the man said I can lift when I'm ready." Everything else I've read and everyone else I've talked to who's had hernia surgery says that the recovery time is at least 6 to 8 weeks but I like his answer better.
I also asked the doctor if he had any idea why I'd get a hernia after 22 years of heavy lifting. He said he's repaired hernias on patients from 20 to 80, on patients who lift and others who don't at all. He said it just happens with no real explanation.
While we were waiting to schedule the surgery in the waiting room I told Trinity "this guy is going to mesh me up" to lighten the mood. Surgery is scheduled for July 19th. We'll see what happens. In the past 2 or 3 years, I've been diagnosed with an autoimmune disease with horrible digestive issues and excruciating joint pain, herniated 4 discs in a car accident, and now have to have double hernia surgery. I'd like if things could get back on track for me, but I'll roll with the punches until they do.
The M2 Method Raw Training Ebook
The M2 Equipped Training Ebook
The Affordable and Effective Floor Based Home GHR
Buy your own Doorway Home Gym and never miss out on your accessory work again
12 Weeks to a Bigger Bench EBook