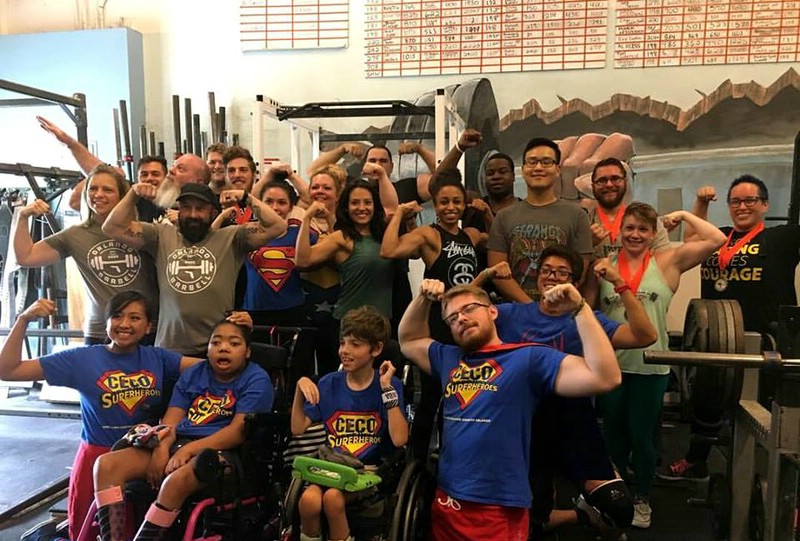 A few weeks ago two of Orlando Barbell's members; Katrina Silva and Chris Hankins, asked if I would be interested in hosting a charity event for the company they work for: CECO. CECO (Conductive Education Center of Orlando) is a center where children and adults with motor disabilities can improve their mobility and independence. As a small business owner I'm in a unique position to be able to give back to the community through events such as this. I immediately said yes and we began working on the logistics.
After some discussion we decided to host a deadlift for reps contest where women would deadlift their bodyweight and men deadlift 1.5xs their bodyweight for as many reps as possible in one set. The donation was a minimum of $20 with all of the proceeds going directly to CECO. We had massage and restaurant gift certificates, a goodie bag from CECO as well as stylish Orlando Barbell t-shirts that were donated for the winners. The Loch family, who have a student at CECO, offered to match the donations up to a certain date. With their help we ended up raising over $1,800!!! Thank you again to everyone who participated and donated.
Here's how everyone did:
Eva Whittimore- 63 reps
Katrina Sliva- 61 reps
Dina Filice- 50 reps
Dominique Lamb- 50 reps
Eve Becker- 20 reps
Trinity Schwab- 25 reps
Christine Davis- 18 reps
Angie Becker- 16 reps
Chris Hankins- 29 reps
Keegan Laud- 25 reps
Devin Inthavongsa- 20 reps
Brandon Chong- 17 reps
Derek Harshman- 24 reps
Rey Cunha- 15 reps
Jeff Flerimond- 5 reps
Eva Whittimore won the women under 150 deadlifting her BW of 145 for an amazing 63 reps. Christine Davis won the over 150 class with 18 reps at 250. Chris Hankins won the under 200 men with 29 reps with 1.5 xs his BW at 29 with 285, but past it on to 2nd place Keegan Laud who got 25 at 290 since he was helping to host the event. Derek Harshman won the over 200 with 24 reps at 350. Two of CECO's superheroes, Ian and Ciara, made it to watch and cheer everyone on. It was a great event for a great cause!
I would have liked to have lifted in the fundraiser, but since I just had bilateral hernia surgery the week before my supportive wife, Trinity, competed and represented OBB getting 25 reps with 160 lbs.
Thank you again to everyone involved. I look forward to hosting more events like this in the future.