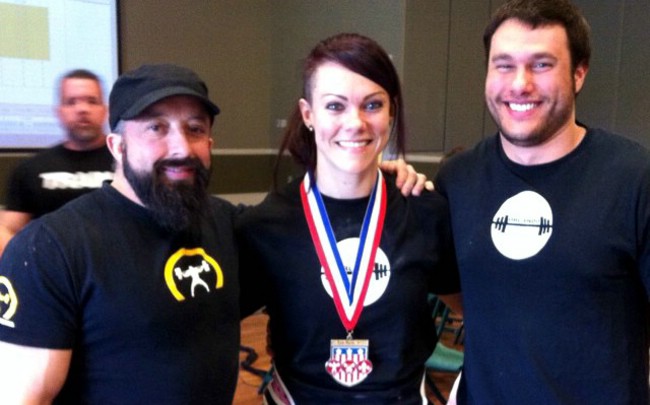 April Harper is without a doubt my star M2 Method pupil. She began following the program years ago, tried other programs, and returned to continue to make incredible gains on the M2 Method.
This past weekend she competed with knee wraps for the first time on Day 2 of the RUM8. Her goal was to ultimately total 1,000. After being red lighted on two completed PR bench attempts of 214 she was doubtful that she would be able to. Here's how the day went in her own words:
"I didn't go to RUM for anything but to total 1000 at a bodyweight of 148, and I got it! I wasn't sure it would happen, but with my coach and my husband's guidance I hit it. If it weren't for them I would never attempt some of the lifts they choose for me. I'm probably more surprised than anyone at every meet. It was a really rough and very stressful few weeks before the meet and I wasn't even sure I was going to make it. But I did and I'm glad. I'm super lucky to have the amazing support of friends, family and team members that I have. I didn't win the meet, I won a different battle, several different battles. My first meet in wraps gave me a new squat max of 365, hit a 204 bench. lower than my last meet but it's all good, and another shocking deadlift PR that I wasn't expecting, a 33 lb pr of 435, and a total pr of 79lbs at 1003!! I thought I would plateau at this meet and would be lucky to hit any PR's after the last great meet I had. But, I guess I was wrong! I owe it all to my coach Brian Schwab and his minimalist method training which has helped me go farther than I ever imagined possible. As well as my husband Stephen Harper for his constant help, support, compassion and ...tolerance hahaha. As well as all of the incredible obb team who constantly cheer me on and encourage me as well as help me train. Also want to thank my sponsor doughnuts and deadlifts ( Krissy Mae Cagney ) for her amazing support and for believing in me no matter what!
Thank you all! And to everyone at rum competing and running the meet, you all did a fantastic job!!"
[youtube= https://www.youtube.com/watch?v=N4gM27cMNbM]
Congrats April!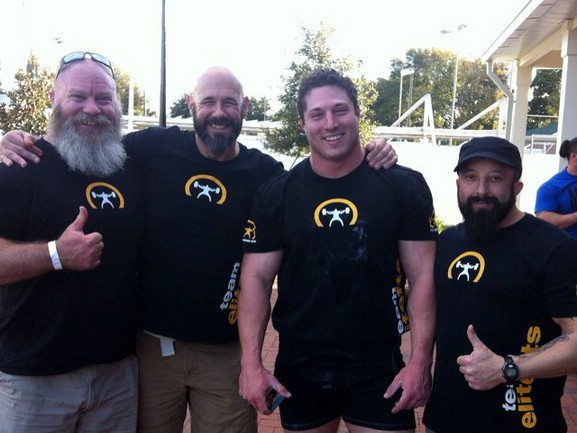 Alongside Elitefts teammates Bob Youngs and Jo Jordan (and OBB's Mike Frye who I recruited to wrap Casey's knees), I was also able to help coach the incredible Casey Williams. I still say he's too pretty to be a powerlifter, but his numbers say different. I honestly felt funny trying to give advice to someone so strong, but he was incredibly receptive, humble, and has a calm meet demeanor similar to my own.
Without dropping any weight Casey walked in to the meet in the 242s against competitors who were known to drop significant amounts and more than held his own. He squatted 810, benched 540, and pulled 738 to total a huge 2088 total. Look for him to be the man to beat raw in the near future. He's just getting started.
Here's video of his lifts:
[youtube= https://www.youtube.com/watch?v=g4OJGGjvouA]
You can read his full meet write-up here:

Casey's RUM8 Meet write-up
Congrats Casey!