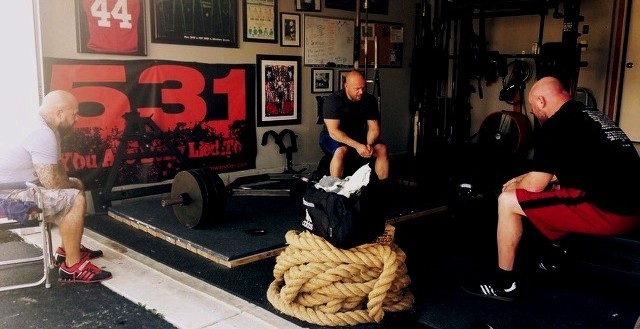 Although I haven't been posting I have been training.  Despite camp, I had a good week and stayed on track.
Monday Training
Trap Bar: 210x5/240x5/270x5/FSL: 5x5@210
Dips: 5x10
KB Row: 5x10 w/70
Tuesday Training
Conditioning: 30 minutes on bike
Wednesday Training
FBB Bench: 160x5/180x5/205x13/FSL: 5x10@160
DB Squat: 5x10 w/100
KB Row: 5x10 w/70
Friday Training
SSB Box Squat: 160x5/185x5/210x5/FSL: 10x5@160
Dips: 5x10
KB Row: 5x10 w/70
I've been on the rowing kick.  I should probably throw a pull-up in there every now and then.
I've also been doing 50 reps for my FSL work.  Although it's light, I've been sore after the Trap Bar and SSB work.  Nothing bad, but definitely noticeable.
School started yesterday (Monday) and I didn't get my lift in as planned.  We had a 2 hour all staff meeting along with first day in the weight room stuff (making sure we're all on the same page with verbiage, exercises, progressions, etc...).  I opted for a 30 minute bike ride instead.  I'll hammer out my lift today.  We have 3 football groups (6/7/8am) and then we're pretty much done for the day so I'll get it in after I eat breakfast.  Then, more last minute organizing to get ready for next week when everyone will be in and the schedule will be rolling.
As for me, I'll train 2-3 times a week during football season.  I have my 4 basic lifts and I'll just do whichever one falls next.  If I don't lift I'll walk or ride the bike.  My goal is to do something everyday.  I'll take days off as I feel like it, but I always feel better when I do something.  So, I'll continue that trend.