Orlando Barbell's Results at the APF Rick Lawrence Memorial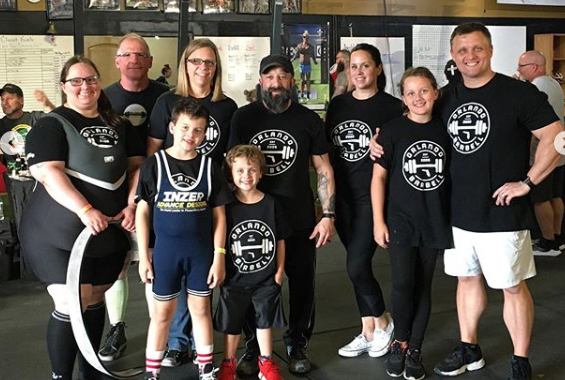 Here are Rebecca Bachman, Greg Godwin, Dean Harris, Trinity, Brant Harris, me, Rebecca Harris, Natalie Harris, and Chris Harris. Chris actually had the OBB shirts custom made for his kids since we didn't have any small enough. I thought that was pretty cool.
My long-time friend and training partner (since 2003) Greg "the grinder" Godwin went 407-220-490 at 62 years young in the Raw Classic Division at the APF Rick Lawrence Memorial Meet a couple weekends ago on December 7th. You'll see why he earned his nickname in the videos. He decided last minute to compete raw just to show his support for Rick. Greg has done a great job of maintaining his strength, both equipped and raw, for many years without injury.
Rebecca Bachman benched 220 and Deadlifted 385 in the Raw Division. Rebecca trains with the one and only Hans Hinnershitz and is one of Orlando Barbell's biggest supporters.
Big Seth Albersworth transitioned from raw back to multi-ply to go 942-722-744 for a 2408 total to take the number one 308 spot on the board at Orlando Barbell. Here's his 744 deadlift:
Tom Murphy made his return to the platform to bench 319 in the raw bench only 242s at 59 years young.
The M2 Method Raw Training Ebook
The M2 Equipped Training Ebook
The Effective Floor Based Home GHR
Loading Comments...