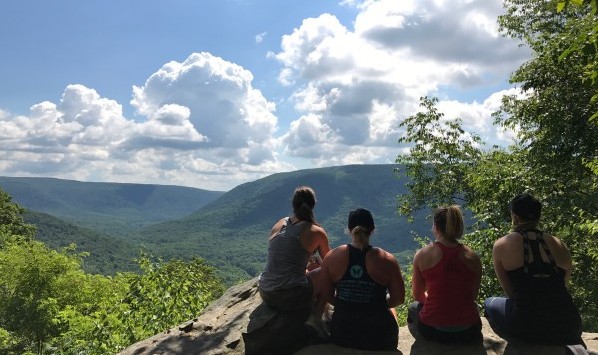 Recent comps:
March 4, 2017 XPC Arnold - Raw 132, (315/185/360, 3 PR's)
Nov 5, 2016 NPC Midwest Gladiator Chicago - Women's Physique
Sept 24, 2016 NPC Indianapolis Grand Prix - Women's Physique
May 7, 2016 RPS Mid-Atlantic Powerlifting - Raw 132, Pro total
Read back at previous training logs to see what my off-season contained to prep for both PL and physique. #creatingamonster. 
June 29-July 1 training
Monday started off awesome again with some good doubles at around 90%. As I mentioned last week, handling higher weights for reps has made me very confident. Really happy with the last several weeks leading up to this.
The rest of the week got a bit nuts (kids had day camp, work, among other things) and I couldn't get into training much. Mentally just all over the place and it didn't help that my appetite was shitty. This week was shit amongst shit... after some major life decisions and the unexpected loss of our sweet doggie. Perhaps a story for another log... but I miss her... lots and lots.
Adjusted some training and decided to take a last minute trip to Pittsburgh to see some friends. I texted Yessie and said, "Hey girl... I need a getaway... " and she said "Come on out!"
I got a chance to see the place they train at, Union Fitness, which is pretty awesome.  They have a great set up and the atmosphere Saturday morning was great. Lotta folks lifting, getting stronger and helping each other out. Super glad I got to see one of my clients (Heather) too!!  She's doing awesome and it was nice to have some time to chat with her.
Sunday... we hiked... 10 miles. 7 meatheads hiking makes for an interesting day.  But we made it!  Lotta girl time and a much needed escape in the gorgeous mountains of PA. Exhausted after that, to say the least.
Yessie and Casey, thank you for hosting me and allowing me to tag along. (Casey, bummer you and Jabez missed that awesome hike).
Jodie and Heather, you girls rock! I appreciate your new friendships!
So for now, taking one day at a time with all that life has to throw at me. Some days it seems more than I can handle.  Some days I journal (writing helps me with my thought process) and some days, as much as I want to cry, I find ways to see good.  One day at a time.
Monday
A. Bench press 175x2
Slingshot 190x8
205x7
B. Incline DB's 3x20
C1. Laterals 4x12
C2. Upright rows 4x12
C3. Pullaparts 4x25
D. Tate press 4x9
E. Fat grip curls 4x12
Tuesday
Definitely wasn't in the mood to move heavy weight, so worked some reps with a different bar.
A. Cambered bar squats 4x6
B. Rack pulls 3x5
C. Leg press 4x10
D. Band goodmornings 3x20
Thursday
Sometimes I get numbers in my head.  This happens a lot when I'm doing bodybuilding training and have really really high rep sets. So I give myself numbers to shoot for. Today I wanted to hit 100 pullups, so I did 5 pullups after every set of... everything... after each speed bench, shoulder saver and shoulder and arm supersets.
A. Bench vs bands 9x3 @ 95
B. Shoulder saver close grip 3x10 @ 145
C1. Arnold press 4x10
C2. Fat bell laterals 4x12
D1. DB extensions 4x12
D2. Fat bell curs 4x12
Ended up with 100 pullups
Saturday
At Union Fitness. Followed Yessie with squats today. Felt decent (about a 7 RPE) considering the crazy week.  Helps to be surrounded by lots of good people.
A. Squat 3x5 @ 245
B. Pause squat 3x3 @ 190
C. Sumo deads 3x5 @ 225
D1. Pullups 3x6
D2. Face pulls 3x12
E. Bulgarian split squats 3x8 each
F. Sled forward/backward - 2 trips