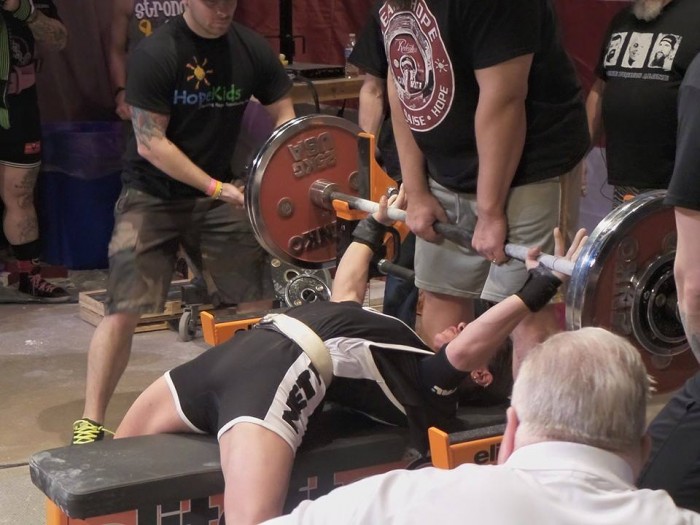 Meet day... or is it "Meat day"?
Got to the church at 8:15, just in time for a rules meeting and send my kids off to get out of my hair. Speaking of kids, we rarely bring them to meets. Now they are actually old enough to run around, be independent and be self-entertained. Plus this was the perfect meet since there was a ton of kid stuff to do all day.
SQUATS
I started warming up and quickly realized that the first flight was moving fast.... damn raw girls, slow down! 😉  All went well, got through warm-ups pretty quick and was ready to rock.
Opened with 375, nice and easy and fairly smooth.
Second attempt was 402 (I think). Hit it pretty good. Probably not as fast as I would've liked it to be, but still smooth. Couldn't seem to groove it on the way down. Just need to do the third attempt better.
Third attempt was 429, for a 13# PR at 123 class. It was choppy on the decent, but I fought to keep it in the groove. Hit depth, came forward a hair (like I always do), but recovered and finished. Again, not as smooth as I would've like it to be, but I can't complain.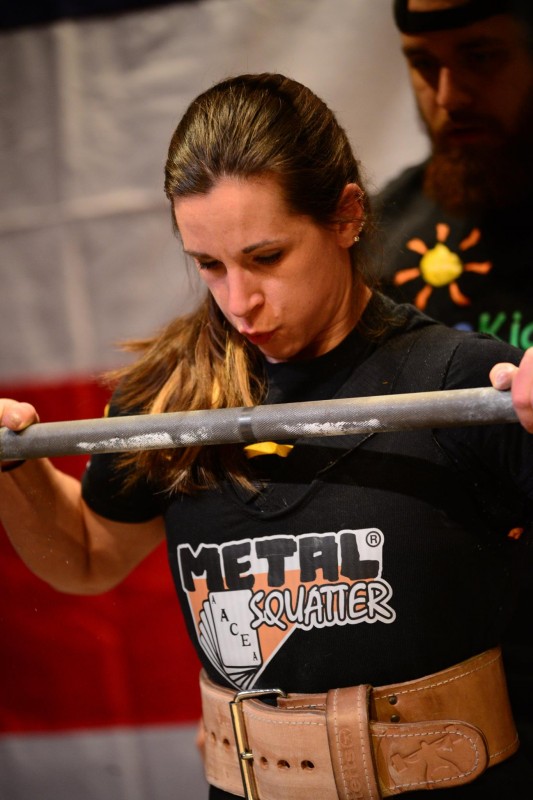 BENCH
After some more food and a little relaxing, it was time to bench. My training went well the past few weeks so I was semi-confident. But there was still a piece of me that was unsure. I gotta get better at this.
Opened with an easy 275, something I know I can hit any day of the week. It's nice to be able to open a little heavier now and give myself more chances at 300+.
Second attempt was 303. Not sure what happened. I don't think I stayed as tight as I needed to be.
Third attempt, 303 again. Same thing. Just couldn't groove it or get tight. While 275 was not a PR for me, it was only 10# under so I was still in a good position for a good total.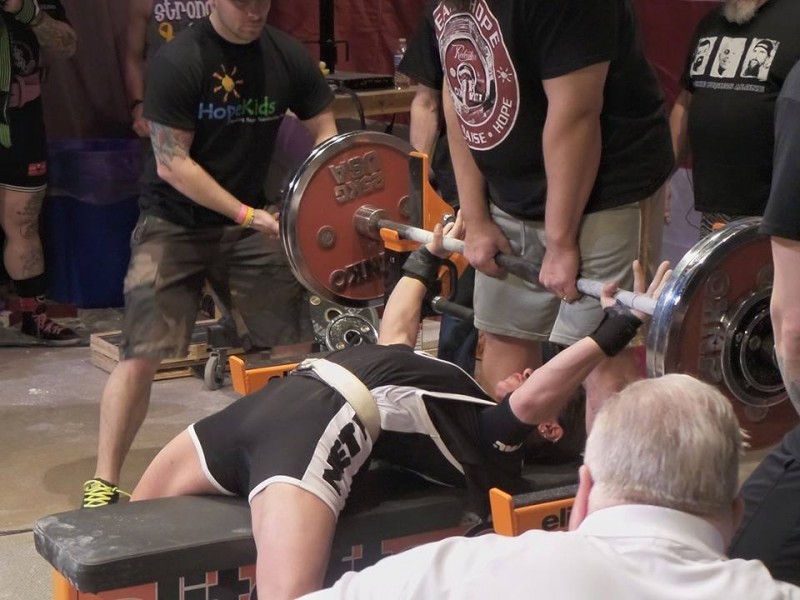 DEADLIFT 
By far my best training lift and most confident lift this cycle. I was ecstatic about pulling. I had taken a 15 minute nap during the break before this, hit some caffeine, got some encouraging words from some friends and I was ready to rock.
Opened with an easy 375. Needed to feel something fast and solid. Plus I never know how my back will hold up after benching. It was tight for sure, but not as bad as it sometimes get. Nothing a little blue heat can't fix (Thanks Kevin Ball for the heat!)
Second attempt was 407. Was expecting this to be fast and easy for sure. As I chalked up my hands, something didn't seem right. Chalk seemed a little slippery but I thought maybe it was just me. Went up, pulled it fast but as it got to my thighs, I could feel one hand slipping. I have NEVER EVER EVER had this happen before. I locked it out, but a split second before I got the down command, I dropped it.
SHIT.
I thought maybe I just misplaced my hand a bit, needed to get a better grip, something.
Third attempt we took a small jump to 418. As much as I wanted to jump more, I didn't know what was going on with my grip. It wasn't a strength issue as far as the deadlift went. I chalked my hands up again, turned to Matt and said, "I think there's baby powder in here.... it feels slippery."
Matt frantically asked around for a fresh block of chalk and no one had any. So, I did what any classy woman would do and spit on my hands to try to make them sticky again. It helped, but only a little... here's hoping for the best.
Pulled it fast, got some good speed off the floor and when it hit my thigh again, I could feel it slipping. Just hang on... just hang on. I locked it out. It was starting to slip.
JUST GIVE ME THE DOWN COMMAND!
I got it, put the bar down, fell back and looked up at the light board. One red, one white... waiting... waiting... finally another white.  Thank goodness.
I definitely know I could've pulled more had the chalk not been an issue. I wasn't the only one that noticed as a girl before me dropped her last pull and the guys' flight after me had issues too.
I told one of the judges shortly after and she went up to check it and change it out. I left with a bloody tore up hand... first time for everything.
Ended up totaling 1122 which is an all-time PR total for me at any weight class. The individual lifts could've been a little better, but overall, it was a great day. I ended up receiving best lifter for the women's equipped division. I know the other gals also had great meets, so there was definitely some good competition!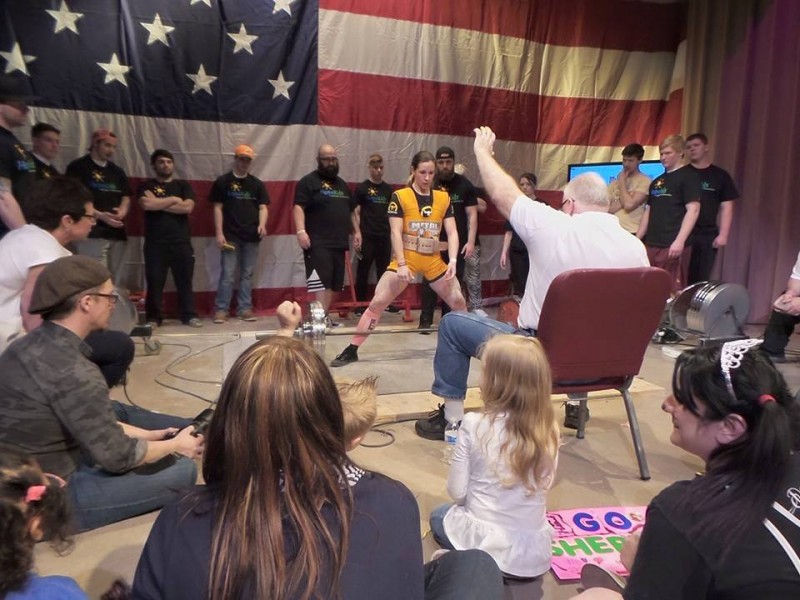 THANK YOU
My husband Matt for handling me, dealing with my weight cut, helping me all day, and just in general, putting up with me. It's tough for us to both lift on the same day and he always does a selfless job. I know you didn't have a great day benching, but you'll come back and get it. Thank you for making us a team... and a pretty darn good team too.
Teammates and friends, for their texts, encouragement, and words of wisdom. I always feel grateful being surrounded by such good people.