RMU Strength & Speed Clinic Short Recap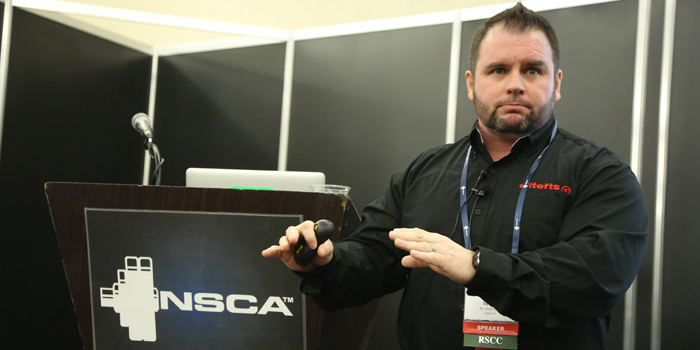 Had a great time last weekend at the RMU Strength & Speed Seminar. Tood Hamer is a class act. I will have a more detailed write up soon.
Presentations
Rick Daman, Strength/Performance Coach and Owner of Daman's Strength Training & Shawn Moody, Physical Preparation Coach and Owner of Gamespeed LLC
"Training Speed with Limited Space"
0- 47 min
Kids come to train at a facility to become better athletes. Coaches train these athletes so they become better people. @DST_Strong #RMU

— Mark Watts (@Elitefts_EduDir) December 14, 2014
Mark Watts, The Director of Education at EliteFTS™ and the NSCA Ohio State Director "Adapting Conjugated Periodization for the Athletic Setting" 47 min - 1 hour 40 min Nate Harvey, Head Strength and Conditioning Coach for Olympic Sports at The University of Buffalo "Adapting the Westside Method for Athletes" 1:40 - 2:37
Don't worry about what exercise variation your athletes are doing, worry about how your athletes are doing it @suNYubSTRONG @NateHarvey2600

— Mark Watts (@Elitefts_EduDir) December 14, 2014
Dr. Daniel Fabricant Ph.D, Executive Director and CEO for the Natural Products Association
"Nutrition and Supplementation for the Athlete"
2:37
Scott Umberger, Personal Trainer/Physical Preparation Coach/Owner of Umberger Performance
"Designing and Implementing an Annual Plan for Team Sports"
"Make your child an athlete first. The lowest return on time invested in any sport is the actual game. Play games for fun." - Mike Boyle.

— Mark Watts (@Elitefts_EduDir) December 14, 2014
Cam Davidson, Coordinator of Strength and Conditioning at Penn State University "Olympic Lifting Variations for Athletic Development"
Casey Williams, World Record Powerlifter and Coach for EliteFTS™
"Coaching the Powerlifts"
Loading Comments...