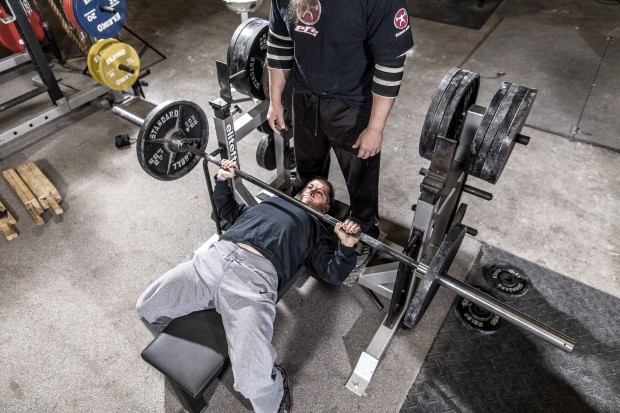 Relentless Detroit proved to be a decent meet, but in all reality, it was a tune-up meet for Relentless Minnesota. I spent Nov.-Jan really pushing some of my raw work on all 3 lifts. Strategically working on some weak points, both muscularly and technically. Getting back in my gear mid-January and will be placing that in according to the calendar to have enough skill work in the gear before the meet. My plan is to compete at Relentless Minnesota March 28th in the 123# weight class. Questions about my training, diet, coaching, clients, etc... I will always answer! Just send a question in!
Finished up the seminar on Saturday... it was awesome! Full day of lecturing and coaching, met up with some of my distance clients and ate some good food with the Paltos clan.
Sunday morning before flying out, I was able to get in a bench session with Scott and his training partners. We worked some bench and it was awesome to help one of his coaches, Becca, hit a solid PR of 135.
For me, it was get a little weight in my hands, but don't do anything crazy. I've been having an issue on my right side, well, my left, but because of my right, when benching gets a little heavier.  It was nice to have another eye to catch anything that was going on and Scott pinpointed a few things. I have known that my right shoulder hikes up, taking my lat out of the picture and therefore causing a shift to my left, but I just couldn't get the cue right to get it fixed. Just worked on getting my lat locked down and under better. May not have been the fastest 185 I've pressed, but they were smooth and even and in the groove.
Bench
bar, 2x10
95x6
115x6
135x3
155x3
175x1
185, 3x1
3 Board, close grip
185x3
155x5
135x8
Band Pushdowns x100
Band Pullaparts x100
Side Raises
4x12-15
Arnold/neutral/wide shoulder press
5 at each, 3 sets
The bench help proved to be very successful as my lower lats were pretty fried the next day. Excited for after the meet to continue to work my raw bench throughout show prep.