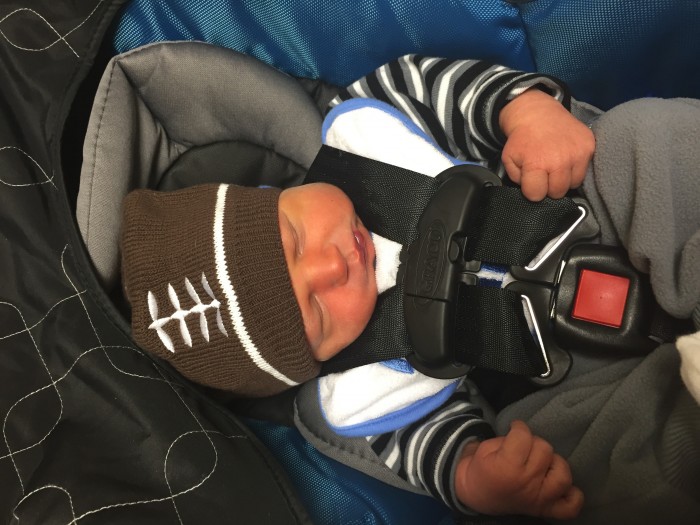 Although I have a son who is 9 and a daughter who is 4, the birth of my son, Renik Edward Jameson Holdsworth, was extra special. I have made a lot of mistakes in my life and both of my other children were born under stressful conditions. This time I was able to really enjoy the process.
My staff got me a awesome onesie for Renik and gave it to me the day before we went in to get induced.  I have a great staff and we are like family and this experience further showed that to be true.
Last week my wife couldn't drive so I was responsible for getting my daughter to/from school and taking everyone to Dr. appointments and such.  Not to mention being awoke every few hours by a crying baby.  Needless to say it was not a restful week.  But I thoroughly enjoyed it none the less. When my son Charlie was born, I was not living with his mom and didn't get to experience this part of having a baby boy. My daughter was born while my wife and I lived tougher but we didn't really have a lot of space in our house, we weren't married and I was just starting The Spot Athletics, so it was different. Avery, my daughter, was born on a Friday night and I had to be at work on a Saturday morning to coach a class.  Needless to say this, among other things, created a very stressful environment.
This time I got to fully enjoy everything. I have a great staff who took over all my coaching, we came home to a house where everyone has a room and it was just myself and my wife in the delivery room so it was peaceful and a great experience.
I love all my kids but this time the birth of my son was the most enjoyable experience and the first time I did it the way I believe it is meant to be done.
With the birth of each of my children I have found that it provides even further focus for me. Knowing that there is another life that depends on you is very motivating. There are many things that I want to accomplish this year and knowing that there is another little person who's whole life will be affected based on whether I am successful at those goals or not, puts things into perspective.
Everyone says that childbirth is a miracle, and no doubt it is. The fact that in one day you go from a wife with a lump in her belly to a living, breathing, crying, pooping human being is crazy. But the real miracle of childbirth is what is does to the adults, namely it forces you to become one. I want better for my children than I had. I don't want them to have to learn everything the hard way & to have to struggle the way I have. This means that not only do I need to be able to provide them with financial means, but also with guidance and knowledge. This guidance and knowledge can only be given if I am there with them every step of there life.  I am lucky that I had my grandfather to guide me until he was taken from this earth when I was in college. If not for him I would be dead or in prison. My personality is one of extremes and now that I have my children, that extreme is to be the best father possible.