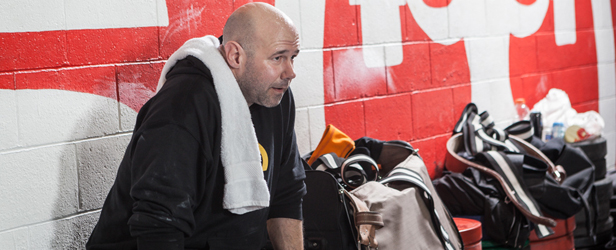 (3 day weekend)
All Mornings @ 6:00am-
Static Stretching
McGill Big 3
Recumbent Bike: 20 minutes
Saturday @ 11:00am-
KB swings: 4x10
Leg Ext: 4x10
Leg Curl: 4x10
Calves: 4x15
Saturday:
I got my workouts in before our basketball game at noon. The kids played a great game. The team we played really had one stud. We played a box and one with Chris going one on one. He played some great defense. He didn't have his normal game on offense, but that's not what the team needed him for. We won 34-26.
We went to see "Kingsmen" in the afternoon. We both really liked it. There were some parts that were not appropriate for an 11 year old, but I'm the one who took him to see an R movie. So, that's on me. We went out to dinner at a gourmet grilled cheese restaurant. I didn't think I would like it, but it was very good. I had a Buffalo Chicken grilled cheese and tomato soup. We watched the NBA All-Star skills competition at night. The dunk contest started off slow, but the two guys in the finals were amazing.
Sunday:
Did my workout in the early morning. When Chris woke up, I dropped him off at his mom's house for a while so I could get some stuff done. I walked for 3 miles and did a bunch of chores around the house. We met up again for family dinner at my aunt and uncle's house. We then went to the grocery store to get some snacks for the All-Star game. Chris opted for fresh baked pretzels and I got some wings. There was ZERO defense in the game, but it was still fun to watch.
Monday:
I again got up early and got my stuff done. We headed out to the range for a bit as soon as Chris was up and had a great time. For lunch it was back to the grilled cheese place. I think my son may have a new favorite. We spent the afternoon at the courts in the development shooting around and playing one on one. We then ran home in time for a pay-per-view movie. Chris chose "The Maze". He loved it and I actually thought it was very good. His mom picked him up for tutoring and the long weekend came to an end. Overall, it was a great weekend.