Training - Week 2 (80%)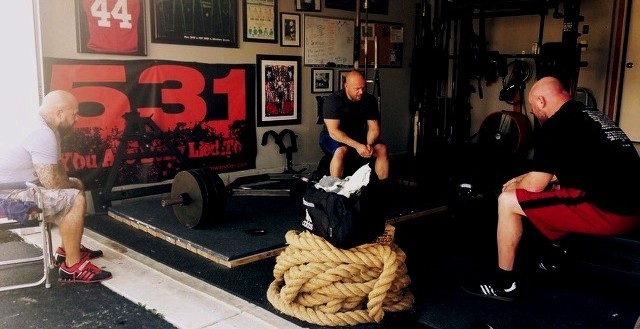 Monday - Squat
SSB Box Squat: 220x3/240x3/

260x5

/280x3/300x1
FBB Press: 3x10@85, 65 - 13/5/5 (Rest Pause)
KB Row: 3x10, 15/10/10 (Rest Pause)
SSB March: 2x50 steps
Neck: 2x15
The 260 was my top set for the day.  Felt really good and that's why I worked up a bit.  The 300 felt better than "heavy" weight has felt in a long time.
Wednesday - Bench
FBB Bench: 145x3/160x3/175x5
Metabolic Circuit
Push-ups: 5x10
KB Row: 5x10
BB Shrugs: 5x10
I finished with some Hanging Leg Raises, Curls and Pushdowns.  My neck was all jacked up from Monday's Neck Harness work.
Friday - Deadlift
Trap Bar: 230x3/250x3/280x3/

300x5

Metabolic Circuit
FBB Incline (1): 95/105/115/125/135x10
KB ROw: 5x10
Trap Bar RDL/Shrug: 5x10
My assistant's wife made the staff lunch so I cut the workout short after the circuit.
Good week of training.  I just need tp get back on a better walking schedule.  I've been a little lazy and the rain has been pretty bad so I've found excuses not to get my walks in.
Loading Comments...