What is a Coach Responsible For?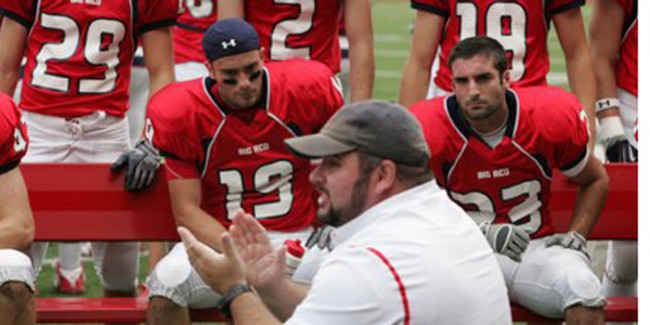 WHAT IS A COACH RESPONSIBLE FOR?
Travis Mash posted an article on his site referencing a training log post that I shred almost a year ago. Although I agree with some of the points he made in his article, I don't really think they are applicable or even counter-points to my post. The premise of his article was "What make a Coach." And, I agreed with his general message. My log post was comparing the difference between a coach and a trainer. I tweeted this and realized that 140 characters couldn't really clarify what I was trying to say. Here is what a retorted to Travis when he shared his article. Now, Travis is a friend and we have been able to have open discussions without getting offended for years.
Via FaceBook
Thank you for the kind words and you know I have told you in person that the feeling is mutual. I have seen the impact you have mad on the young men and women you have worked with and it is inspiring.
That being said, I think you took what I said way out of context. I am going through and trying to find the log post you were referencing and I believe it is this one form November of 2013. http://asp.elitefts.net/qa/training-logs.asp?qid=200629... Let me know if that is not the one you are writing about.
Those ideas were about a third of a log post and the general argument was c coach vs trainer. Let me say again that people can call themselves whatever they want. People do it with the word "expert" all the time. As a society, we call any dad that volunteers to coach their 8 year old team a "coach." You want to be a coach, be a coach.
My point was the motivation is different. Coaching someone that is paying you to coach them is different than you being assigned to them. The motivation is different. There is a different degree of effort that needs take place. I agree you have to "earn their patronage" but the motivation is already there. Either they or their parents are paying you. That is a commitment level that the majority of scholastic and collegiate athletes don't have. You are taking the most motivated kids from their peer group and using that determination to get them better. Of course they are going to get better. I am not saying the private sector is easier by any means, just different.
As far as me saying all private sector trainers are not coaches (are you trying to get me trolled to death?) and all college and high school coaches have "earned the right" to be a coach is totally fabricated. Like I said, you can call yourself anything you want. In fact, it would be the opposite in terms of earning the title of coach. But look at it a different way.
When a college coach gets hired, he/she is automatically called coach regardless of their coaching abilities (I actually liked at West Point that the cadets didn't). Same goes for what you call your trainers on your website in the private sector. The issue comes down to consequences. Travis, if one of your athletes get's injured or you don't get results (neither are likely in your case) you stand the chance of losing them as clients. If you are in the college setting, you stand the chance of getting fired. Do you know any collegiate strength & conditioning coaches that have retired as S&C coaches? They have all been fired, have quit, or died. You my friend will be able to retire and Rock will be running Mash Elite Performance one day. Isn't that how all private facilities get started.
Here is another one. What happens when one of your athletes is ineligible at school, gets arrested, or makes a dumb tweet? Is that a reflection or your business? Probably not. But, it is a reflection of the kids school and his coaches. Every time one of my athletes messed up on the field, in the weight-room, in the classroom, and in social settings; it was a direct reflection on me. I was responsible for the well-being and conduct of young men and women who I inherited. So, even a bad coach (which are at every level) is bequeathed the responsibility and the consequences of the other 22 hours in the day the athletes aren't with them. That is the difference.
Travis, I have a ton of respect for you and consider you a friend. We have had a lot of talks and a few beers and I appreciate what you do for your athletes. I just think you took the embedded quote from the log post which by itself is incomplete and admittedly clickbait without the rest of the post.
Coaches/ Trainers in the Private sector are filling a void creating by absent or insufficient athletic development programs at the high school and small college level. Regardless of who pays you to train athletes, them or the institution, Coaches are the ones that aren't stealing the spotlight and taking credit for the athlete's accomplishments on the field, court, or platform. There are bad "coaches" and good coaches in every sector. Take out the part where I am portrayed as hating , and every coach should read your article.
Respect for posting this, I tweeted it, I should own up to it, and thank you for letting be elaborate on it.
Now I will say he made some great points about Loyalty that I never really took into consideration. Again, his article made a lot of valid points. Travis' reputation speaks for itself.
Fast forward a few days later and one of my former players at Clarion University shares an article about fellow PSAC school California University of PA (where I have one degree from as well) cancelling their game this weekend against Gannon University. Here is a general recap of the article.
Via the Pittsburgh Post-Gazette
California University of Pennsylvania canceled and forfeited its home football game Saturday with Gannon University after five team members were arrested for an assault outside an off-campus restaurant that left a 30-year-old man seriously injured.
The assault followed an exchange of words a man and his girlfriend had with the football players outside Spuds restaurant in California, Pa., according to criminal complaints filed with Brownsville District Judge Joshua Kanalis.
The university, in a statement, said all five had been suspended from school.
California police Chief Rick Encapera said the five men were arrested during practice Thursday. They were arraigned later by Judge Kanalis.
The five are James Williamson, 20, of Parkville, Md., a junior defensive back; Corey L. Ford, 22, of Harrisburg, a senior defensive back; Jonathan Jacoma Barlow, 21, of East Liberty, a sophomore defensive lineman; Rodney Dwight Gillin, 20, of West Lawn, Pa., a junior defensive back; and D'Andre Jamal Dunkley, 19, of Philadelphia, a redshirt freshman tight end.
All were being held on $500,000 bonds at the Washington County Correctional Facility, charged with aggravated assault, reckless endangerment, harassment and conspiracy.
The bonds were set so high, the chief said, because the injuries to Lewis Campbell, 30, of West Chester, Pa., were so serious. Chief Encapera said the man has a traumatic brain injury and that the lower part of his brain has shifted 80 degrees. Mr. Campbell, who is not a student, is in fair condition this morning, an Allegheny General Hospital spokeswoman said.
Which brings me to this question.
What are we responsible for as coaches when it comes to our student-athletes?
I will draw some experiences from my own coaching career. Some will apply and you can draw some parallels.
My let me elaborate on my question by providing a theoretical scenario. This will apply more to sport coaches
A. If one of my players misses an assignment by not being in the right coverage for example, who's responsible? Well, the answer is the position coach, the coordinator, and the head coach; along with the player, of course. If a mental mistake is happening on the field or court, there is a saying that coaches use to make sure they themselves take responsibility.
Either you are coaching it wrong or allowing it to happen. Either way it's the coaches fault.
B. If one of my players makes a physical mistake like misses a tackle, who is responsible? In my opinion, same answer, different solution. Coaches need to also take some responsibility with physical mistakes. This one is tough because there is so much subjectivity. Sometimes their players are just flat out better than yours. I am not sure how I came across this thinking but, here is the dialogue that usually happens either cooperatively or introspectively when watching film. It may not be in this order, but this is the process
1. Is this the best call for us to be in from a tactical standpoint?
2. Have I coached the player to be in the right position to make the play?
3. Do I have the right player in the right position on the defense?
4. Am I asking the player to do something he is not able to do consistently to help our team win?
These questions are often tough to answer, but if there is any doubt, coaches need to look at what they can do to help the athlete who may consistently make mistakes. The higher level of sport competition you are at the less you may have to do this. There is another saying that is harsh, but very true among professional and scholarship level athletics.
If a player can't do what you ask, find one that can.
Fundamentally, this is tough for transformational coaches to wrap their head around and I was a better coach as soon as I stopped thinking this way. High school and DIII coaches do not have this luxury and all coaches should do everything possible to find value in all players. Yes, you must recruit above the talent you have, but therein lies another issue.
C. Academics. If one of my players is failing a class; who is responsible? College professors cannot go through he same responsibility matrix that coaches do. Although, taking an interest in making sure all students comprehend the material seems like a lost art. Smart researchers don't necessarily make good teachers. But, how much does the coach need to take responsibility for a student failing a class? The repercussions of an athlete becoming ineligible affect the entire team. And, it is not like these athletes do not have the appropriate resources to succeed. Everything from free tutoring, to study tables, to academic meetings, to progress reports from professors are usually in place. I don't know any coach that wasn't involved in the academics progress of one of their players. These coaches are constantly checking in with athletes. Don't think for one second there is not a GA out there knocking on the door of a star player's apartment at 745am to make sure he gets to his 8am class.
D. Personal Conduct. Lastly, who is responsible if one of my players make a mistake off the field in a social setting? Ok, so everything from Ray Rice to James Winston makes the new for the wrong reasons. Another reason I shared the Cal U story. It is easy for people in the media to have everyone fired from the coach to the AD, to the owner or president of the university. When do we put the responsibility back solely on the player? There are some standards of conduct that put coaches in a bad spot. This is especially true at the D3 level put spills over into others. I wrote about D# strength & conditioning and eluded to this issue but not this scenario.
If I am in a situation where it is a NCAA violation to institute any team policies during certain times of the year, how can I be responsible for the actions of my players that I am not permitted to meet with? This problem would come up often. A player would get in trouble for underage drinking or disorderly conduct and the coach would be asked to take responsibility. Even if that burden is merely tarnishing the reputation of the coach and the program. It would often leave coaches asking…
"Wait, I am not aloud to train these athletes to keep them physically healthy counsel them on nutritional habits, give the opportunity to develop technical skills in a structured setting, but I am responsible for their mishaps? Don't interact or mentor these athletes but make sure they don't fuck up. Got it.
Now at the scholarship level, especially in-season, there is a ton of interaction. Coaches are allowed up to 20 hours per week and athletes are only requires to have one day off per week. Look, I don't know what exactly happened that night, in California, PA,, but I do know it was 130am at a bar during game week. To me, that is a culture issue with the Vulcans.
You cannot judge the character of a team by the inexcusable conduct of 5 assholes. Not sure why it happens but I have my notions. Tell me if you agree or not.
Win at all cost is trickling down to all levels of athletics. The cut-throat "you must win right now" culture of college coaching with some sports produces two negative outcomes:
1. It does not allow for coaches to develop their program in terms of character over the course of several recruiting classes.
2. It forces coaches to recruit talent over character. Not saying you can't find both, but those are the kids everyone wants. Sometimes "good, tough kids" won't help you win. Not saying there is a negative correlation between talent and character, but….. well, yes I am . That is one for another discussion.
So, was the president of Cal. PA right for forfeiting the game? 100% absolutely. I applaud him for having the courage to do so. I posted on my Facebook about how I felt bad for the victim of course, but also the young men from Gannon and Cal U. They had a game taken away. And for a football player, one game is 10% of your senior year. That post sounded insensitive and I apologize if it sounded like a football game was more important that the "right thing". That reminded me of a story that Jack Hatem told me from one of his experiences wither playing, or teaching at a Catholic High School. The details are fuzy, but you will get the gist. Different situation than the Cal U incident, but it's a good example of the right thing and NOT missing an opportunity to use a teachable moment for life.
At a high school JV basketball game, parents of the home teams were being irate at officials, heckling the opposing team, and criticizing their own players and coaches. This behavior is unfortunately very standard nowadays. We have all seen this happen all to often.
At one point during the game, the principal of the home team's school (which I believe was a monsignor) walked onto the court in the middle of the game with a microphone and asked the ref to blow the whistle. The ref obliged and with the entire crowd looking on with confusion, the principal addressed the crowd. He directed his announcement right at his own students' parents and basically told them, "We don't conduct ourselves like that here," condemning the behavior. Being as inappropriate as they were, the parents knew exactly what he was talking about. He then told the referee while still talking in the mic. "We forfeit, they win." In his mind, doing the right thing is more important than a win. Was it fair to all of those boys on both teams who wanted to play basketball. Maybe. But, how many lessons do we let go by before we can really have an impact?
There is a paradox and I am definitely conflicted between thinking the President of Cal U did the right thing and that it was unnecessary punishment. Should the coach be fired? Should they forfeit the season? I don;t have the answers. All I know is there are just way to many questions.
---
MONDAY
Ring Tricep Ext
Ring Face Pulls
Dumbbell YT Serranos
45 degree back raise holds
Band TKEs
Barbell Curls
Loading Comments...