3 Partners Open 2XL Powerlifting Gym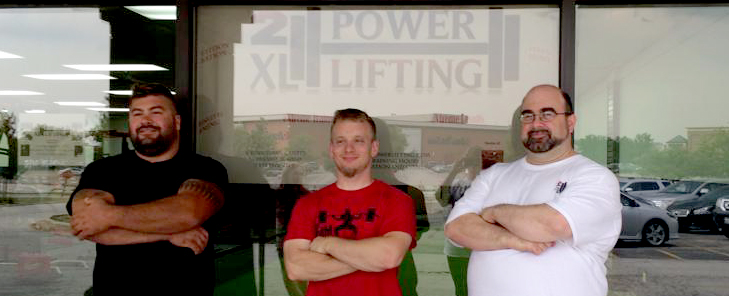 Co-owning a business is risky. Even partners that trust one another without question often find that gratuitous faith is more hazardous than it is helpful.
What is it about business partnerships that takes good men and turns them into Alec-Baldwin-in-Glengarry-Glen-Ross rip-offs? They develop a world in which coffee from the office pot really is only for closers, and no one's joking about it.
Maybe power corrupts. And maybe it's naïve to believe that colleagues can foster sociable relationships with one another.
But for those of us hoping to remain in a world in which business partnerships don't develop more enemies than they do profits, we may find hope in 2XL Powerlifting.
The Lombard, Illinois weightlifting facility, which opened in early August, began as a three-way partnership between several friends. Joe Atef, Howard Penrose, and Eric Stone (all Illinois natives) joined together with the shared dream of owning a training facility. The three partners, formerly members of a nearby general fitness gym, chose to take Stone's equipment and venture into the world of gym-ownership.
"The gym where we had been decided to change their configuration," Stone said. "Two of my teammates [Atef and Penrose], and I decided to move all of my equipment out. We picked up a few more pieces of equipment and opened our facility.
With the freedom to direct their gym toward whichever direction they saw fit, Atef, Penrose, and Stone moved away from general fitness.
"2XL Powerlifting is dedicated to powerlifting and strength training," Stone said.
This new focus allows the three partners to focus on the areas in which they have experience and expertise.
Atef is an 8-time APWF Champion and holds multiple records, with a competition-best total of 2240 pounds. Penrose, likewise is a record-holding Masters lifter. Stone, the third member of the 2XL Triumvirate, is a Certified Strength and Conditioning Coach who has a history of studying under remarkable mentors.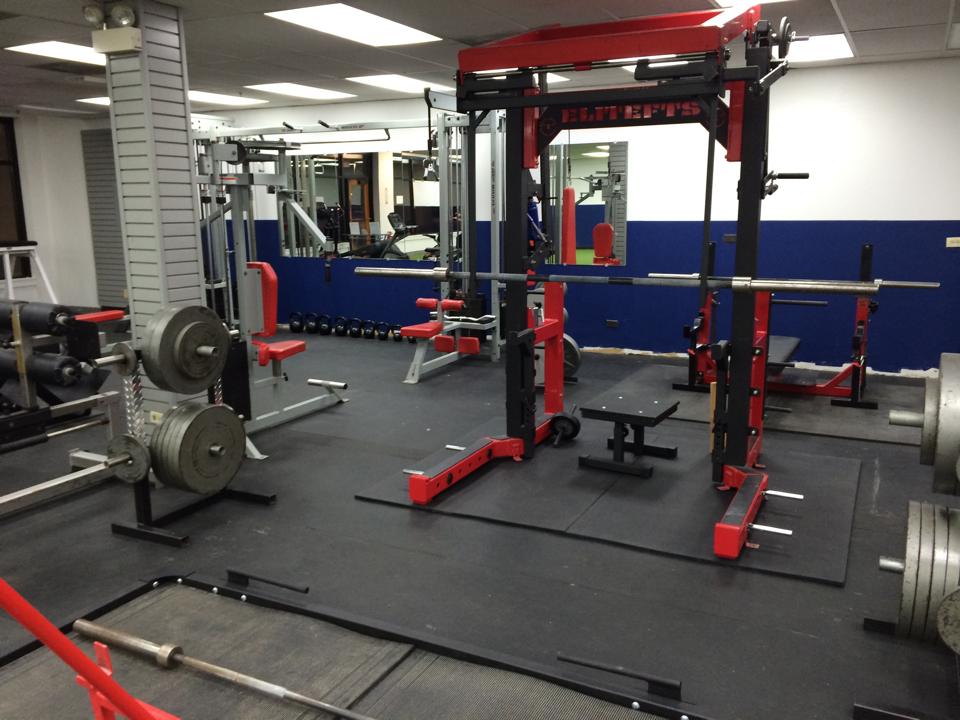 Ernie Frantz, the famed two-sport bodybuilder and powerlifter (who is affectionately known as The Godfather of Powerlifting), has hospitably had his hand in Eric Stone's life. The two men met about two decades ago, when Stone began lifting as a part of the Frantz Power Team. Stone was only a beginner at the time.
"Initially, I was kind of apprehensive just based on the fact that he is such a big name," Stone said. "He had a lot of big lifters who were training there at the time, guys who were down there squatting 1000 pounds every week."
After overcoming intimidation, Stone realized that Frantz did not consider weaker lifters unimportant to his gym or his powerlifting team.
"I had just been lifting for a few years when I started working under Ernie," Stone said. "But he would help anyone get better, even a first time lifter. No matter how much someone lifted, he cared. He is still that way now."
Stone's relationship with Frantz continued as he traversed the sport. Stone transitioned into greater involvement in the world of powerlifting and had both Frantz and Eric Maroscher (now of Monster Garage Gym fame) from whom to gain wisdom.
"Ernie has basically been my mentor in powerlifting, in running meets, and now in co-owning a gym," Stone said. "I trained with the Maroscher Powerlifting Team for a while as well, and still see Eric several times a year."
As he continued to compete in powerlifting, Stone began spotting and loading at multiple meets before finally transition to a judging role in the American Powerlifting Federation (APF). Before long, he had moved up the APF ranks quickly enough to garner him considerable influence on the direction of the organization.
"Spotting and loading is an incredible amount of work," Stone said. "And I thought that if I could become a judge, it'd be a little less manual labor, but I could still help out."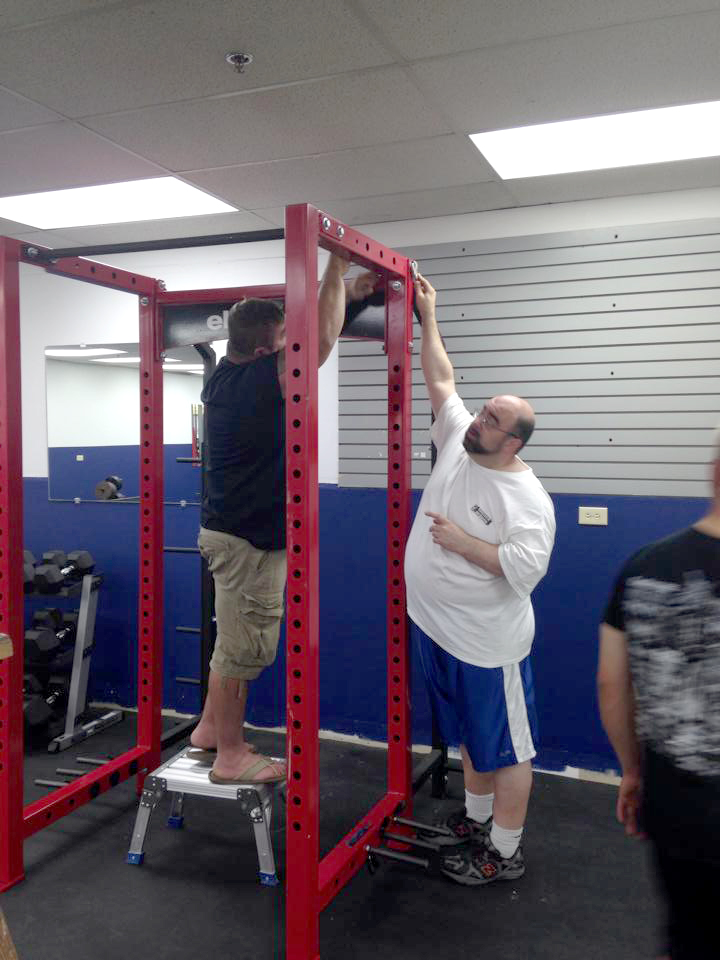 He continued to move forward, even surpassing his role as a judge—all sparked by a recommendation from Frantz.
"Back in 2004, there was a gym that wanted to host a meet, and Ernie decided he didn't want to run it," Stone said. "I decided to give it a shot. I ran it myself with Ernie's equipment and support."
That meet began a path that took Stone to the top of Illinois APF.
"I've always wanted to give back to the sport and get involved with things other than just being a lifter," Stone said. "I got involved with the American Powerlifting Federation back in college and am now the Illinois State Chairman."
Among the meets that Stone, as state chairman, oversees is an impressive successful summer competition that this year brought in 140 lifters. All lifters competed in one day, on two platforms. The Summer Bash, as the APF has named it, is only one of several meets that Stone put on each year.
Stone brought this relationship with Ernie Frantz to 2XL Powerlifting. The relationship that he and his partners have with Frantz carries on today. Frantz attended their grand opening August 16th and even gave them reprint rights to the newest edition of his famed book, The Ten Commandment of Powerlifting.
"We have a very good relationship with Ernie," Stone said.
In addition to managing 2XL Powerlifting, each of the three owners works full-time in a career outside of their facility. Atef is a shipping yard supervisor, Penrose is an electrical engineer, and Stone is a personal trainer.
"We're trying to build 2XL with a model of small membership base," Stone said. "From there, we want to run monthly seminars and competitions related to powerlifting and strength training."
The most recent of these seminars, The Ernie Frantz Deadlift Clinic coincided with 2XL's grand opening August 16.
Although they just opened, the history of success that led Atef, Penrose, and Stone to 2XL is an encouraging nod to the future.
"So far, things are going well," Stone said. "None of us have quit our jobs and made 2XL our only profession."
2XL Powerlifting will host several competitions the remainder of this year, and welcome strength athletes to visit the facility.
Some elitefts™ equipment in 2XL Powerlifting:
Loading Comments...