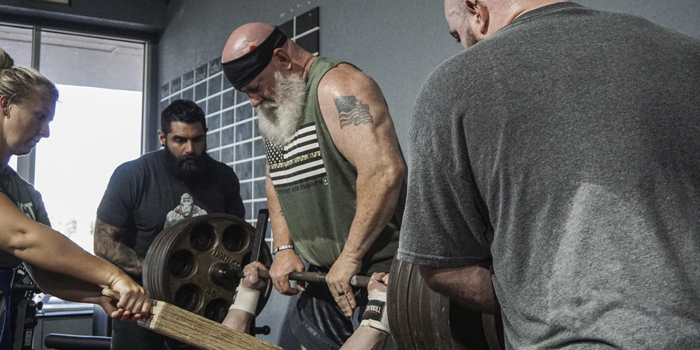 Everyone wants to see continual progress beyond the newbie gains, but without technical changes and new stimuli, good luck. Where do you turn for answers? Beyond elitefts, are you using an online coach, a personal trainer at the club, or consulting?
As the Internet has evolved, what used to be a trip to the local gym to find help has now become a trip to the keyboard. More and more people are willing to train alone and go to an online coach. Some lifters need that due to their schedule, but maybe a consultation or a visit to another club is the best answer. Let's look at these options and see what will yield the most progress for you.
Online Coaching
There are many benefits to having a coach. Having a second set of eyes on your technique and someone managing your training are major plusses. A coach with experience can see things you can't. A great coach also knows what to expect and how to manage both the training and life stress. There are many great coaches, but online communication leaves some gaps.
---
RECENT: 7 Tips for Your Next Meet Prep
---
As a coach, if I am not there in person and write four sets of 15 reps, how do I know those were hard enough sets? What if the sets should have been cut early due to technical failure? What if the lifter should never have been in the gym that day? Unless that is communicated to me directly, I can't make those decisions as a coach. If I send you a program on Sunday afternoon, what happens if that evening you get into a big fight with your spouse that spills over to the next day? How will that affect your training? How do you manage those days if you train first thing in the morning and I don't check emails until later?
Blindly following what someone else wants you to do without understanding why does not help you. If your coach dies or you lose that relationship, will you know what gave you progress?
If you are just starting out, need a place to start, and want to be told what to do, an online coach isn't a bad place to start. But as your experience grows, you need to take more and more ownership. It is imperative to be able to call an audible in your training. That audible should be to shut things down but not be a pus about feeling less than 100%. This is why communication with an online coach is extremely important. There are many angles to this whole coaching/training situation. Finding a training partner who can train at the same time, gym, or even wants to train with you may take a while. That doesn't mean it needs to stay that way.
The Club
Having an online coach can take much of the guesswork out of your training. Yet as I stated above, things often need to be addressed in person to move to the next level.
An in-person coach can make game-time decisions, manipulate you into better lifting positions and coach you through work sets in real-time, not after the training. A quick conversation about aches, pains, and mental state can help a coach change the plan in minutes.
Online coaching allows you to work with anyone worldwide as long as you are willing to pay. That bill can add up quickly. An alternative to this would be the club solution. When the Internet was in its infancy, you had to travel to visit other gyms to learn from other top-tier lifters. You then applied what you learned and watched over the next six to twelve weeks for new problems to pop up. This is how I learned much of what I know today. Many Fridays, I left work in Indianapolis to drive to Westside Barbell, just over two hours away. No matter how many articles I read, it could not have compared to the four hours I spent watching and learning from the top lifters in the country.
I would return home on Saturday and then apply what I needed to work on. I would revisit, and after putting in the work, I had new problems arise. I repeated the process over and over again until I moved to Buffalo, NY. Then I drove a few hours to a gym that trained like the Metal Militia. I took their ideas and applied them.
Visiting powerlifting clubs allows you to stay in control of your training. You must take even more ownership, but it will enable you to look for answers from many different eyes. I don't think anyone ever asked me for even a dollar for the help. Do not be afraid to offer lunch, spot, clean up, and coach new lifters. It's a great way to meet new people and have more people in your corner at meets.
Consultation
I'm more in favor of consultations than online coaching. It can increase the speed of progress while maintaining ownership of your results. Therefore, you can pay a coach to break down your technique, look for weak points, and offer training and exercise recommendations. It's like having a map showing you one direction. If you choose to take a detour, then you can make that change in training.
By hiring a coach as a consultant, you don't need to report back daily and wait for a response for changes. You may hire someone twice or four times a year. This setup leaves extra money for new equipment or accessories to solve problems. You are also not locked into one coach for consultations. Get looks from different angles (coaching philosophies) and see the commonalities and differences.
Takeaways
The consultation and club require a little less effort from you. Having an online coach requires work—you must communicate effectively and promptly with your coach (how to be a good client is another article topic). Make the experience worthwhile, work hard, and continue to make progress.
Header image credit: Meana Albersworth
---

Matt Ladewski has been involved in the sport of powerlifting for over 20 years. As his pursuit of bigger numbers of his own has concluded, his attention has shifted to coaching his athletes, including a WPF and an AWPC champion. As a columnist for elitefts, Matt shares his training knowledge and experience as he writes about both his own training and the coaching of his athletes. Matt's best competition lifts include an 835-pound squat, a 550-pound bench press, and an 800-pound deadlift.