2014 APF Senior Nationals Preview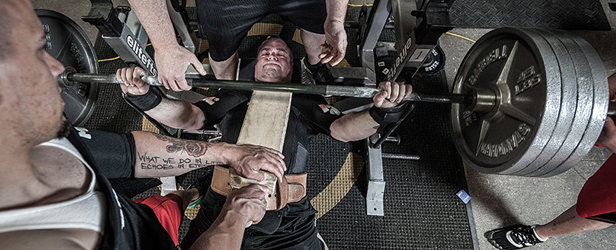 Several members of elitefts™ will compete this weekend in hopes of starting a  powerlifting championship run. Joe Schillero, Ted Toalston, Dave Kirschen, and JL Holdsworth will each travel to Grand Rapids, Michigan for the American Powerlifting Federation (APF) Senior Nationals, a qualifier for the World Powerlifting Congress (WPC) World Championships later this year.
The World Powerlifting Congress has been active since 1986 and operates in 37 different countries. Through this international operation, the WPC World Championships gives powerlifters one of very few opportunities to win a true world title. The appeal for American lifters this year is even greater than usual: WPC Worlds will take place in Florida this November, thereby eliminating international travel. But in order to make it to worlds, a lifter first has to qualify.
This is where APF Senior Nationals comes in. The top three lifters from each weight class this weekend will qualify for WPC Worlds and win an opportunity to compete among the best in the world. With the significance of such a meet in mind, here's everything you need to know about the four elitefts lifters competing this weekend:

Full Power | Multi-Ply | 242
Schillero, a relatively new elitefts™ columnist is making his transition into geared powerlifting this weekend at APF Senior Nationals. When he steps onto the platform for his opening squat, it will be the first time he has competed wearing anything more than a belt and wraps.
For those of you that think this sounds melodramatic, you may be right. But Schillero's performance this weekend means something for more than simply his own success. How he performs this weekend will answer an important question for powerlifters in the post-Goggins/Coan era: just how hard is it to transition into multi-ply gear?
Equipped lifting may have already come down from its peak popularity; as the sport of powerlifting grows, younger competitors do not want to take the time to learn complicated equipment. When they may only compete for several meets before moving on to something else, the time investment of powerlifting gear seems excessive. Because of this, raw divisions are growing, first-time competitors are lifting without gear, and your run-of-the-mill local powerlifting meet may see as few as 20% equipped competitors. The future disconnect of raw vs gear culture may be in question, but the growth of the sport as a whole has undoubtedly benefited lifters everywhere.
Schillero has faced the typical raw-to-gear complications: struggling to keep sitting back in the squat with a wider stance, learning to touch weights with the shirt, and overcoming the general motor patterns that have been engrained through years of raw training. His success competing raw (his best lifts at his most recent unequipped meet in October 2013 were a 500-pound squat, 370-pound bench, and 580-pound deadlift, to place him with 1450 at 220 pounds bodyweight) will work as a good indicator for the influence of powerlifting gear on the career of a young lifter.
There have been only two important kinks in this training cycle for Schillero. Around 10 weeks out, he hurt his forearm during a bench training session and was forced to work around the resulting forearm and wrist pain. The second concern for those hoping to see Schillero perform well at APFs is his bodyweight. When the six-weeks-out mark came around for Schillero, his bodyweight was hanging lower than expected, due in part to both personal stress and lifestyle changes while finishing his graduate education in exercise physiology. He claims that both issues have since been addressed, but it is yet to be seen how these woes may have affected the quality of his training cycle.

Full Power | Multi-Ply | 220
Of all members of team elitefts™, Toalston is the classic example of start from the ground up. When he first came to train at elitefts™ after meeting Mike Ruggeria in a commercial gym in 2008, he was 165 pounds and a novice to the sport of powerlifting. Little by little, Toalston learned his gear, increased his strength, and became an irreplaceable contributor to the culture of elitefts. He exemplifies the value of intelligent, controlled progression rather than a chaotic training approach.
This training cycle for Toalston has gone off without a hitch. He trains with Westside veteran Todd Brock each weekend and, aside from minor irritation in his elbows, has few complaints about the status of his recent training. His last meet, the APF Fall Open in October, gave him new personal bests in the squat and bench (800 and 550) with a near-miss at what would have been a PR 700 pounds.
There is no doubt that he would like to break those numbers this weekend at the APF Senior Nationals. The 700-pound deadlift has eluded him for four meets, and the desire to finally set a new deadlift PR (he has not hit a personal best deadlift since undergoing back surgery for a herniated disk at L4/L5 in late 2011) must weigh on his mind.
But the main goal? Like everyone else's, qualify for WPC Worlds. If Toalston pulls together three good lifts this weekend (as we have seen him do on a regular basis since 2008), he will leave Grand Rapids, Michigan to plan a training cycle for WPC World Championships in November.

Full Power | Multi-Ply | 198
Dave most recently competed in March at the 2014 XPC Finals. Through back spasms the day of the meet, he won a hard-fought battle with fellow 198-pounder JJ Thomas. He finished the day with an 805-pound squat, 655-pound bench, and a 615-pound deadlift. This gave him a 2075 total, the narrow triumph over Thomas, and the 198-pound class win.
The impetus behind his desire to compete at the APF Senior Nationals is simple: to qualify for WPC Worlds. While this holds true for most likely every competitor at the meet, it is more true for Kirschen than anyone else.
"I'm only using this meet to qualify for worlds," he posted in his log last week. In order to qualify, Kirschen needs only place in the top three of his class. This is not expected to be a difficult task, but, as with any high-level meet, the outcome of the meet all comes down to one day.
With this in mind, what can we expect from Kirschen? It will be difficult to best his remarkable 9-for-9 lifting at the XPCs from March — but then again, that isn't his goal. He has confessed that in his current perspective, "third place is a win." His still nagging back pain and the recent personal stress of placing his ill mother in a nursing home are the only two things that stand in his way of an achievable top-three finish and a trip to worlds.

Bench/Deadlift Only | Raw | 308
JL is and has been a heavy-hitter for elitefts™ for quite some time. The combination of his Friday Technique Videos and his grip training (while giving hell to other team members) has become a cornerstone of JL's intellectual and physical strength. There is one thing no one would argue about: JL is big.
But there's also something that we haven't seen from JL lately: competitive powerlifting. He totaled elite way back in 2002 and his best lifts add up to an unbelievable 2484 pounds. But after ten years out of the sport, we can't help but ask, does JL still have it? Factor in JL's commitment to owning and operating his own sports performance facility (The Spot Athletics), and his recent knee surgery that left him without an ACL, and his performance at APF Senior Nationals comes into question. This meet will determine if JL has what it takes to come back from a decade-long powerlifting hiatus and still compete amongst top-tier lifters.
If he can manage to hit his bench and deadlift openers this Friday as easily as he has done them in training, he may stand to prove he's not done yet.
Loading Comments...