5 Ways to Make Weight Rooms Work for Our Kids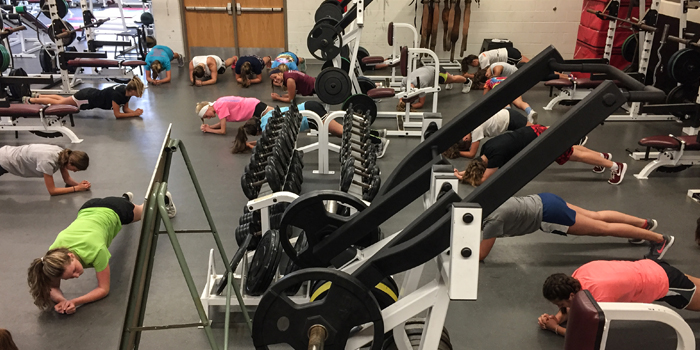 There is a large number of middle school and high school kids out there who want and need our professional help. It's a situation where kids actually want what they need. As teachers, coaches, administrators, parents, and strength and conditioning professionals, we have a responsibility to help them feel their best.
I am not just referring to quarterbacks or all-star basketball players, but every out-of-shape kid eating too much junk food and not exercising. Don't get me wrong, I love sports, and our athletes are included in the narrative, but they don't represent the majority of the kids in need.
Every single kid needs our help.
---
RELATED: How Do You Become a Superhero? 
---
Kids face immense social and political challenges, including the obesity epidemic, the opioid crisis, mass shootings, and social media. As I'm writing this, the United States Surgeon General just declared vaping as an epidemic with our youth.
We can combat these challenging times, but we must be proactive by doing what we're great at: teaching strength.
There are over 30,000 high schools in our nation, and almost every one of them has a super-special place that can impact a kid's life forever: a weight room.

I've been in hundreds over my lifetime, and each one's different. Each one has its own atmosphere and culture. A room filled with tools. Each tool has a specific purpose, and when used correctly, it fulfills that purpose without exception. When used incorrectly, the effects can be serious. We must build and use the weight room the right way.
It's a place where our kids will learn countless valuable lessons.
They'll learn what fairness is. They'll learn how to fail — and fail fast. They'll learn resiliency.
They'll learn how to set realistic goals. They'll learn that success does not happen overnight, but instead, they'll embrace the process. They'll learn accountability.
They will learn how to be self-sufficient.
They'll learn work ethic and what it feels like to struggle with others. They'll learn to be more accepting of tough conversations. They'll learn how to look someone in the eye, and both give and receive feedback.
---
READ MORE: An Alternative Use of Basketballs and Volleyballs for Exercise
---
In the weight room, we'll see kids fall apart and then pick up the pieces. We'll even see some emerge as leaders, dragging their peers along the way, saying, "Follow me."
In the weight room, our kids will get what they give. This room is the fairest place on earth.
The weight room will teach our kids what a winning culture is.
Our kids will take these invaluable lessons with them throughout their lives.
Here's the caveat, though: a weight room only fulfills its purpose if it's built and sustained the right way.
I've been in hundreds of weight rooms in my career. I remember all of them: the ones with winning cultures, losing cultures, and everything in between.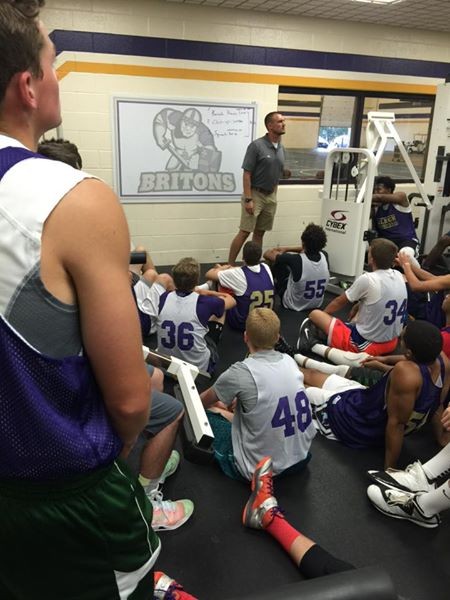 Below are a few of the key commonalities that the winningest high school weight rooms all have in common:
 1. A forward-thinking athletic director and staff
Great high school weight rooms don't start with just the barbell. The seeds are planted way before the equipment is used. These weight rooms have athletic directors and support staff that believe in the importance of strength training. They believe that it's not just for athletes, but also for every kid that walks through the school door. They create strength training opportunities for everyone, and in many cases, they do an amazing job providing opportunities to parents and the community.
I've never seen a great weight room built by an athletic director who said, "No." The great athletic directors either say, "Yes," or "Not yet, but how can we get it done?"
2. A certified strength and conditioning coach
The best high school weight rooms are going to be directed by a professional that's passionate about strength training. There are many ways this can get accomplished. It could be a professional strength coach who is certified by a nationally accredited association, a sport coach who is continuing education in the field of strength and conditioning through the International Youth Conditioning Association, or it could even be an internship program set up with a local college or university (which takes some work, but it can be an amazing situation).
---
WATCH: Must-Have Equipment for Any High School Weight Room
---
We're only limited by our imaginations. This person needs to be passionate and possess adequate credentials.
3. An all-inclusive culture
Right now, weight rooms are typically associated with sports. That's great, but it doesn't relate to the majority of our kids. The most successful weight rooms have athletes training with non-athletes. There are workouts where swimmers squat with the debate team. There are powerlifters teamed up with Mathletes. There are women training with men.
When kids walk through the door, they need to feel welcome, and we're the ones who need to establish that atmosphere.
4. High standards and growing expectations
Standards stay the same across the board. It doesn't matter if they are a varsity athlete or a freshman entering a weight room for the first time; they are both held to the same set of rules. The accountability mechanisms in place are set for everyone.
As standards remain constant, expectations develop. What a good coach expects from a senior may be more than what they expect from a 10th grader. On the flip side, a ninth grader who's been training for a year may be held to higher expectations than an 18-year-old who's come in for the first time.
These schools maintain a balance between standards and expectations through transparency and fairness. Subtle accountability mechanisms help.
5. An actual strength training program
It shouldn't be assumed that every high school weight room has a well-designed, systematic strength training protocol. In my experience, the minority of schools do. A great high school weight room has a training program that's safe, progressive, comprehensive, goal-oriented, measurable, and inclusive. It can get as complicated as the coach wants, but it has those six variables.
Each great weight room does it differently but with the same key principles.
---
Adam Stoyanoff began his strength and conditioning career at Bowling Green State University in 2006. After BGSU, he spent time coaching in the private sector in the metro-Detroit area. While there, much of his time was spent implementing strength training programs for high schools and small colleges. He's used the past 16 years to share his passion and to teach the value of strength training to thousands of individuals. He holds bachelor's and master's degrees in the field of exercise science.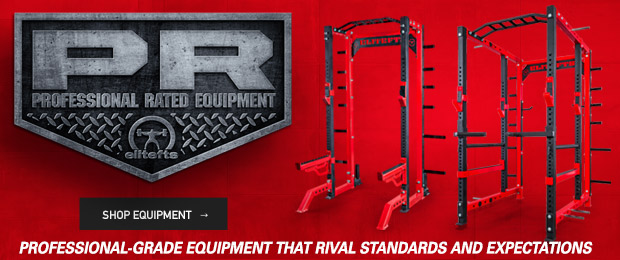 Loading Comments...