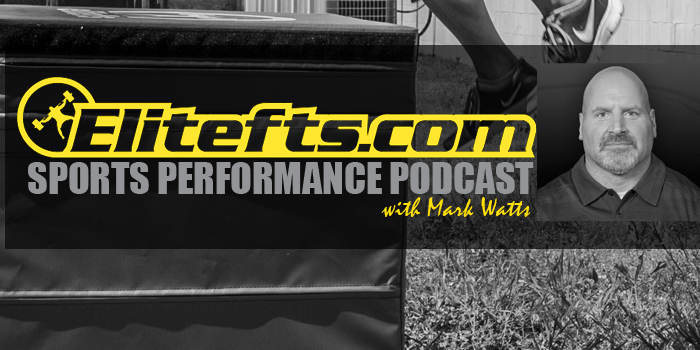 One of the most anticipated presentations I have attended was at the 2003 NSCA Sports-Specific Training Conference in New Orleans. At the time , Rock Gullickson was the Head Strength and Conditioning Coach for the Saints and he and his long-time assistant, Evan Marcus showcased their training philosophy along with videos of some truly innovative methodologies.
Coach Marcus is humble and passionate about training. He gives a lot of credit to his mentors like Gullickson and appreciates the never-ending learning process that comes with the role of coach. Most coaches share those characteristics.
Marcus will be the first to admit he took advantage of his opportunities, opportunities that Evan Marcus had through hard-work, positive relationships, and the always-present drive to improve as a coach.
After listening to this interview you will soon realize that the characteristics and positive attributes of a successful NFL strength coach are the same for all coaches. Evan Marcus gives credit and honors those he worked for and works with by giving everything to his players. Buy-in is key when working with professional athletes and it would be hard not to buy-in to Coach Marcus.
In this Podcast:
How Coach Marcus got started
Getting an edge in athletics
D3 to DI
Meeting Rock Gullickson
Not just Xs and Os but communicating with Athletes
Challenges at coaching at the professional level
No matter what level, coaches are there to help athletes
Character Development is different than at the college level
Your assessments, the biggest issues you face with athletes
Don't assume anything
Breaking everything down to its simplest terms
Communication with private sector coaches
Players  would preferably train with former college coaches
Expectations with more buy-in
Communication with the Medical Staff
Point A to point B
Overall goals for the players
Training before and during OTAs
Working with 'professionals'
Knowing what to expect
"Go-to" exercises with progressions and regressions
Giving freedom to choose exercises
Focusing on movement speed for older athletes
In-season training
Maintain = good enough
Being the strongest during the season
Technology in terms of readiness
Staff development
No mixed messages for athletes
The trust factor with staff
Everyone believing in the same things
Advice for young strength coaches
Just because you are in the NFL doesn't make you a good strength coach
Taking advantage of opportunities
Young coaches don't want to pay their dues
Trying out what you read
---
---
 The Evan Marcus File
Having joined the Vikings in 2014 as Head Strength and Conditioning coach, Evan Marcus enters his 9th NFL season this fall and has been in the field for 25 seasons.
In Marcus' first offseason with the Vikings, he oversaw a complete transformation of the club's weight training facility and revamped the strength and conditioning philosophies. Under Marcus' direction, the club now uses a free weight based program, which places an emphasis on power, speed and quickness.
During his NFL career, Marcus has been a part of 2 Division Champions- New Orleans in 2000 and Miami in 2008. The 2000 Saints won their NFC Wild Card playoff game over St. Louis at the Superdome to give the franchise their 1st playoff win in the 34-year history of the club before advancing to the NFC Divisional Round against Minnesota. The NFC West title for the Saints was their 1st since the 1991 season and marked the 1st winning season for the club in 8 years. The 2008 Dolphins went 11-5 to win the AFC East, completing one of the great turnarounds in NFL history after going 1-15 the previous season. The 10-win improvement tied the biggest single-season jump in NFL history. The AFC East championship was the Dolphins' 1st Division title since 2000.
Marcus oversaw strength and conditioning efforts at Virginia from 2011-13 as Director of Football Training and Player Development for the Cavaliers, marking his second stint in Charlottesville, the first coming as Head Strength Coach from 2003-06. Combined with his leadership at UVA, Marcus was head strength coach for the Miami Dolphins from 2008-10 and held the same position in 2007 with the Atlanta Falcons, where he worked with then DC Mike Zimmer.
Marcus began his NFL coaching tenure from 2000-02 as an assistant with the New Orleans Saints. His start in the field came at the college level with positions at Arizona State (1991-92), Rutgers (1993), Maryland (1994), Texas (1995-97) and Louisville (1998-99).
A 1990 graduate of Ithaca College, Marcus earned his bachelor's degree in exercise science. As a student-athlete he lettered 3 times as an OL with the Bombers and was a starter on the NCAA Division III national championship team in 1988.
A native of Union, NJ, Marcus attended Cranford High School. He earned his master's degree at Arizona State in 1992. Marcus and wife, Lori, have a son, Jake, and daughter, Anna.
Bio from Minnesota Vikings
---