Bartl Launches Bayside Barbell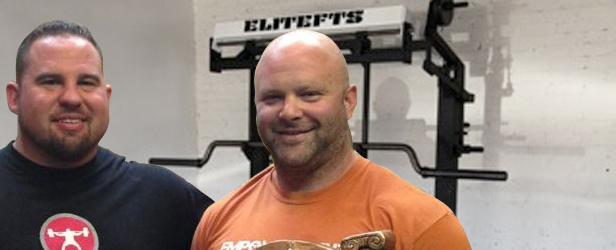 elitefts™ Sunday Edition
The elitefts.com™ V.I.P. Gym series will provide some valuable insight from owners of the top training facilities in the country. These entrepreneurs have made tremendous sacrifices by starting their own businesses, where creating the culture is as important as providing the space and equipment.
Who are the individuals most responsible for helping you open, maintain, and operate your own facility?
This is a very broad question because there are so many people who have done so much for me.  I can go back five years to when Chris Shugart and Christian Thibaudeau of T-Nation basically saved my life. I can personally thank Alwyn Cosgrove for all his mentoring during the year I spent as part of his coaching group. I can thank Bruce Mendoza for getting me back in to powerlifting and introducing me to Westside. I can thank Brian Carroll for taking my knowledge of powerlifting and programming to a whole new level. There are all the people I have met through elitefts™ and the LTT seminars who have pushed me to be a better person and a better coach. Then there are the hundreds of clients I've worked with over the past five years working their ass off to help me grow my business by word of mouth only. It could not have been done without the help of my investors who prefer to remain anonymous because they want people to only focus on training. There are so many people it would take an entire second interview just to name them all!
What is the size & basic layout of your facility and what equipment do you utilize?
My gym is broken up into two parts: the main floor which is 988 square feet and an office that is approximately 300 square feet. I also have one bathroom but no shower.  The layout is true garage style. There are two 15 foot wide roll up bay doors that open the entire gym up to the outside and allows us to utilize both indoors and outdoors for training. Inside I have fully equipped the gym from elitefts™: a mono-lift, 2-3x3 econo racks, 2-0-90 benches, plate-loaded pulldown/row machine, a yoke bar, the elitefts™ swiss bar, the elitefts™ decline bench, one chest-supported t-bar row, four sets of blast straps, chains, full sets of bands for every platform, a glute/ham machine, and of course two Prowlers®.  I have close to 15,000 pounds of plate weight split up into three separate lifting platforms, dumbbells ranging from 5-110 pounds, two full sets of kettlebells, rubber plates, and some other miscellaneous stuff floating around.
When did you open your facility and what motivated you to do so?
I haven't done a hard launch of the gym just yet, that will be on Saturday, September 21st when elitefts™ team members Brian Carroll and Julia Ladewski come out for my very first seminar called Strength Beyond Strength. Right now I have just been training all my previous clients while I've been working out the kinks of where I want the equipment, etc.
I have been wanting my own gym since I first started coaching five years ago. The problem when you first start out is you almost always have to work for someone else, either at a commercial gym (I worked at 24-hr and Spectrum) or at private gyms as an independent contractor. Both suck big time because you have work and train by someone else's rules.  After a while I started to hate that. I hated the fact that people thought I was different because all my clients can squat to depth, bench press, and deadlift. I hated listening to other people's music and catering to what the owners of their gyms wanted. I wanted to have my own place, with my own attitude, my own music, training the people I want to train in the way that I see fit based off their FMS assessment. Basically I got to the point where I was pissed off all the time at other people. Now the only person I can get pissed off at is myself.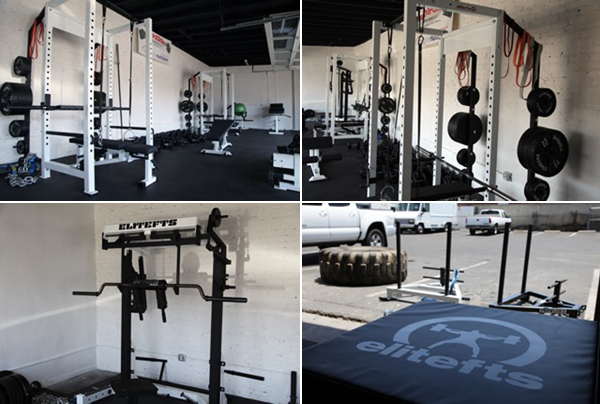 Where is your facility located and what is your basic demographic?
I have the perfect location in Santa Barbara. In front of me is a bar, behind me is a strip club, and beside me is an Adult-Only store—everything a single guy needs. I really have no demographic. I am good at training everyone but specialize in everything. I have fat loss clients, injury rehabilitation clients, clients battling cancer, retiree's, a youth sports program training sixth, seventh, and eighth graders. I also have powerlifters, bikini competitors, as well as a bunch of D-1 baseball players. We can service anyone who just wants to get stronger, look better naked, and feel better about themselves.
What is your basic training methodology and what drives your programming for your athletes and clients?
I always tell people my methodology is a mix of old school movements with new school accessories. By that I mean you cannot argue with how beneficial the squat, bench press and dead lift are and anyone who tells me differently is selling something. I also take advantage of how the industry has progressed in the area's of assessments and "functional" training.  I make sure the big three are staples in every client's program but I also am constantly learning and expanding my knowledge base to give my clients the best tools I have to make sure they reach their goals.  If that means sticking to basic compound movements and that's what their assessment tells me, then that's what we do. If I have someone who is more advanced and has a better assessment, I can get more creative with their programming and experiment with new techniques and ideologies that some great trainers and facilities are coming up with. I am always tinkering and playing with programs to see what works and what doesn't. If I get great results from one thing, I tend to stick with it, if something sucks I toss it out and replacement with something else.
Final Thoughts?
Personally, I want to thank those who came up with the Iron Subculture podcast because that's how I first became aware of Brian Carroll and his training services. Without that or him, I would not be the lifter I am today. Ever since I became a part of his team, he has single-highhandedly expanded my knowledge base as a lifter and trainer, he challenges me every day to be better than I was yesterday, and is one of the most motivating trainers I have ever trained with. He has also become a very good friend, someone who I turn to when I need help or guidance in any aspect of my life.
I could rant on and on for days about the shape of the fitness industry, but I am still very young in terms of how long I have been training. One thing I will say is that you have to give a program time to work its magic. There is no one program that can magically change everything in 60 or 90 days. That is just the tip of the iceberg. Find a program and coach you can trust and stick with it for at least a year. Only good things can happen as long as you trust and believe in what you are doing.
Related Articles
Elitefts™ V.I.P Gym: Raleigh Barbell
Elitefts™ V.I.P. Gym: Omaha Barbell
How I Started a Hardcore Gym in the UK
---

Loading Comments...